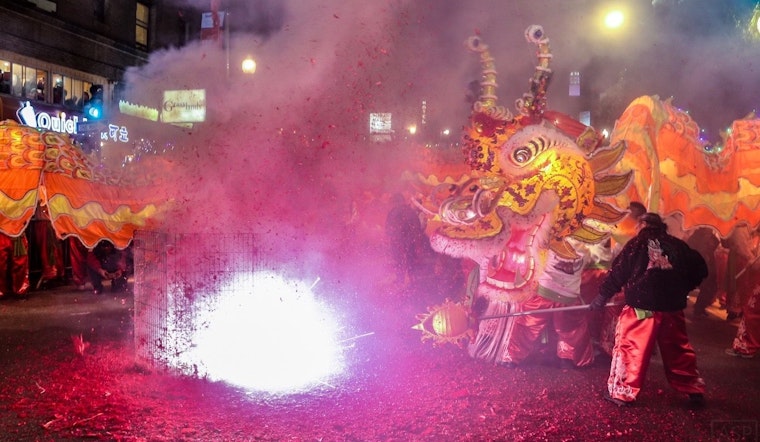 Published on September 30, 2021
One thing we've learned from the COVID-19 public gathering restrictions is that some big, annual San Francisco events actually work pretty well as online livestreams, while others just cannot. And there was simply no way that virtual Lunar New Year celebrations could capture the special magic of the San Francisco Lunar New Year Parade, the largest Chinese New Year parade in America.
But the parade will be back at full power for 2022, or at least, that's what the San Francisco Chinese Chamber of Commerce says. The chamber announced in a Wednesday morning press release that the SF Chinese New Year Parade will be held again in February 2022, after being cancelled entirely in 2021, and emerging COVID-19 concerns reduced the 2020 celebration to a fraction of its normal size.
"The San Francisco Chinese Chamber of Commerce is proud to announce the live return of our iconic San Francisco Chinese New Year Festival & Parade to celebrate the Year of the Tiger, on Saturday, February 19, 2022," the chamber said in the release. "For the past 18 months, the San Francisco community has demonstrated great fortitude and resilience in keeping the impact of the pandemic manageable and bringing life back to the city by safely reopening businesses and events with appropriate safety measures."
It may seem overly optimistic to project this event can be held more than five months in advance, after the Delta variant caused so many about-face restrictions to be reinstated over the summer. But this event does take months to plan, and per their press release, the parade bleacher seats will go on sale in mid-November, barely over a month from now. Additionally, all volunteers and parade personnel will be required to be fully vaccinated and masked at all times.
To plan your social calendar, the Saturday, February 19 Chinese New Years Parade will be the weekend after the Super Bowl (February 13), and the parade will be on Presidents Day weekend. The proper date of the Lunar New Year is February 1, 2022.