After 14 years in the Castro, Daddy's Barbershop (4102 19th St. at Castro St.) has permanently closed citing impacts of the Covid-19 pandemic.
Daddy's Barbershop officially closed on October 12. A sign on the business shared news of the closure.
"It's been a long 14 years of amazing memories with you however it's time for the next chapter," wrote Daddy's Barbershop owner Arlen Lasater. "Covid was just too much to rebound from."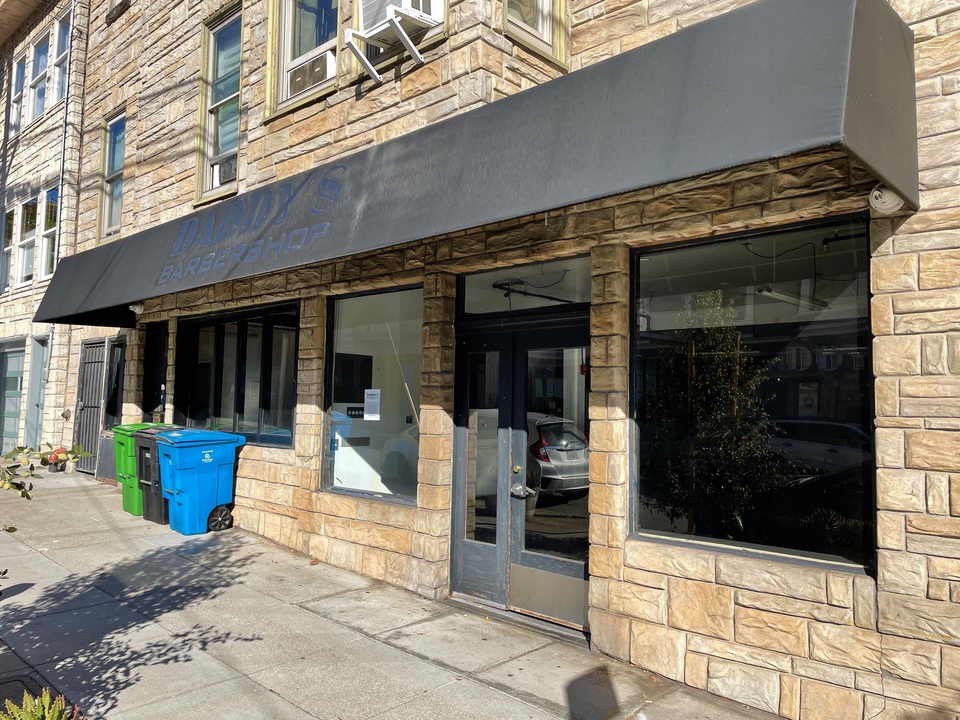 Daddy's Barbershop is now closed. | Photo: Steven Bracco/Hoodline
On a recent visit to the shop by this Hoodline reporter, all the equipment and fixtures had been removed.
Lasater tells Hoodline he's been trying to turn around Daddy's for nearly two years. "Prior to Covid, I had 13 people employed there," said Lasater. "Keeping us closed for almost a year really destroyed it."
Lasater explained that the majority of the 13 employees did not return and that it's been a struggle to find replacements. "In the last month, I have become the only one employed at Daddy's SF, and it's a nine-chair shop with a nine-chair rent," said Lasater. "Just couldn't do it alone anymore."
"As hard as it was to close it was not due to a lack of business but to a lack of barbers," said Lasater.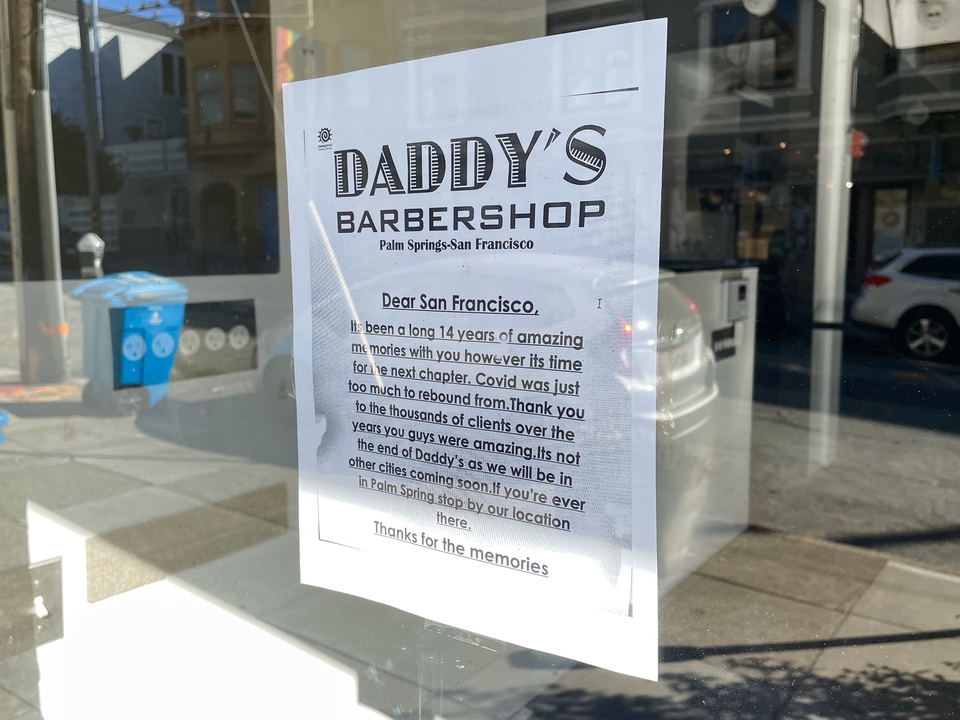 Note in the window at Daddy's Barbershop. | Photo: Steven Bracco/Hoodline
In order to help support the business financially, Lasater set up a GoFundMe page. However, the page raised only $4,420 of a $100,000 goal. Laster tells Hoodline all of the money went to his landlord.
In a 2016 Hoodline interview, Laster told Hoodline he was originally from Houston and came to San Francisco by way of Los Angeles, decided to leave his job with the government of Singapore.
Lasater ultimately decided on a career change and enrolled in barber school at the age of 46. Lasater worked at Joe's Barbershop, which is now located on Market Street, but used to be located in the upper level of Daddy's current shop.

Inside Daddy's Barbershop. | Photo: Steven Bracco/Hoodline
When it came to picking a name, Lasater ultimately went back to his days in hair school for inspiration. "I was the oldest one in the class and I was going to school with all of these 18-year-old little girls," said Lasater. "By the end of the school year, all of the students, the staff, the owners, the teachers, everyone was calling me 'daddy.' And so, 'daddy' came into my head and Daddy's was born."
Lasater said he has another location in Palm Springs (192 E. Indian Canyon Drive) that is currently thriving.
"It has been an amazing 14-year run," said Lasater. "It's time for the next chapter."
"Thank you to the thousands of clients over the years you guys were amazing," said Lasater. "It's not the end of Daddy's as we will be in other cities coming soon."