There's some fresh meat being added to the annual course of San Francisco LGBTQ block parties, which normally include Pride, the Dore Alley Fair, and Folsom Street Fair. Get ready for the Bearrison Street Fair, whose inaugural celebration will be this coming Saturday, 12-p.m. to 6 p.m., centered at 11th and Harrison Streets.
View this post on Instagram
"Bearrison Street Fair is a collaboration between the Sisters of Perpetual Indulgence, Inc., (SPI) and the Bears of San Francisco (BOSF)," the new fair's website explains. "Bearrison seeks to provide an inclusive event for all members of the adult LGBTI+ community which promotes body positivity for all and builds a more supportive, welcoming, and inclusive bear scene by representing a diverse arena of cultures."
View this post on Instagram
There will be wrestling at this event, though being in public, it will be more of the big-time rasslin' variety rather than the porn variety. The main stage performances will 'climax' with the Boys of Bearlesque at 3 p.m., and an Oasis takeover at 3:30 p.m. There's also DJs all day, and a "VIP Bear Garden."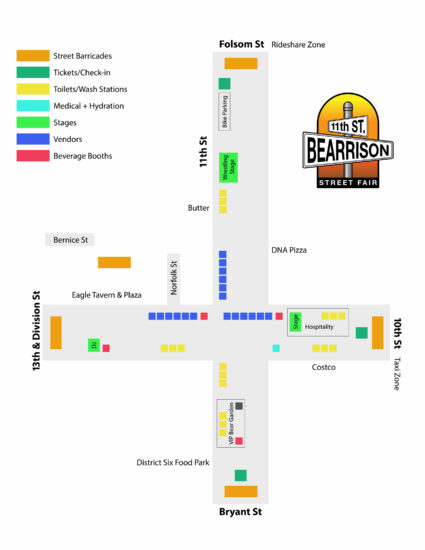 So yes, alcohol will be sold. Unlike this year's Folsom Street Fair and Up Your Alley, which refrained from hosting alcohol booths the encourage patronage at the legacy leather bars, beer and Neft vodka will be sold at this event.
View this post on Instagram
The pre-parties start Friday night with Daddy Issues at the Eagle and Bearrison Street Fair Launch Party at the Lone Star. On Saturday, the DNA Lounge hosts BigMuscleBears tea dance at 3 p.m., and the afterparty Bootie-O 54 at 9 p.m. The Lone Star will also host a Bearrison Recovery Party Full Queer Beer Bust (LGBT+ Pro-Wrestling) at 4 p.m. Sunday.

The Bearrison Street Fair is Saturday, October 23, Noon - 6 p.m., at Harrison and 11th Streets, Free, $10 donation suggested.