Oakland's Telegraph Avenue has not hosted a First Fridays festival since March 6, 2020. And while nearly all in-person events have been on hold throughout the pandemic, First Fridays faced an existential crisis over the summer when the city of Oakland slapped a hefty $24,000-per-month extra permit fee on the event. But now with normalcy returning, and a generous new sponsorship deal, First Fridays will return tonight, Friday, October 1.
"A lot of people don't realize how valuable this event is for the entire city," Shari Godinez, executive director of the Koreatown Northgate (KONO) Community Benefit District that organizes the festival, told the Oaklandside. "Thank God for the community and how excited they get when they hear that we're coming back."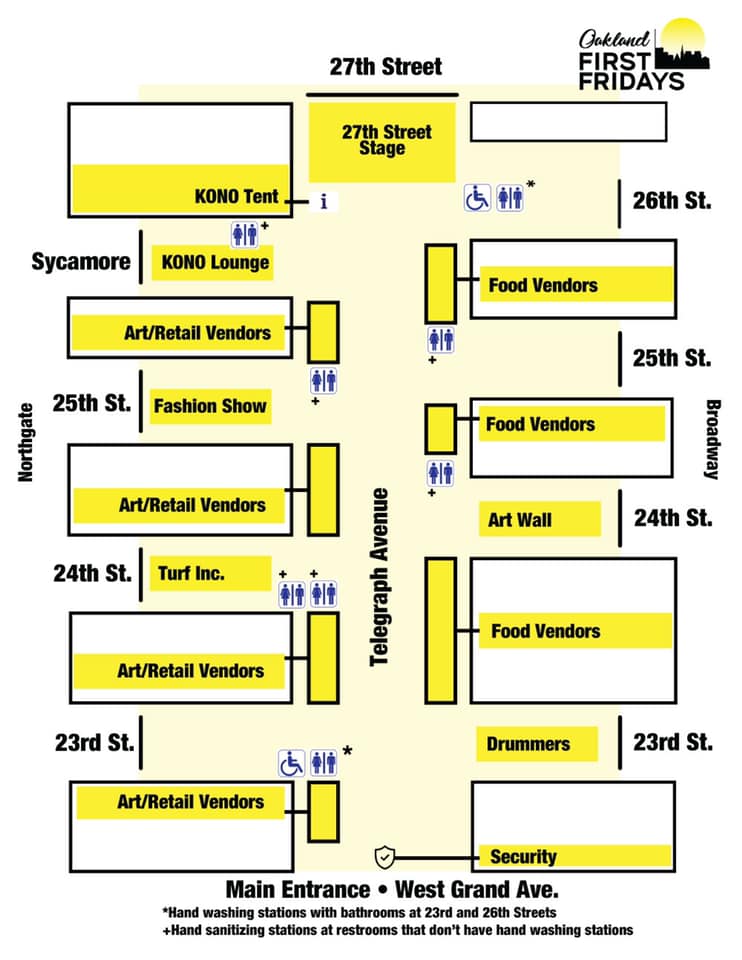 The rebooted event begins promptly at 5 p.m. Friday night, and as they've noted pretty agressively on social media, will be ending promptly at 9 p.m. It's a slightly smaller footprint than you may be used to, covering only Telegraph Avenue between West Grand Avenue and 27th Street.
There are currently 40 vendors expected, 15 of them food trucks or restaurants booths. That specific lineup has not been announced, but the street fest has announced that main stage music acts are pop cover band FARENHYTE 5150 (5:15pm-5:50pm), Latin jazz act FLO (Funky Latin Orchestra) (6:00pm-6:45pm), and Motown tribute band The Best Intentions (7:30pm-8:30pm). There will also be a fashion show, an art wall, and the traditional muscle car show.
Masks are "strongly encouraged," though not required.
You'll notice a prominent DoorDash logo on their promotions, as that delivery service is now the sponsor. As KQED reported in September, the Oakland Police Department agreed to lower the $24,000 permit fee to just $10,000, with DoorDash taking on that cost with their sponsorship deal.
The festival is not entirely out of the woods financially, though. They're still operating a GoFundMe campaign, hoping to "fund re-opening of the community festival" and "pay for necessary staff and expenses like security."