A court ruling has kicked a massive downtown San Jose Development project into high gear after months of delays due to a battle over a Brutalist-style building that is now being torn down. According to the Mercury News, demolition crews started tearing down the former Bank of California building this week at the corner of Park Avenue and Almaden Boulevard. In its place will be CityView Plaza which features three 19-story office buildings along with shops and restaurants below. The project appears to be moving quickly to make up for lost ground.
The Preservation Action Council of San Jose filed suit to try to temporarily block the development with the goal of saving the large, concrete bank building because it was considered a fine example of the Brutalist architecture style. The group wanted the developer of CityView Plaza, Jay Paul Co. to try to incorporate the building into its overall plan for the new tech campus. The Preservation Action Council also accused of the city conducting a flawed environmental review. But a judge ruled earlier this month that keeping the building was not feasible for economic and technical reasons.
The ruling allowed the CityView project to resume but the court litigation lasted about 13 months, which set the project way behind schedule. "Jay Paul has the opportunity to get back on track with the court ruling. I wouldn't be surprised to see the demolition expedited to make up some lost time," Bob Staedler with Silicon Valley Synergy told Mercury News. We should also see other parts of the massive CityView project fall into place soon. "I am very optimistic Jay Paul will land a huge tech lease for this in the next 12 months. That will be the loudest starting cannon heard in downtown's history," Mark Ritchie of Ritchie Commercial told Mercury News.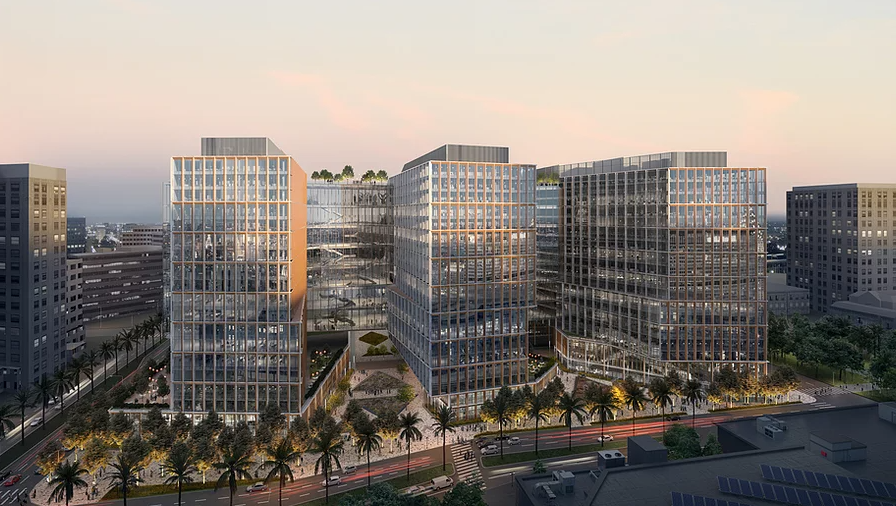 Rendering via Jay Paul Co.
The project is one of the biggest ever to come to downtown San Jose. Hoodline first reported in September that the three planned 19-story office towers will contain around 3.6 million square feet of space between South Market Street, West San Fernando Street, Park Avenue, and Almaden Boulevard. The towers will be connected by sky bridges and will also feature 24,000 square feet of shops and restaurants on the ground floor. Developers believe an estimated 14,000 people could end up working within the campus. So far, no completion timelines have been offered.