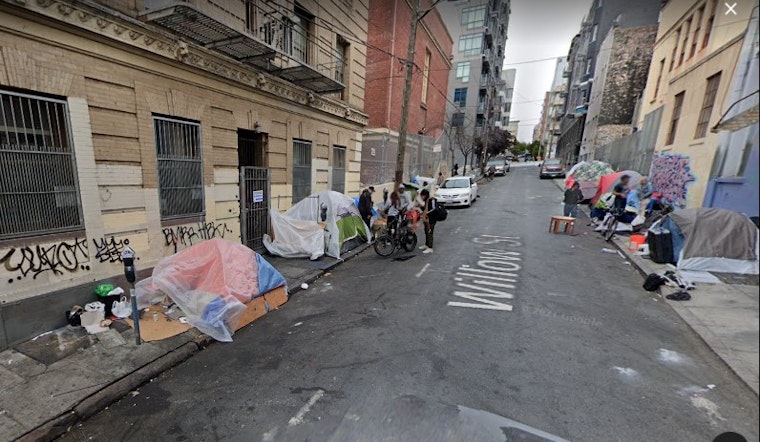 Published on November 09, 2021
Local media is a financially challenging proposition these days, to be sure. And one way for local reporters to gain prominence, at least here in San Francisco, is to publish a report on homelessness or shoplifting, and then hope for right-wing media to promote the heck out of it, hopefully bringing a temporary mini-boom in advertising dollars. An example is the infamous Walgreens shoplifting tweet from KGO's Lyanne Melendez, the most liked and retweeted tweet ever mentioning Chesa Boudin, and was picked up by ABC affiliate stations all over the country.
The latest example of the genre is a Saturday report from KPIX entitled "San Francisco Luxury Condos Overlook City's Worst Squalor." It's billed as an "exclusive," though the story is entirely familiar to anyone who's lived in San Francisco for any amount of time — there is a luxury residence with unhoused people living on the streets nearby. KPIX does have the detail that the relevant alleyway "Willow Street between Van Ness and Polk currently has the highest concentration of tents in San Francisco, according to the latest city data," and adds that "It's all within feet of The Artani, located at 818 Van Ness Avenue, where units have sold for more than $1 million."
That building currently lists condos starting at $679,000, but surely some units in the building have sold for more than $1 million.
The story's been picked up even internationally, in this case by the sensationalist U.K tabloid Daily Mail. Their version describes "Terrified millionaire residents of luxury San Fran condo building hit out after adjoining alleyway becomes city's BIGGEST homeless encampment," and very soberly complained of a "massive tent city — occupied by a feces-hurling man and an assortment of other untoward characters," before launching into an unrelated screed over District Attorney Boudin's record on prosecuting shoplifters.
Which is obvious catnip for conservatives who are ever-spoiling for a chance to harangue about San Francisco's alleged moral rot. Widely syndicated conservative columnist Byron York retweeted the KPIX piece to his nearly half a million followers, whole other righties sharing the piece called the landscape "Pelosiland."
Yet closer to home, the social media response in San Francisco has been more about the framing of the piece. The human suffering of people living on the street is addressed more as a menace, and the article caters more to the concerns about well-heeled homeowners, and that's drawn a little snark on social media.
This "exclusive" news story, which is something San Franciscans have seen every day going back years, serves as a Rorschach test for one's feeling on addressing the city's homlessness crisis. You'll either think the city is prioritizing the millionaire class over homelessness services, or you'll think that a so-called homeless-industrial complex is driving the city's urban decay. It's not even clear whether those interviewed for the piece live in the Artani, or whether they're actually millionaires. But the piece succeeded at getting all the reactions it was supposed to, which is why articles like this aren't exactly one-in-a-million anymore.