A new cannabis retail shop has been proposed at 2057 Market St., formerly Market Nail Spa.
San Francisco Office of Cannabis records indicates the name of the new dispensary is Rose Mary Jane. The proposed cannabis dispensary would take over the approximately 1,200 square foot ground floor space.
Rose Mary Jane was founded in 2019 by Oakland resident Erik Murray. The cannabis retailer currently has one location in Portland, Maine which opened earlier this year.
According to its website, "Rose Mary Jane is committed to social equity, supporting freedom for cannabis prisoners, partnering with local non-profits, and providing purpose-driven career opportunities for our team members."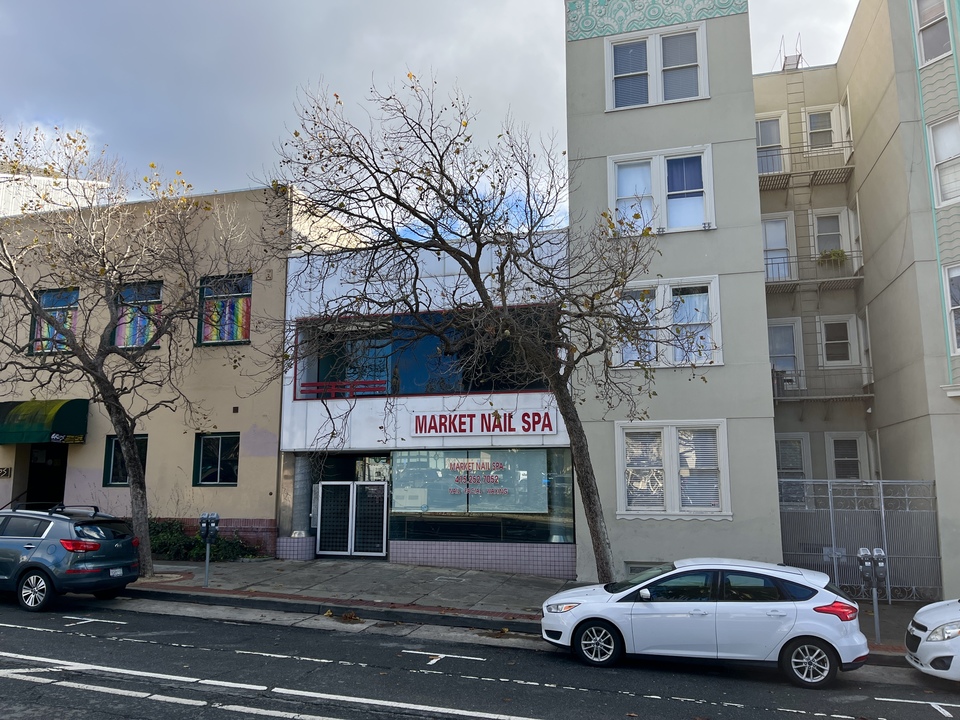 Rose Mary Jane has been proposed at 2057 Market St. | Photo: Steven Bracco/Hoodline
Murray and business partner John Underwood have joined forces with a third business partner, Ed Donaldson, as part of the city's Office of Cannabis Equity Program. The program aims to lower the barrier for entry to the cannabis business for people who were arrested for cannabis-related offenses during the War on Drugs.
Murray declined Hoodline's request for comment. According to Murray's LinkedIn page, he's also a partner at Oak Investment Funds, Homage Hospitality Group, and Capten Industrial Fund.
Public records indicate that Underwood and Murray have formed multiple cannabis dispensaries corporations together including Lake Merritt Equity and Oaklyn Legacy Holdings (formerly Effet).
Born and raised in San Francisco's Bayview, Donaldson was arrested in 1993 and spent 10 years in federal prison for a non-violent drug conviction for a small amount of crack cocaine. Donaldson currently serves as the director of strategic initiatives at equity platform Universal Soldier.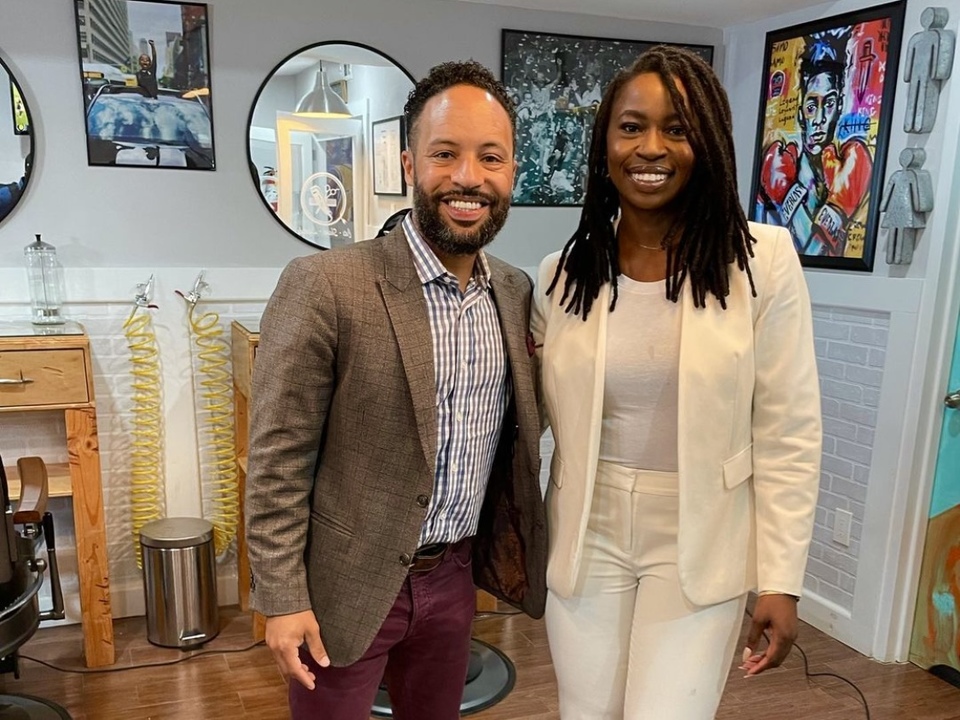 Rose Mary Jane founder Erik Murray (left) and Precious Osagie-Erese (right). | Photo: Rose Mary Jane/Instagram
Donaldson tells Hoodline that Rose Mary Jane will primarily focus on the LGBTQ+ community, in particular the trans community. "There's no space for them in the industry where they feel welcome," said Donaldson.
"The elephant in the room in the Castro is that Black trans and Black queer people aren't welcome," added Donaldson. "If we're going to come to the Castro we're going to fill that void."
To achieve that goal, Rose Mary Jane has hired Evelyn LaChappelle as its social justice impact consultant. LaChappelle currently works at the Last Prisoner Project which helps get non-violent cannabis offenders out of prison.
Donaldson tells Hoodline that Rose Mary Jane plans to open in September or October of 2022. Rose Mary Jane plans to have three additional locations with one in the Marina and two in Oakland.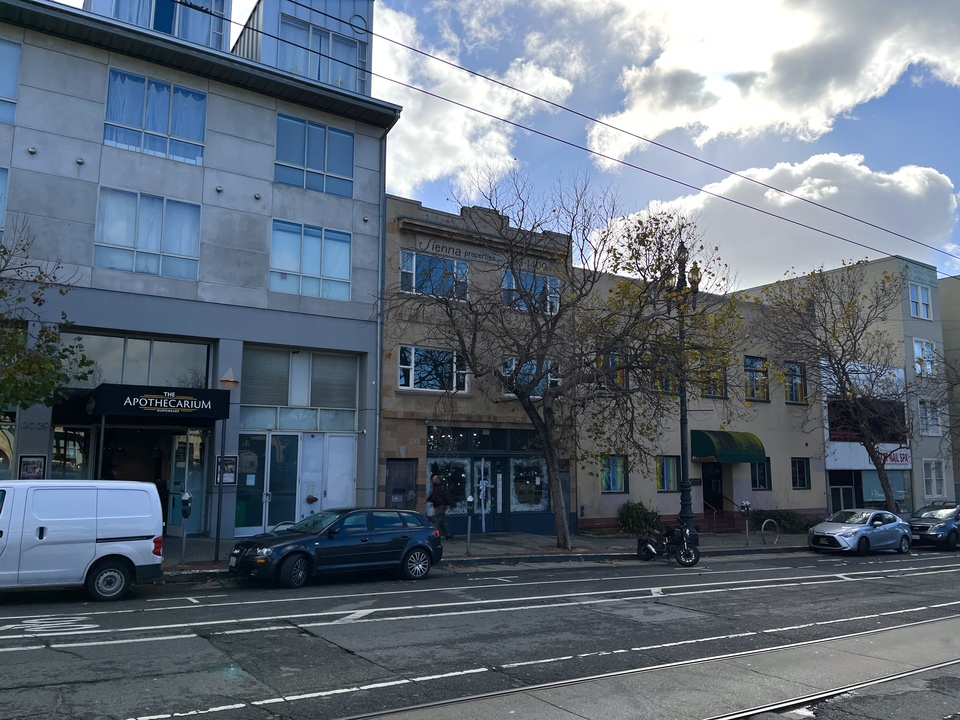 Rose Mary Jane is approximately 100 feet away from The Apothecarium. | Photo: Steven Bracco/Hoodline
Rose Mary Jane would be three doors away from the long-established dispensary The Apothecarium. Current San Francisco rules do not allow cannabis retailers to be within 600 feet of one another. By Hoodline's estimation, Rose Mary Jane is approximately 100 feet away from The Apothecarium.
However, the project has been in the works since 2017, prior to San Francisco passing Article 16 which regulates cannabis retailers.
Donaldson explained that Rose Mary Jane was grandfathered in and will be required to obtain a conditional use permit to open less than 600 feet from The Apothecarium.
Hoodline reached out to The Apothecarium for comment but did not receive a response.
"This site was caught mid-processing when we adopted our regulations to allow adult-use cannabis back in 2018," explained SF Planning's Michael Christensen.
"Nothing has been approved at the site as of today" added Christensen. "The site is still authorized as a personal service (nail salon) use."
Prior to 2018, there was no minimum radium between cannabis retailers. "Our Planning Code provides an exception to the 600-foot rule under Planning Code Section 190(b)," explained Christensen. "That exception only applies to cases like this which were mid-process when the 600-foot rule was first adopted."
"The exception allows a site that was mid-process in 2018 to apply for an entitlement for a cannabis retail use and receive an exception from the 600-foot buffer between storefronts," said Christensen.
Christensen tells Hoodline that Rose Mary Jane was authorized to apply for a cannabis retail permit in July but an application has not been received.
While a prior application at the site does exist, Christensen explained that Rose Mary Jane will need to reapply. "The prior one we still have on file is for Mandatory Discretionary Review, while the current Project (Cannabis Retail) requires Conditional Use Authorization instead," said Christensen.

Inside Rose Mary Jane's Portland, Maine store. | Photo: Rose Mary Jane/Instagram
Donaldson said they've discussed the proposal with local neighborhood groups including the Castro Merchants and the Castro/Upper Market Community Benefit District (Castro CBD), along with the Brownie Mary Democratic Club.
Donaldson acknowledges that concerns have been raised about the opening so close to another dispensary but, he feels there is plenty of market share for everyone. "My response is easy and straightforward just looking at it from a business standpoint," said Donaldson.
Donaldson says the size of San Francisco's cannabis market is approximately $500 to $600 million and he estimates the city will cap the number of cannabis retailers at 100. "If you divide 100 stores by the low estimate of $500 million that leaves roughly $5 million per store," said Donaldson.
"The question becomes whether or not each of those individual stores has a value proposition that would attract or garner $5 million per year," added Donaldson.
"Looking at it from that perspective, now we're talking about equity," said Donaldson. "If you look at the distribution of revenue it's moving in an inequitable way."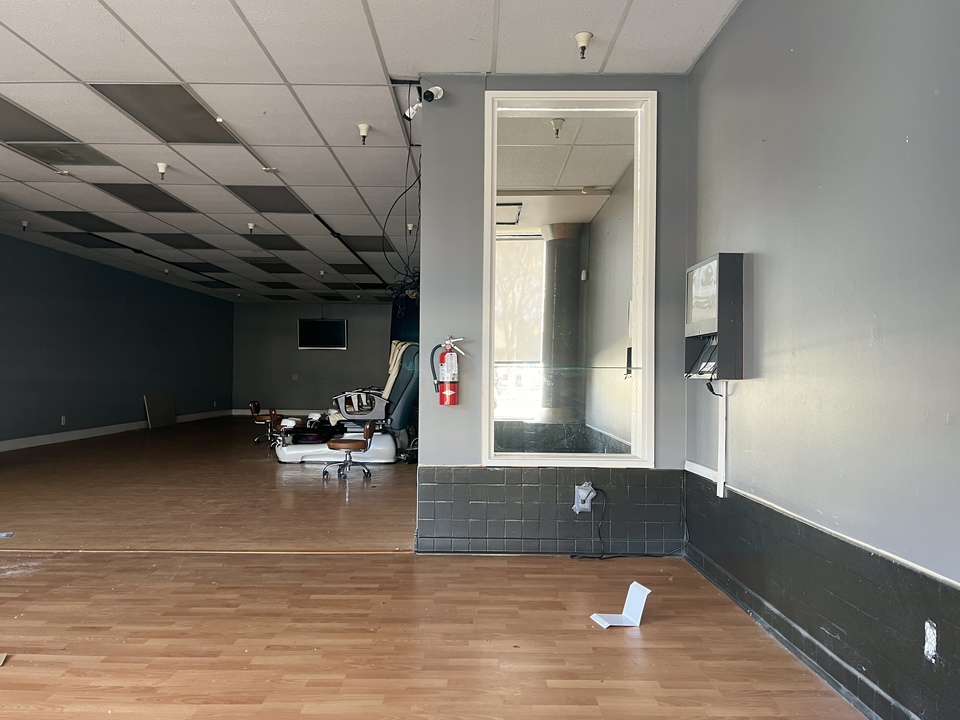 Inside the currently vacant 2057 Market St. | Photo: Steven Bracco/Hoodline
Recently the proposal was discussed at the Castro CBD monthly board meeting. Executive director Andrea Aiello tells Hoodline they have not made a decision. "We did have one Land Use Committee meeting to review but had some questions," said Aiello.
Aiello says that the Castro CBD needs more time to discuss with other community groups like Castro Merchants, Eureka Valley Neighborhood Association, and the Castro LGBTQ Cultural District before making a decision.
Castro Merchants president Masood Samereie tells Hoodline, "Any business that fills a vacant storefront is a good business, so we would be delighted to see the 2057 Market Street lot filled."
Samereie says he's not concerned about having two cannabis retailers near each other. "The market will decide if their location was a good choice for them or not," said Samereie. "We can't dictate that."
Samereie said Rose Mary Jane reached out to Castro Merchants back in August but they have not taken a vote or issued a letter of support.
Should Rose Mary Jane be approved it would be the Castro's fourth cannabis retailer. The Apothecarium has been open since 2011 and at its current location since 2016. Eureka Sky opened at 3989 17th St. in 2019 and the long-delayed Flore Store (258 Noe) recently opened.