The Castro's newest cannabis retailer Flore Store (258 Noe St.) has announced its grand opening on 4/20, the unofficial national holiday for marijuana.
Co-owner Terrance Alan made the announcement on sister-business Flore's social media pages last week.
Hoodline readers will recall Alan and co-owner Luke Bruner have been working to open Flore Store since 2018. Flore Store will be the third cannabis retailer in the Castro, alongside Market Street's longstanding The Apothecarium and one-year-old Eureka Sky, which is adjacent to Jane Warner Plaza.
---
---
"The Flore Store sits across the street from the iconic Cafe Flore in the Castro District and Duboce Triangle neighborhood," wrote Alan. "It is where Dennis Peron and Brownie Mary advocated medical cannabis be free and available to AIDS and cancer patients."

Construction work is currently underway at Flore Store. | Photo: Steven Bracco/Hoodline
"Soon this new store will equitably connect patients and customers to the legacy of Humboldt farms and honor the local pioneers who introduced restorative qualities of cannabis grown with regenerative principles to sustain the planet," explained Alan.
Along with announcing an opening date, Alan put a call out for artists who will create a mural that will be installed on the north side of the building facing the Noe & Beaver mini-park and community garden. Applications are due today, January 27. (Update 1/30: The deadline has been extended until February 12.)
"The Flore Store mural will help us remember the long history of courage and arrest, pain and relief, anger and joy, illegal now legal," said Alan. "Art can say so much more about that moment than words and for that reason, the mural project beings."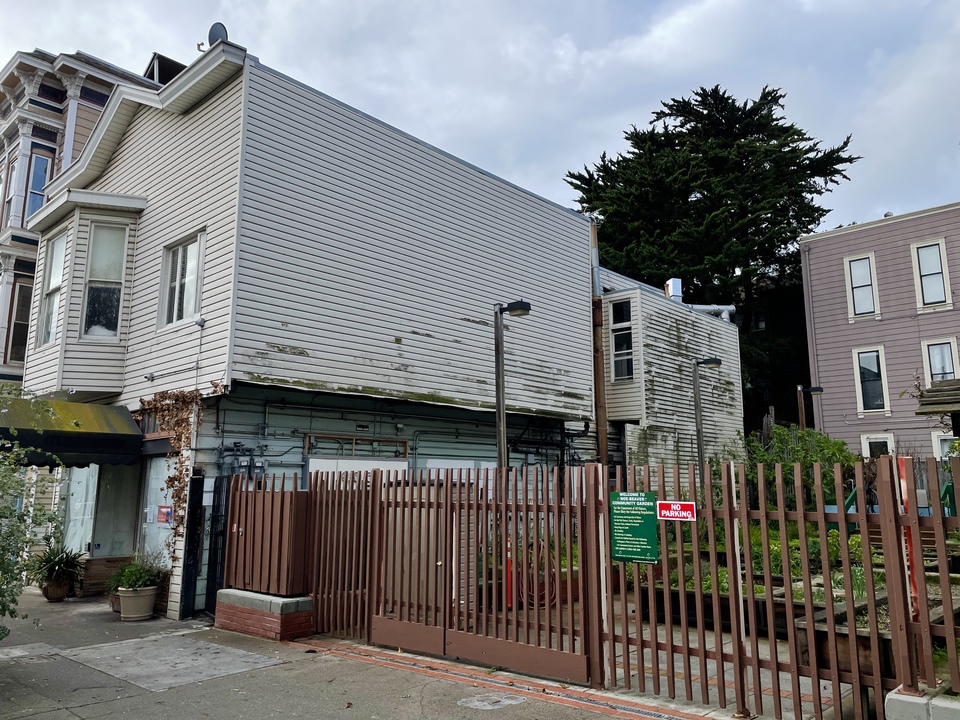 A mural and fence will be constructed along a tradesman's entrance between Flore Store and the Noe & Beaver mini-park. | Photo: Steven Bracco/Hoodline
"The Flore Store seeks to commission a site-specific art mural that will embody the connection of compassion and cannabis and be the store of the two remarkable places that have made that real: Humbodlt County and San Francisco," said Alan.
Three finalists will be selected on February 12 by an art selection panel made up of arts and community members. Each finalist will receive a stipend of $200 to submit a proposal for their mural concept by March 5.
Alan tells Hoodline panel members include: artist Debra Walker, Luggage Store Gallery co-founder Darryl Smith, Castro Merchants board members Haley Adams (Castro Tattoo) and Suzie Jennings (Spunk Salon), Duboce Triangle Neighborhood Association board member Paige Rausser, and Frank Tizedes, coordinator of the Noe & Beaver community garden.
The winning artist will be announced on March 8 and will be awarded a cash prize of $2,500.

A rendering of Flore Store's proposed mural overlooking the mini-park. | Image: SFGovTV
Instead of being painted on the building, the design will be digitally printed, attached to the existing building exterior wall, and illuminated at night. Alan tells Hoodline they decided to not paint a mural on the side of the building after consulting with members of the community garden concerned about chemicals in the soil.
The final version of the mural will be unveiled at The Flore Store's grand opening on April 20 at Noon.
Alan is no stranger to the cannabis industry, he previously chaired the San Francisco Cannabis State Legalization Task Force, where he advised the city on how to regulate the industry under State Proposition 64. He is also currently a board member of the Castro Merchants. But despite his qualifications, getting Flore Store approved wasn't easy.
In 2019 the Planning Department gave the green light with several conditions including painting a mural on the wall. Alan and Bruner agreed not to use any cannabis- or drug-related graphics or ads on its facade. "The mural will not be cannabis-themed," Alan told Hoodline. "It will be about this connection between cannabis, AIDS, the wasting syndrome, cancer, and chemotherapy."
Members of the Duboce Triangle Neighborhood Group (DTNA) set several other conditions for Flore Store's opening. On-site consumption of cannabis is barred, and on-site security will be required during regular business hours, along with 24/7 video surveillance.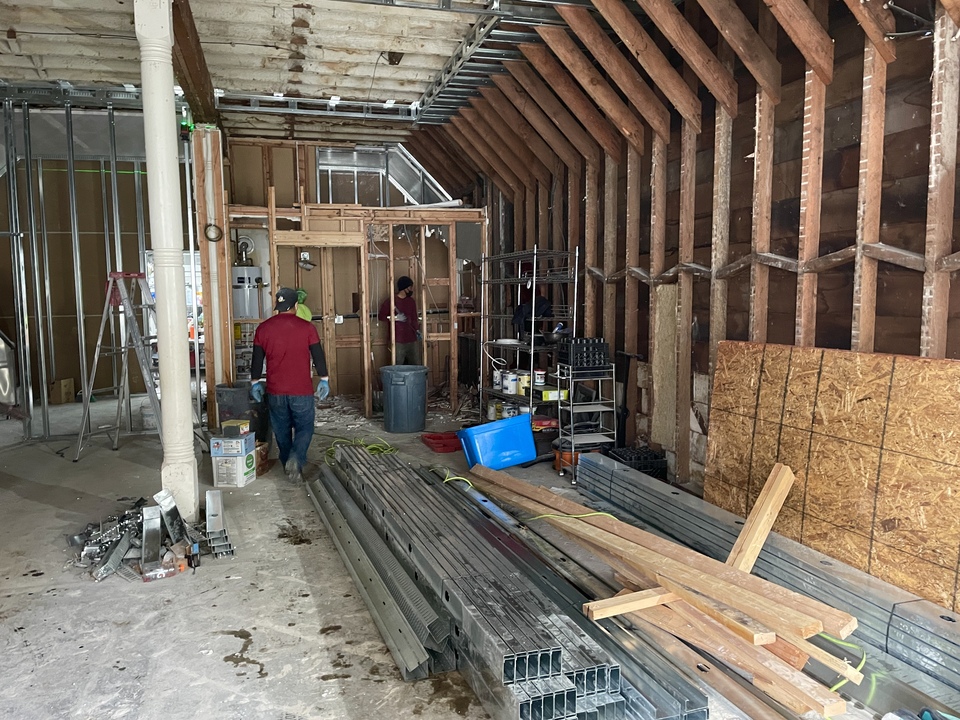 Construction workers inside Flore Store. | Photo: Steven Bracco/Hoodline
Alan and Bruner also agreed to help find a new space to relocate the space's former tenant, nail salon Gloss 'n Glam. Alan and Bruner must also provide financial support for its move. Gloss 'n Glam's owner, Mary Ann Nguyen, tells Hoodline she's committed to remaining in the Castro but has not found a new space at this time.
Flore Store will not be permitted to use Flore's off-site prep kitchen in the back of the building, and the residential unit upstairs must remain a long-term rental. Flore Store will also be required to construct a fence along a tradesman's entrance between its building and the Noe & Beaver mini-park and community garden.
Last June demolition work began on Flore Store and Alan told Hoodline he hoped to open in about three months. However, since that time construction work stalled until just recently. Alan tells Hoodline that finding funding for an equity business was difficult to put together.
As previously reported, public records indicate a building permit was issued in January 2020 for the interior remodel, along with a sprinkler system, ADA compliance, removal of vinyl siding and a remodel of the exterior and fencing. Construction costs are estimated at $128,500.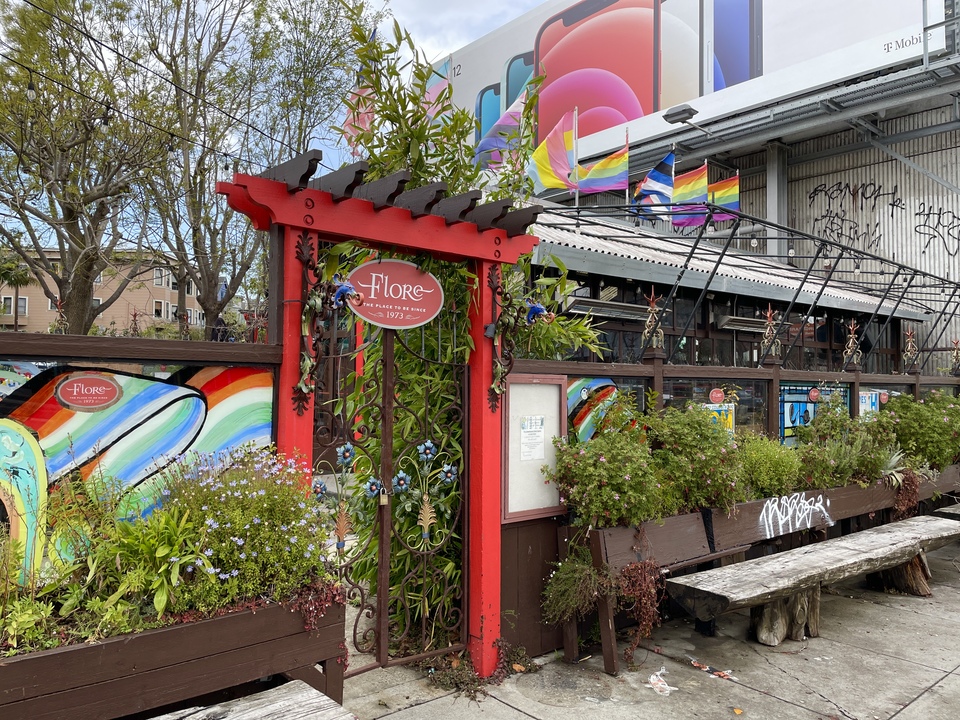 The historic Cafe Flore has been closed since December 2019. | Photo: Steven Bracco/Hoodline
Meanwhile, the 48-year-old historic neighborhood restaurant Flore (formerly known as Cafe Flore) remains shuttered since it closed in December 2019.
Alan and co-owner Aaron Silverman took over Cafe Flore in 2017 and despite cutting back the cafe's hours and menu, "we couldn't make it break even," said Alan last year. Alan also thought it might fare better as a private events space but those ideas were dashed by the arrival of the COVID-19 pandemic.
Last June Alan told Hoodline Cafe Flore may reopen and he was searching for a new chef. "I'd like to open the cafe as soon as we can, if it makes practical sense for safety," said Alan at the time. "We need somebody smart, with a new idea that fits with the neighborhood."
Alan tells Hoodline he's talked to about a dozen people but he's still looking for a business partner. Alan hopes to open Flore and the Flore Store simultaneously but limited capacity restrictions make opening a restaurant at this time difficult.