In our ongoing mural coverage, we did not expect to see any announcements of a mural in Golden Gate Park. After all, where would you put it? On the ground, apparently.
SF Rec and Parks has announced plans are going forward for a roller-skating-themed mural in the outdoor skating rink area known as the Sixth Avenue Skatin' Place.
A ground mural featuring a golden roller skate surrounded by a psychedelic pattern may add new color to a legendary skating spot in Golden Gate Park after the Recreation & Park Commission voted unanimously to approve the final design today. Details here: https://t.co/rv2XaoKEcB pic.twitter.com/WgHvEx5a9w

— San Francisco Recreation and Park Department (@RecParkSF) December 16, 2021
"The 28-foot by 93-foot oval mural planned for the asphalt of Skatin' Place, the park's outdoor skating rink between 6th Avenue and John F. Kennedy Drive, will next go before the San Francisco Arts Commission for final review," Rec and Park said in a release. "Created by Bay Area artist and longtime Golden Gate Park skater Aimee Bruckner, the design honors San Francisco, Golden Gate Park, and the park's roller skating history with a counterculture-themed color scheme, a reference to the Golden Gate Bridge and a roller skate in the center circle."
And you won't be surprised who got this project rolling. It was David Miles, Jr., founder and roller skate evangelist of the Western Addition's Church of 8 Wheels, and longtime frequenter of the Skatin' Place.
"This mural at 6th Avenue Skatin' Place really represents roller skating's contribution to quality of life in San Francisco," Miles said in a statement. "Generations have experienced the fun, the joy, the sheer excitement of coming here to roller skate on a bright Sunday afternoon. This mural is a great acknowledgment to those like myself and many others that have worked hard over the years to keep the good times rolling."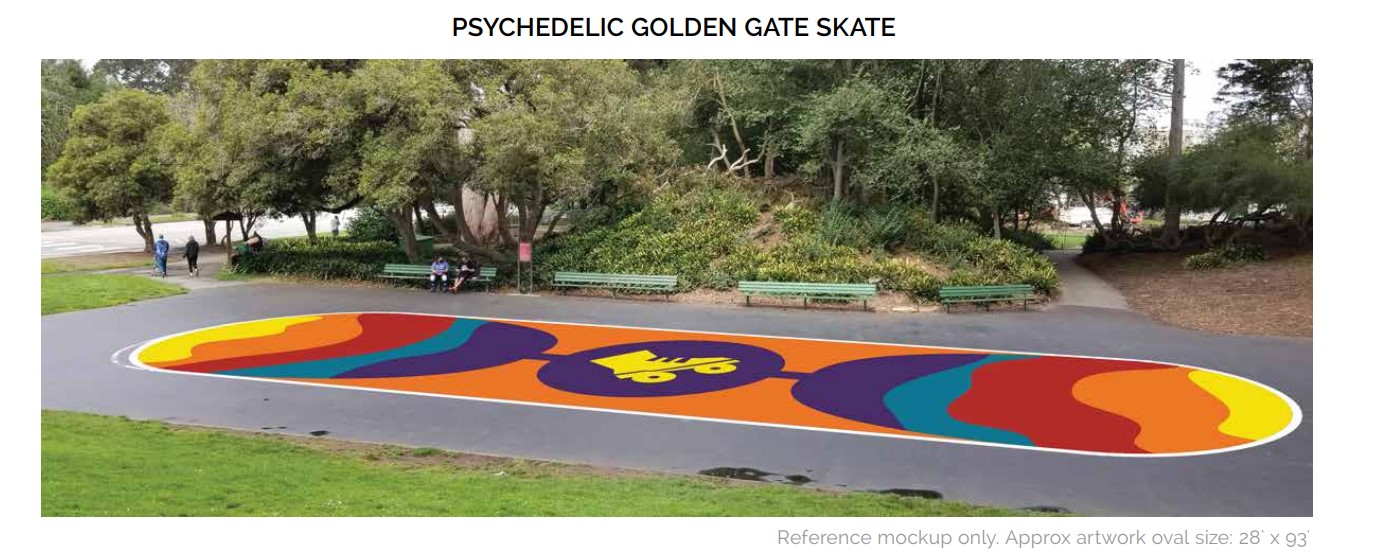 Image: SF Rec and Parks

The above image is a rendering, but if completed, it would be a "28-foot by 93-foot oval mural," according to Rec and Parks. And while you might think this thing would scuff up pretty quickly, Red and Parks says it will be painted with "asphalt acrylic paint, a durable material that resists fading or peeling from heavy use," and that a "weather resistant sports coating system would allow simple maintenance and retouching."
The San Francisco Arts Commission must still approve the mural before it is applied. Rec and Parks says that "If passed by the Arts Commission, the mural's installation will begin in spring of 2022 and take six to eight weeks to complete."