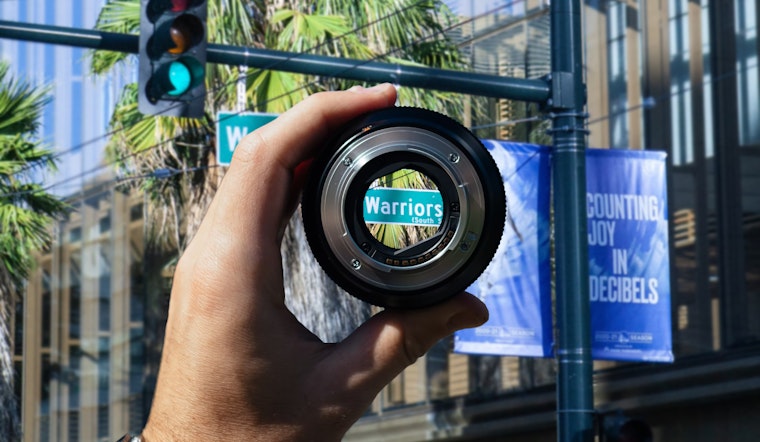 Published on January 26, 2022
Jordan Jimenez, a freelance photographer from San Bruno, is now rubbing shoulders with professional basketball players daily due to his hard work, dedication, and a little bit of luck.
How did it come about? Jimenez has been doing work as a freelance photographer since he was seventeen and making a name for himself. He decided to drop out of the University of San Francisco during his sophomore year and start his media brand, JSquared Visuals. It was all starting to come together when he met Packie Turner, Chief Training Officer of Unlimited Potential Basketball. Once they started becoming friends, Turner invited Jimenez to shoot his first NBA game in Orlando. The same year, Turner reached out to Jimenez again to shoot a basketball invitational featuring Juan Toscano-Anderson and Jordan Poole, two prominent role players for the Golden State Warriors.
View this post on Instagram
Poole and Jimenez were fast friends and only a year apart in age, so they kept in touch. During the offseason, Poole booked Jimenez for a few Warriors shoots and built a rapport with the players and organization.
Alongside Poole and the rest of the Warriors this season, Jimenez is finding his stride. Most notably, he snapped a picture of Steph Curry looking away from the basket and pointing towards fans before his 3-pointer went into the hoop. The photo was reposted by SportsCenter, Overtime, and Bleacher Report.
"I've practiced taking hundreds of shots of players during basketball practices," said Jimenez. "I've practiced that photo, just like Curry practices his shots in the gym. I just got really lucky with Steph turning away at the exact moment he did. It was a mix of hard work and luck for me, just like basketball," said Jimenez in his interview with SFGATE.
View this post on Instagram
Another recent highlight was Jimenez capturing Toscano-Anderson's monumental dunk over former-Warriors' center Javale McGee in their early December matchup with the fellow title contender Phoenix Suns. The photo also went viral on socials and prompted Jimenez to sell prints on his website. The prints, now sold out, also had a percentage of proceeds going to Toscano-Anderson's JTA Foundation, which benefits families in need in both the United States and Latin America.
While Jimenez's journey and photographs might be misconstrued as simple luck, he puts in the work. During gameday, Jimenez has his own process and shootaround. Arriving a few hours before the game starts, he takes photos during warm-ups and practices his angles. After tip-off, Jimenez takes to his lower-level seats and shoots during the game. He then goes home, goes through the photos, and sends them to the players.
With Jimenez's work reaching new heights—all his Warriors photos reaching at least 1,000 likes on Twitter and his Instagram reaching 36.5 thousand followers—he still makes sure Poole gets his full attention.
"I send my photos to everyone on the team, but I'm really taking care of Jordan and handling media visuals for him. When he needs me, I'm there," said Jimenez.
View this post on Instagram
While the past few years might have seemed like a whirlwind of events for Jimenez, he has worked hard and earned to get where his is now. Mirroring the Warriors' season yet again, Jimenez's potential is only up from here.
"It's been a lot of years and practice, and it's nice to see it all come to fruition," said Jimenez.