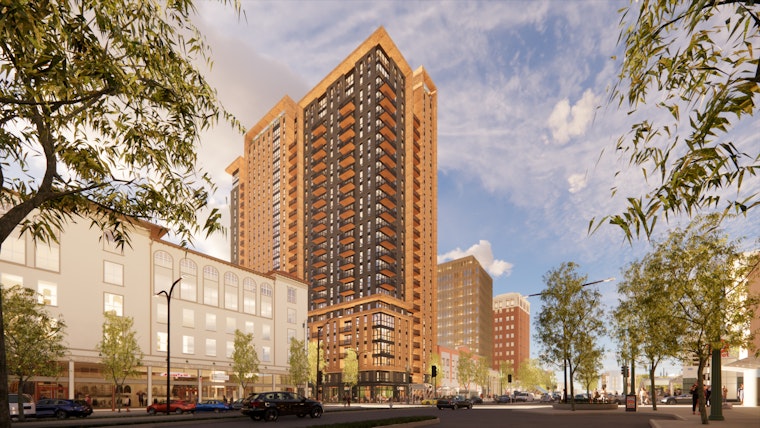 Published on February 15, 2022
Plans for a new apartment building in Berkeley are getting a lot taller after a new developer took over an already approved project in the downtown area. The original plan was to put an 18-story building where a Walgreens store currently sits at 2190 Shattuck Avenue at the intersection of Allston Way. Now, according to the San Francisco Business Times, PGIM Real Estate has taken over the project and has redesigned the structure to be 25 stories tall, which would make it Berkeley's tallest building aside from the clock tower on the UC Berkeley campus.
The number of apartment units would balloon from 274 to 326 units, with 33 units earmarked as affordable housing. The original plan contained no affordable units. The initial developer, Mill Creek Residential, apparently withdrew from the project despite going through a challenging approval process which got the green light from the city council in 2019.
"After years of trying to make the currently-approved project work financially, the 2190 Shattuck team realized astronomically high construction costs mean it would only work if it was redesigned," said Jason Overman with the new development team, speaking to Berkeleyside.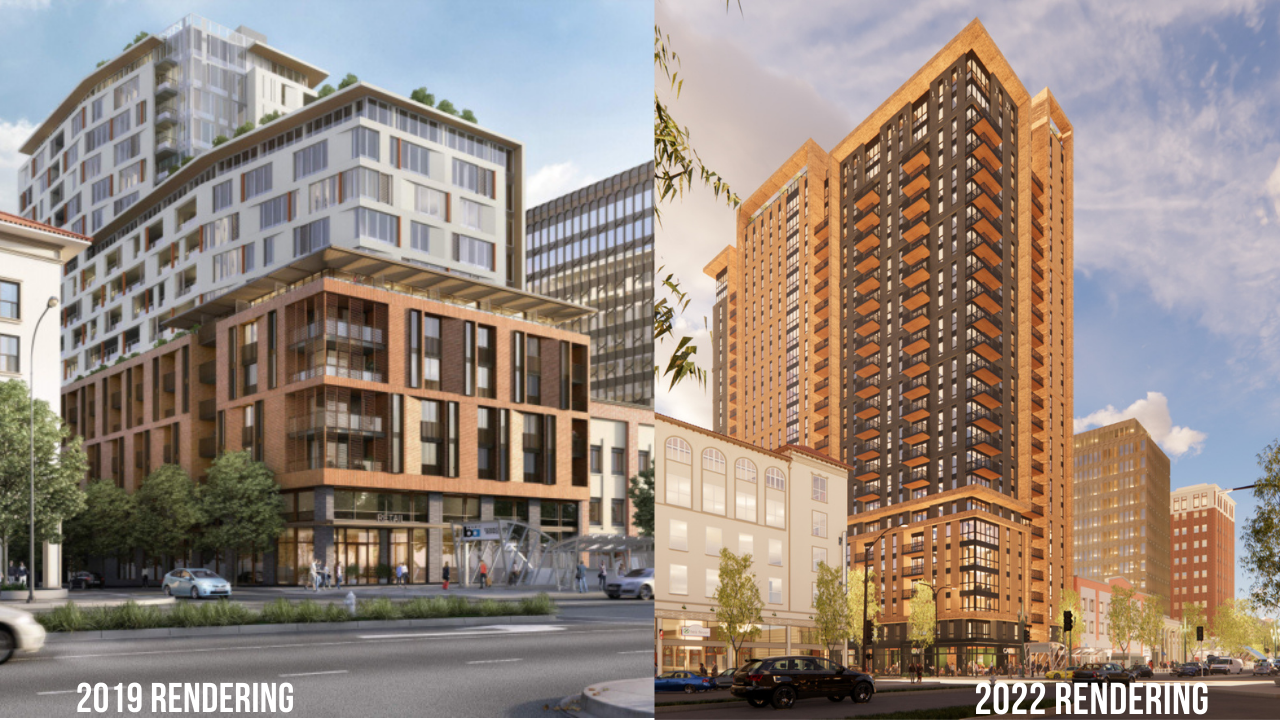 Rendering Credits: WRNS Studio(left), Trachtenberg Architects(right)
PGIM now wants the building to be filled with apartment units that range from studios to five-bedrooms and that are more suitable for college students. Another notable change is the parking area which has been cut in half from more than 100 spots down to just 51. That makes sense because the building would be just a few steps from BART's Downtown Berkeley Station.
The new plans could take a lot more convincing to get approval since there were already major concerns about the height of the building when it was 18-stories. On top of that, Berkeley's Downtown Area Plan only allows for three new high-rise buildings that must be under 180-feet tall. The new plans have the structure standing 260-feet tall. PGIM plans to skirt that regulation by submitting to a state housing law that allows developers to exceed city height limits if they include low-income housing units, which this new plan does.
"We certainly recognize that tall buildings can be a sensitive subject. All that we ask is that folks keep an open mind. The downtowns of cities across America change over time," Overman told Berkeleyside. So far, only two high-rise buildings have been added in Berkeley which leaves room for one more tall structure under the Downtown Area Plan. One of them, a Residence Inn on Center Street which opened in January as reported by Hoodline, stands 17-stories tall. The other is a 17-story apartment building at Center and Oxford streets which is still in the approval process.
If these redesigned plans are approved and the timeline stays on track, the developers tell Berkeleyside that hope to break ground in 2024 and have the building ready for renters in 2026. Officials are not saying yet how much the building will cost to construct.