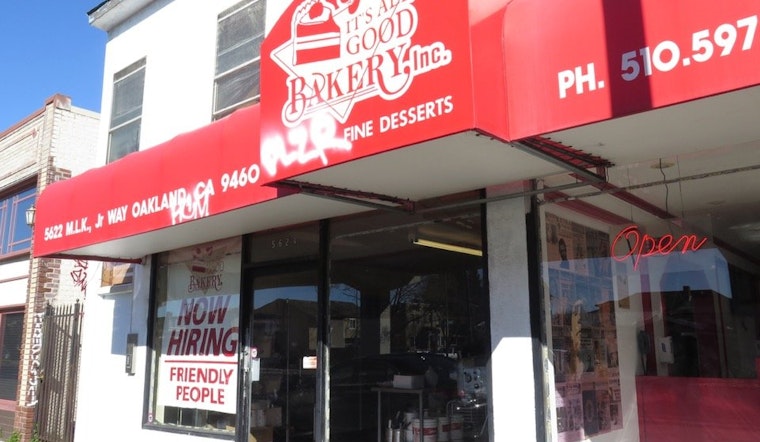 Published on February 11, 2022
A building on Martin Luther King Jr. Way in Oakland that was the first headquarters of the Black Panther Party could be demolished to make way for a 20-unit apartment complex. The site is currently home to the famed It's All Good Bakery. Oakland's Landmarks Preservation Advisory Board pushed the project forward during a public meeting this week but the plan still has some city approval hurdles to clear before getting the full green light. It's also facing a lot of opposition from people who are concerned that an important piece of Oakland's history is being erased.
The Black Panther Party movement got its start in October of 1966, and the group eventually moved into the building early the following year. At the time, MLK Jr. Way was called Grove Street. The BPP only stayed in the building for a handful of months before moving to a different location up the road. Still, news that the building could be demolished is stinging, especially to former BPP members. "I'm getting calls from all over the country. To them, that's like tearing down a museum because that's where it all started," former BPP member Saturu Ned told the Oaklandside.
Some residents also believe that the city of Oakland would be sending the wrong message if they allow it to be demolished. "The fact that they're going to tear it down, is tearing down a piece of our history as black folks in this community. We owe a lot of things to the black panthers in the community. For example, we have stoplights to keep kids safe," resident Minx Manuel told KTVU.
The owner of the building bought the property back in 1996 and has been running It's All Good Bakery where he displays BPP memorabilia on the walls. Under the current plan, the bakery would still operate on the ground floor of the new, 5-story structure once it is built. "If he's gonna maintain his bakery there and then have some connection to the legends of the party if you will, then that's a big plus," Ray Carlisle with the NID Housing Counseling Agency told Oaklandside.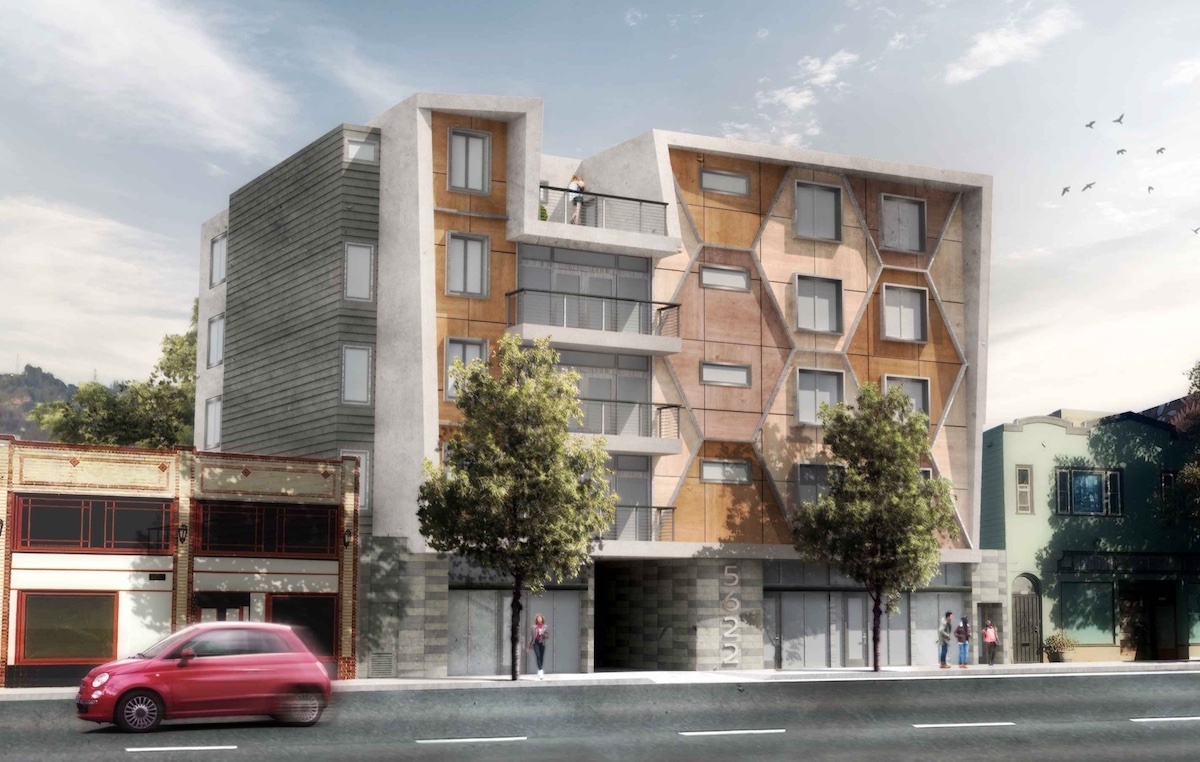 Rendering Credit: Gunkel Architecture
If built, the 20-unit apartment complex would only feature two units that are deemed affordable housing. The building's designer, Gunkel Architects, claims that elements that honor the BPP were added to the overall look of the structure. Apparently though, the preservation board has its doubts. According to Oaklandside, the board is now mandating that the building's owner "conduct a deeper historical analysis of the property, and propose further mitigation strategies to blunt the impact of demolishing an important site."
Final approval of the project will be granted by the zoning manager for the city of Oakland and there will be no more opportunities for public comment. It's unclear when the final decision will be made.