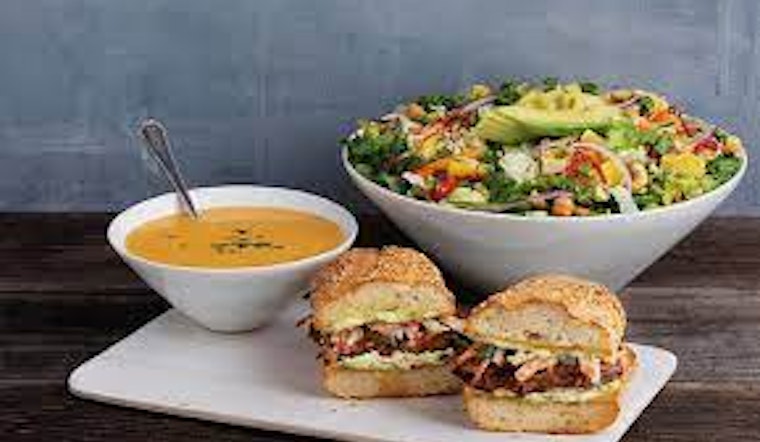 Published on March 29, 2022
Given that city-dwellers are now more likely to order food for delivery or take-out than prior to the pandemic, we're not likely to see an end to the trend of delivery-only restaurants for a while. And now, the healthy takeout concept Mendocino Farms is opening up a new, tenth Bay Area location at the edge of San Francisco's Bernal Heights neighborhood, at 90 Charter Oak Avenue. First launched in downtown Los Angeles in 2005, Mendocino Farms has had a local presence for several years in the South Bay, East Bay, and downtown SF.
While other locations offer fast-casual dining, this new location is all takeout, and the entire ordering experience is app-based. Eaters can either order on the Mendocino Farms website, download the Mendocino Farms app and order delivery or pick-up through there, or get the same food through UberEats, DoorDash, or Postmates, the restaurant says.
Mendocino Farms formerly called itself a "sandwich market" before a January rebranding, and it offers handheld foods of all kinds, along with salads, soups, and deli-style sides like potato salad and couscous. Those come with a healthy and distinctive twist, such as roasted beets and toasted pistachios included in a black barley-based salad.
"Through its digital-only ordering experience, the San Francisco Kitchen is focused on offering a more convenient and accessible way for the greater community to enjoy Mendocino Farms' cheffy takes on classic entrées," the restaurant's public relations team said in a news release Tuesday.
The restaurant has locations all over Los Angeles, Orange County, San Diego, and NorCal, with a few more in the Houston, Dallas-Fort Worth, and Atlanta areas. The new location at 90 Charter Oak Avenue will be the third for the brand to not allow in-store dining.
The new location has a grand-opening special that can earn My Mendo account users a free entrée. All you have to do is mark the "NorCal-San Francisco Kitchen" restaurant location as your "favorite" on the account, and you can get a free sandwich, salad, or bowl with any other purchase. That must be done before the restaurant opens on April 11th, and the coupon will be good through Monday, April 25th.
"As our guests continue to value convenience, we saw an opportunity to open a new location with an ordering model that could better serve our fresh, flavorful food to those who live and work in the greater San Francisco community," said Kevin Miles, CEO of Mendocino Farms. "Whether ordering through pick up or delivery, our guests can expect the same high-quality ingredients and wow-factor as they do when dining in one of our restaurants."