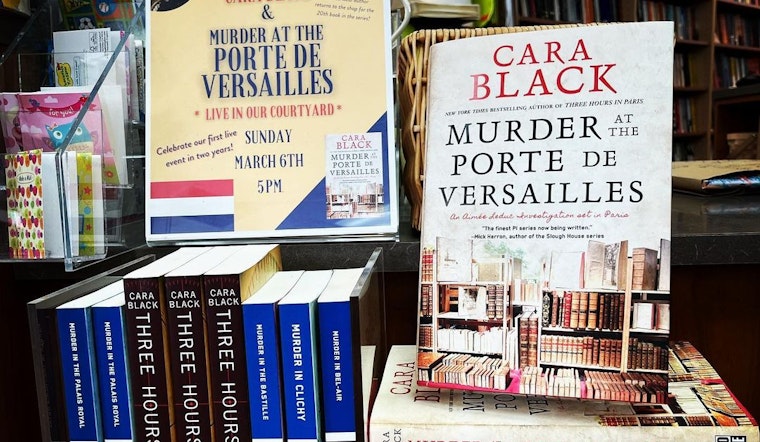 Published on March 04, 2022
To show gratitude for the store's loyal customer base and support local writers, Bookshop West Portal is kicking off its weekend live-reading series Sunday, March 6, which will run until the end of the month.
Like for almost every brick-and-mortar business, the pandemic was a make-or-break crisis — one that caused about 50% of small businesses in San Francisco to either temporarily close or altogether shutter in 2021. Bookshop West Portal (80 West Portal Avenue), however, managed to stay both open and financially afloat through a combination of "blood, sweat, and tears," and an "incredibly loyal and supportive customer base."
"Before Covid-19, we had a very limited online presence and our e-commerce was hardly worth noting," shop employee Lillian Van Cleve tells Hoodline in an email. "As soon as everything shut down, we had to pivot, and quickly! Our customers craved the company of good books more than ever." The shop was soon flooded with online orders; thousands of purchases poured in, and it became clear that their customers were "totally on board" with adapting to this new normal.
Though the height of the pandemic proved to be an emotionally straining time, it cemented the importance of reading, learning, and traveling through the written word as a means of coping, escapism, and understanding. Fast forward to now, and Bookshop West Portal — which is owned by Anna Bullard and Neal Soffman — is experiencing a healthy rebound of sales and in-store traffic. (The shop has also seen great success with its frequent buyer program, where customers get a $10 coupon after they've spent $200.)
During the month of March, those various successes and episodes of resilience have culminated into a live-reading series the shop will host to highlight recent works from mostly local authors.
View this post on Instagram
Kicking off this Sunday evening, March 6, with Cara Black's Murder at the Porte de Versailles — a self-proclaimed riveting tale that sees Parisian private investigator Aimée Leduc in a dangerous web of international spycraft and terrorist threats in Paris's 15th arrondissement — each installment of the event series will include in-person readings and insights from the author about their latest book; how their book came to be; what they're also looking forward to next. Moreover: time will be set aside for Q&A from the audience.
Below are listed the additional author readings scheduled for the event series:
• Kevin Barry: That Old Country Music
• Lee Kravetz: The Last Confessions of Sylvia P.
• John Markoff: Whole Earth: The Many Lives of Stewart Brand
• Jacqueline Winspear: A Sunlit Weapon
For all in-person events, which includes the one featuring Cara Black, attendees can converse with the author and get their own copies signed and personalized; the event for Jacqueline Winspear, who will be reading from her latest Maisie Dobbs novel, A Sunlit Weapon, will be hosted solely online, as will the one organize for Kevin Barry, showcasing his newest work That Old Country Music.
"We're thrilled to be offering these in-person events again, in addition to virtual events so that there's something for everyone," Van Cleve tells us. "We intend to continue hosting virtual events as they give us the opportunity to engage with more authors and have people from around the world engaged in conversation."
And as for the notion that bookstores are a dying breed of business? Well, Van Cleve has assured that sentiment couldn't be further from the truth: "[This is] decidedly not the case at Bookshop West Portal, and our customers have spoken — and we are here to stay."
For more information on the above-mentioned author readings (dates, times, etc.), visit bookshopwestportal.com/event; more information on BookShop West Portal, including currently in-stock books — as well as how to sign up for their active newsletter — click here.