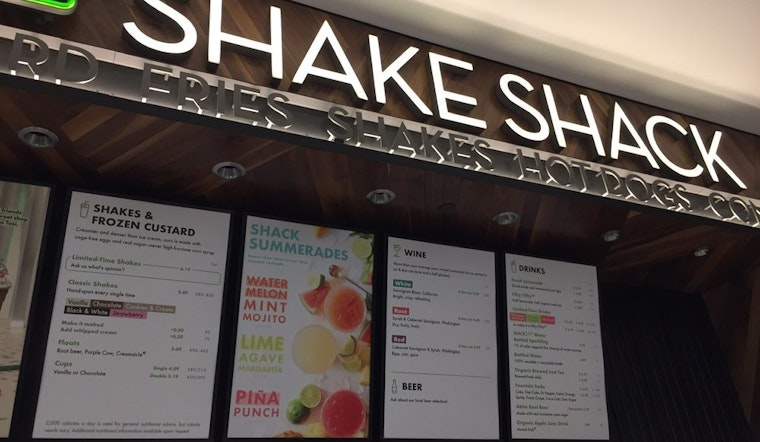 Published on April 15, 2022
It wasn't long ago that Stonestown Galleria seemed like it was on the rocks. The Lake Merced-adjacent shopping mall and plaza was struggling after the March 2018 closure of Macy's, its anchor store, and in December 2020, Stonestown Galleria sadly saw the closing of SF's only Olive Garden.
But Stonestown has bounced back with momentum. The Macy's location is now home to a bustling Whole Foods, plus a seat-motion movie theater that's worth Uber-ing across town for, and innovative new restaurants added to its roster.
And now it's adding another, as SFist reported this week that Shack Shack is coming to the Stonestown Galleria. That SFist report was initially based on just a Shake Shack company job posting, but the site has since received a confirmation from a Shake Shack brand communication senior manager.
"We will be opening in Stonestown Galleria," that communications manager said in an email statement to SFist. "The Shack will be located at 3251 20th Ave., #OP186, San Francisco CA 94132 and is scheduled to open by EOY" (End of Year). The statement added that "This Shack will have a patio as well as walk-up window."
Digging into that statement, it mentions "#OP186" as the location's spot in Stonestown Galleria. Suite 186 at Stonestown Galleria is currently occupied by fast-casual Thai spot Rooster & Rice. But that location is also the area next to Peet's Coffee and Chipotle, so the patio seating description does match.
Hoodline has reached out to Rooster & Rice for clarification on their plans for the space. That too is a growing chain, and Stonestown Galleria does have a few other vacancies, so the restaurant may simply be moving within Stonestown.
The Chronicle reported Friday morning that Shake Shack is also opening an Emeryville location, though the opening date on that one is unclear. More significantly on this side of the Bay, a 2,900-unit residential housing village could eventually be coming to that Stonestown Galleria parking lot, completing its comeback and making the area one of San Francisco's up-and-coming destinations.