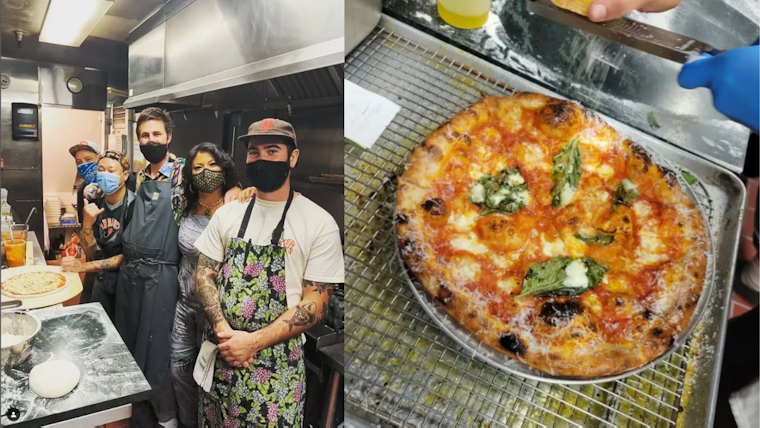 Published on April 19, 2022
A pop-up pizza operation in San Francisco is about to move into permanent digs along the border of the Tenderloin and Civic Center neighborhoods. Outta Sight is currently serving up whole pizzas at Fig & Thistle wine bar in Hayes Valley, but the new shop at 422 Larkin Street, the site of the former Slingshot Cafe, will be focused on thin, New York-style pizza by the slice. Nine varieties are expected to be offered up daily. The owner, Eric Ehler, specifically chose the Civic Center area because it is in need of recovery thanks to the closure of numerous bars and restaurants due to the pandemic.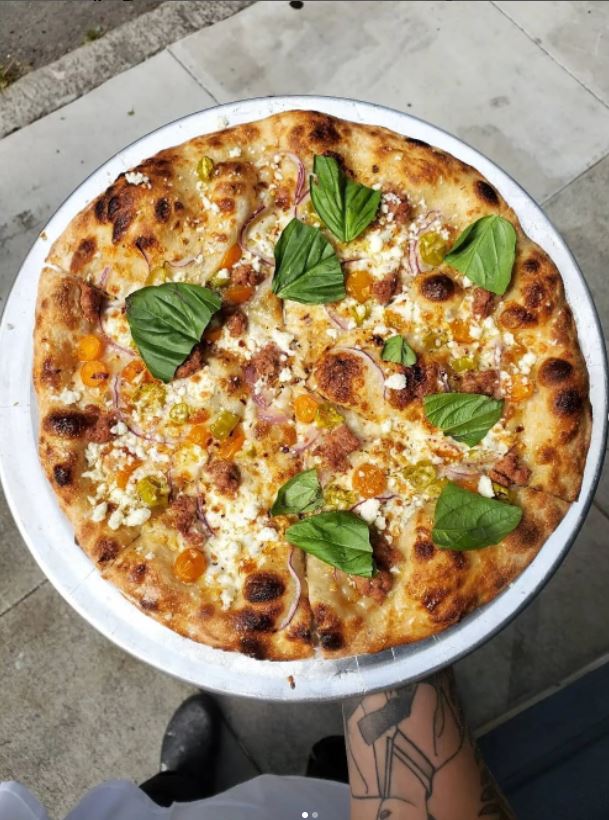 The Sean Sean. Photo Credit: @thatouttasight/Instagram
"The community just needs more open doors, more storefronts, more foot traffic," Ehler told the SF Chronicle. Ehler hopes that customers will stop in and grab a slice or two while they're out experiencing the nearby night-life options. "It's not going to come off fancy," he says. The slices will run five to six dollars each. Whole pizzas will be available in the $30 range and Ehler and his business partner Peter Dorrance appear to be still deciding whether he will offer beer or wine.
Ehler and Dorrance both worked at the Michelin-starred restaurant Mister Jiu's in Chinatown. Their Orchard Pie creation, which mimics the famous breadsticks at Olive Garden, will be offered at the new location. (The Orchard Pie was on the list of best dishes of 2021 by the SF Chronicle food critic Soleil Ho.) They also plan to utilize the Civic Center farmers' market to buy fresh, seasonal produce for vegan pizza options that don't have cheese.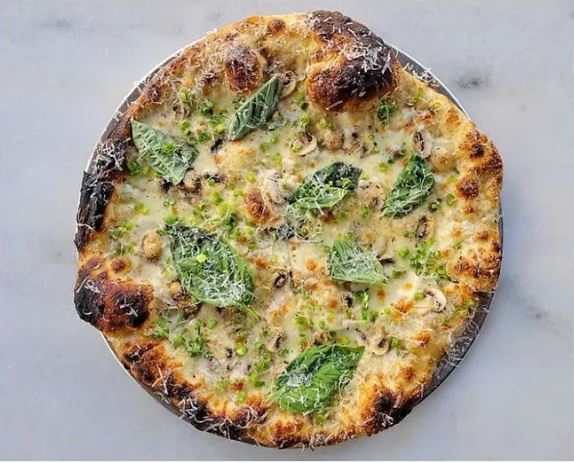 The Orchard. Photo Credit: @thatouttasight/Instagram
Ehler and Dorrance are also offering their fans a chance to directly help them open the new Outta Sight pizzeria. A post on their Instagram page reads "now you have a chance to invest in us and receive monthly payments paid back with interest! Here's how it works. Purchase an OUTA Small Business Bond on @thesmbx They start as low as $10 and when the raise closes, investors will receive a monthly investment paid back at 7.5% over a five-year period."
View this post on Instagram
Outta Sight on Larkin Street could open as soon as August and they currently have no plans to stop selling their pizza at Fig & Thistle at 429 Gough Street from 5 p.m. to 9 p.m. Tuesday through Saturday.