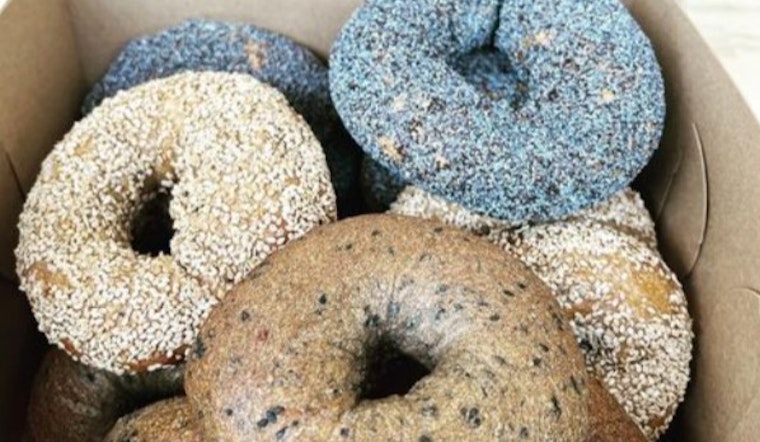 Published on May 10, 2022
It was back in 2019 when Tartine Bakery first held a seemingly counterintuitive Wednesday night pop-up promotion called Midnite Bagel, which was not actually at midnight but instead at 7 p.m. Either way, people gladly stood in line, the bagels sold out, and a new San Francisco bagel star was born at what would become a biweekly pop-up event at the bakery.
View this post on Instagram
We soon learned that these unique, sourdough, whole-grain bagels were the creation of Tartine's lead bread baker Nick Beitcher, who left Tartine early in the pandemic to start Midnite Bagel pop-ups at the Ferry Building Farmers' Market. He then got those signature bagels on the shelves at Bi-Rite Market, Manny's, and Rainbow Grocery, using a commissary kitchen in Dogpatch to do his baking.
But the whole-grain flour hit the fan when Beitcher and his Midnite Bagels were mentioned in last year's New York Times' bombshell bagel contrarian article "The Best Bagels Are in California (Sorry, New York)," guaranteeing legions of fans and instant sell-outs.
Beitcher capitalized and in February, announced a small brick-and-mortar shop in the Inner Sunset. And now we have an opening date, which is in just a couple weeks, as Eater SF reports Midnite Bagel will open its doors Monday, May 23 at 646 Irving Street (at 8th Avenue).
View this post on Instagram
The full menu is not yet posted on the Midnite Bagel website, though that site notes they'll "use sustainably-grown whole grain flours from two small millers in the Pacific Northwest (Cairnspring Mills and Camas Country Mill) and slow, natural fermentation (sourdough) to create bagels that are nutrient-rich, easy to digest, and take forever to stale."
View this post on Instagram
But Eater SF adds reporting that "Additions include Beitcher's breakfast pastries, which will use the same whole-grain flours as Midnite's super-popular bagels. A few opening items to expect include a coffee-glazed currant scone and a banana-buckwheat muffin — both of which will cost $4.25 — and an everything cookie and passionfruit-coconut macaroon — both of which will cost $4. Black sesame, coconut, and pecan granola will be available, as well."
So get ready to welcome Midnite Bagels to the Inner Sunset. And not just because of their bagels' popular pedigree, but also because it fills a hole with the ongoing commercial vacancies on Irving Street.