Google's new Bay View campus in Mountain View with the crazy-looking, circus-tent-like roof has finally opened. It features over a million square feet of new space including two huge office buildings, a large event venue, and a short-term housing complex that has more than 200 rooms for workers, all of which sit next to the NASA Ames Research Center. The sprawling 32-acre campus also includes more than 17 acres of outdoor space which include walking and biking trails and several different types of natural habitats designed to reinvigorate native Bay Area wildlife.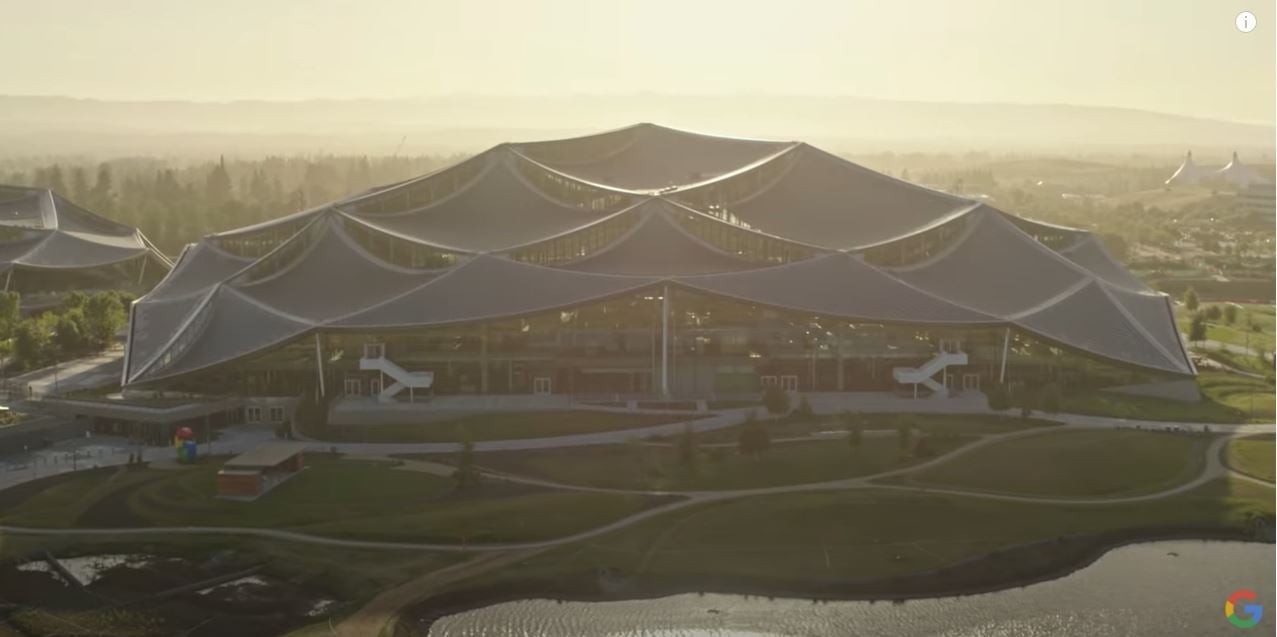 Photo Credit: Google/YouTube
The most eye-catching aspect of the exterior of the buildings are the swooping, futuristic canopies that have roughly 50,000 reptilian scale-like solar panels that help power the campus. The look of the outside plays heavily into the almost-unheard-of plan for the office interior. As reported by SFist in 2015 when the building plan was in its infancy — and thought by many to be crazy — the goal was to create a wide-open interior space that was supported by steel columns which allowed for large modular chunks to be easily changed to suit Google as the company's needs change. Pieces can be added, removed, raised, or lowered through a series of cranes and robotic machines to create new designs and spaces.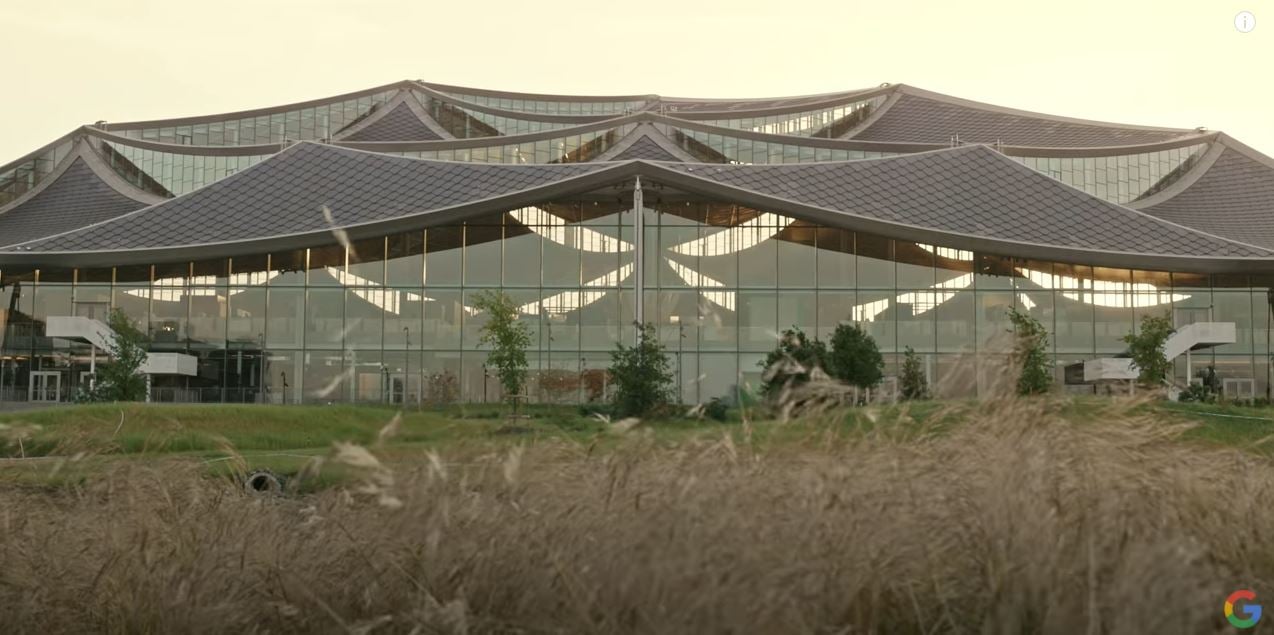 Photo Credit: Google/YouTube
To make the vision a reality, the search engine giant chose for the first time to self-develop its own campus while getting design help from Danish architect Bjarke Ingels and Heatherwick Studio, based in London.
"As we started with a blank canvas, we had to ask ourselves another set of questions and that was simply 'what will work look like in 20 years, 30 years, 50 years, 100 years?'" Google's vice president of real estate and workplace services David Radcliffe told CNBC. "And I'll be honest, the conclusion we came to was 'we have no idea.' But what we did know was it meant we had to be extra, extra focused on flexibility. This building had to be able to transform itself over its lifetime in order to respond to the demands being put on by the business."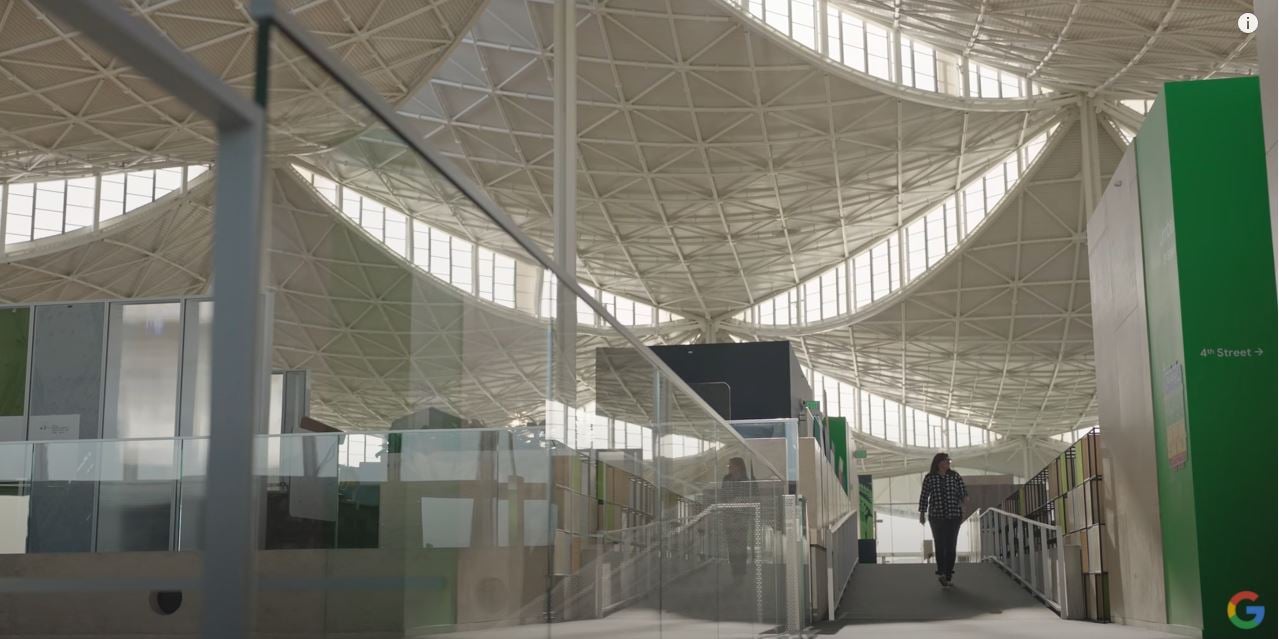 Photo Credit: Google/YouTube
The two floors of the office buildings represent two different workplace styles. The ground level has more of a community vibe and the upper floor is more focused on getting work done alone, virtually, or with a smaller team. "The bottom level is really like the market. It's where we have our meeting rooms and cafes where you can meet with your community and collaborate. And up here (the second floor) it's more quiet. You're really more focused on that immediate team," Google says in a company YouTube video. 4,000 employees are expected to utilize the new offices day-to-day.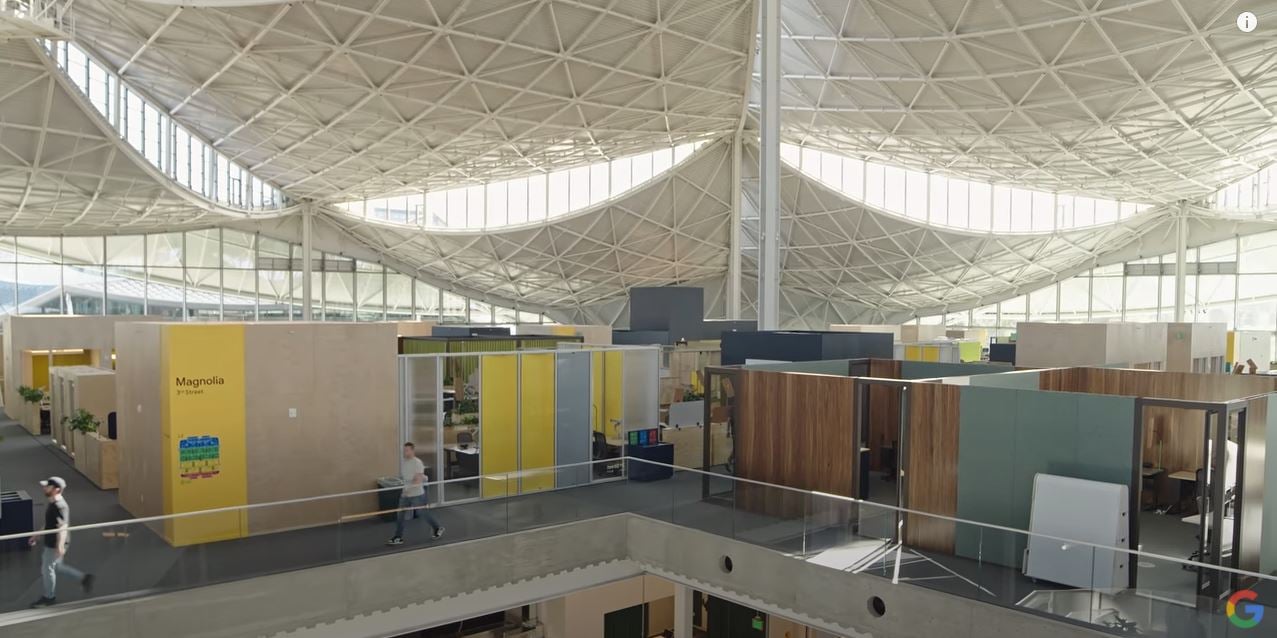 Photo Credit: Google/YouTube
With the sun beating down on the building's striking solar roof design, one of the biggest challenges was how to control the amount of sunlight and glare, and how to keep people cool. SFist reported when the plan was approved in 2017 that movable shades beneath the solar panels would be used to draw down the amount of direct sunlight, which would tame the glare and the heat. The building also uses a unique geothermal energy array for cooling and heating.
"This is the largest geothermal energy pile system in North America," Asim Tahir with Google told the Mercury News. Now that the Bay View campus is open, the next step for Google is to continue work on its similar Charleston East project nearby, which should be finished sometime next year.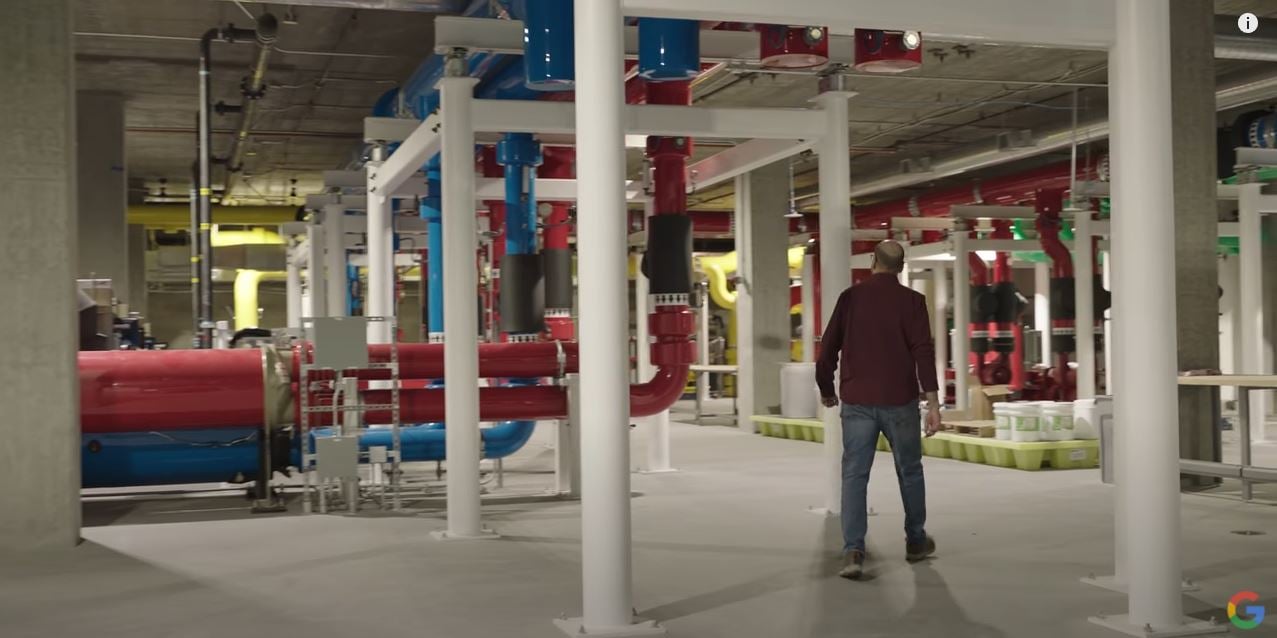 Photo Credit: Google/YouTube