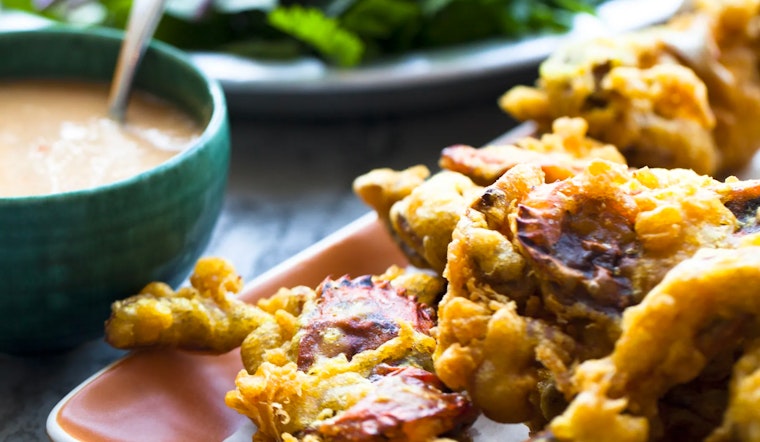 Published on June 06, 2022
Chef and restaurateur Charles Phan is still keeping San Franciscans waiting with the delayed reopening of The Slanted Door at the Ferry Building — which has now been closed for 27 months and counting. The place is undergoing a hefty remodel that Phan says was overdue before the pandemic began, and it's slated to open this fall with a fresh look from original architect Olle Lundberg and his firm Lundberg Design, as Hoodline has previously reported.
While another Slanted Door location is getting ready to open in Napa, the only one currently open is way out in San Ramon. Meanwhile, Phan also has a new sandwich shop in the Mission called Chuck's Takeaway, and he also getting ready to open Moonset Noodle Shop in Larkspur. And for the past five years, Phan has had a fast-casual restaurant on the UC Berkeley campus called Rice & Bones, and as Eater reports, he quietly closed the restaurant last week for some tweaking. It has reopened with a more limited menu of breakfast items, steamed buns, and take-home pho kits — perhaps reflecting what the Berkeley student population was most apt to be buying.
But in anticipation of the reopening of the flagship Slanted Door, Phan is using the Rice & Bones space, and its kitchen, to test out some recipes that he's planning to add to the Slanted Door menu when it reopens. He'll be doing this in a series of weeknight pop-ups at Rice & Bones (Wurster Hall, home of the College of Environmental Design), from June 15 to July 1.
The pop-up is just nine evenings — Wednesday to Friday for three consecutive weeks — and tables are available only for groups of two or four people between 5:30 p.m. and 7:30 p.m. The four-course prix fixe is $48 per person, and features banh bot loc — a classic Vietnamese dumpling made with shrimp and pork in a tapioca wrapper as an appetizer, two entrees, and a dessert of cherry clafoutis. The family-style entrees are fried wild Gulf soft-shell crab with pineapple-anchovy sauce; and a wood-roasted, dry-aged half duck with grilled fava beans. Find reservations and pay in advance here.
It doesn't sound like substitutions or accommodations for allergens can be made, and no, other Slanted Door dishes won't be available.
Stay tuned for more info about the return of Slanted Door at the Ferry Building.