Several cars belonging to the City of Santa Cruz parks department were destroyed in a fire early this morning, and while the cause of the blaze is unknown and being investigated, there were several spray-painted messages found at the scene. "Leave Homeless Alone!" was sprayed on a small structure, and "Stop Sweeping" was painted on the street.
The city said that at least five parks department trucks were damaged in the fire, totaling at least $300,000 in damages, according to Santa Cruz Lookout.
Santa Cruz Parks and Recreation Director Tony Elliot told the Lookout that some of his staff have received threats related to the parks department's homelessness response, and have dealt with vandalism and break-ins in the field. "There is a huge effect of feelings and security on our staff," Elliot told Lookout. "This is a cost that you can't put a number to."
Santa Cruz Emergency Services Manager Paul Horvat said the incident is obviously considered "suspicious in nature" because of the graffiti found at the scene. The Santa Cruz Police said the person responsible "could be anyone at this point."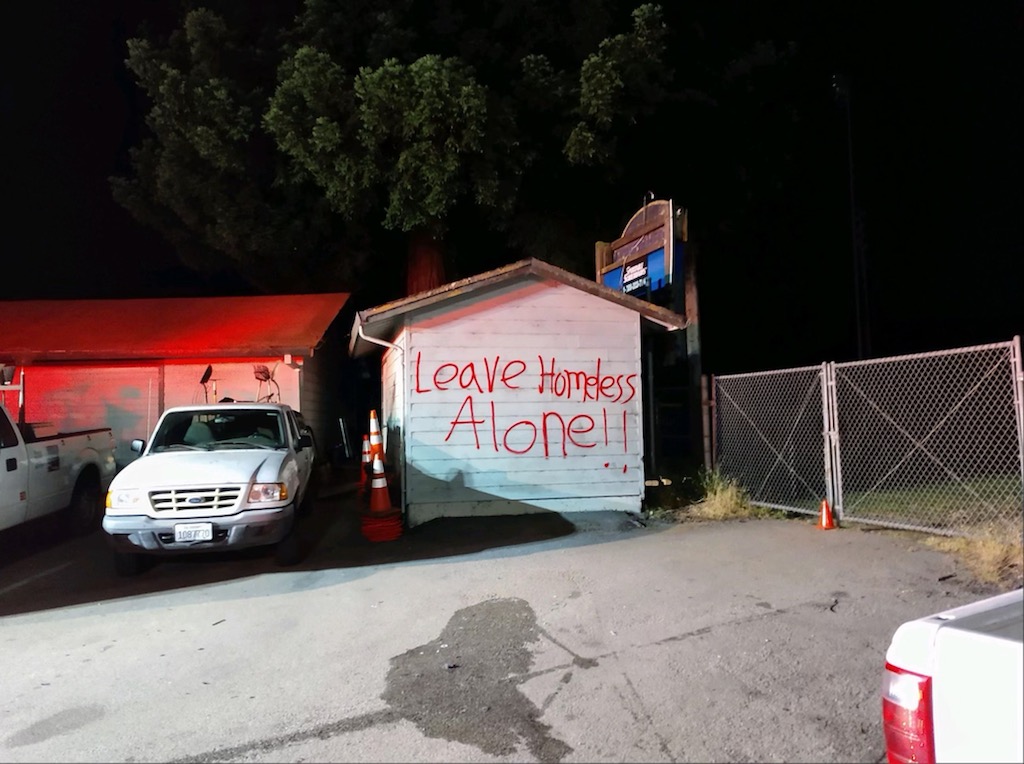 Spray-painted messages were found at Harvey West Park in Santa Cruz as seen early Thursday morning. | Source: Santa Cruz Fire Department
In the context of homelessness in the Bay Area, Santa Cruz has one of the largest unhoused populations relative to its size, according to The Mercury News. In 2019, the City Santa Cruz estimated that some 1,200, or about 2% of the population, struggle with homelessness. (By contrast, Oakland, San Jose and San Francisco reported less than 1% of their populations were homeless.) There's even an insinuation that 9% of the UC Santa Cruz population is homeless.
Last year, the City of Santa Cruz cleared several homeless camps, all the while still debating its policy on "public-camping," which was synonymous with homelessness. A "Temporary Outdoor Living Ordinance" banned daytime camping, but allowed overnight camping at predetermined sites, and offered a storage program for the unhoused.
About two weeks ago, the Santa Cruz County Board of Supervisors discusses a $14 million spending plan aimed at assisting people experiencing homelessness, which came on the heels of a $27 million action plan approved in May by the Santa Cruz City Council as part of its broader effort to bolster its homelessness response, according to the Santa Cruz Sentinel.
Regarding the fire, Santa Cruz police chief Bernie Escalante told Santa Cruz Lookout, "There are so many resources being devoted toward the Homeless Action Plan, which is probably a better plan than I've seen in the 25 years I've been here, and here's the response."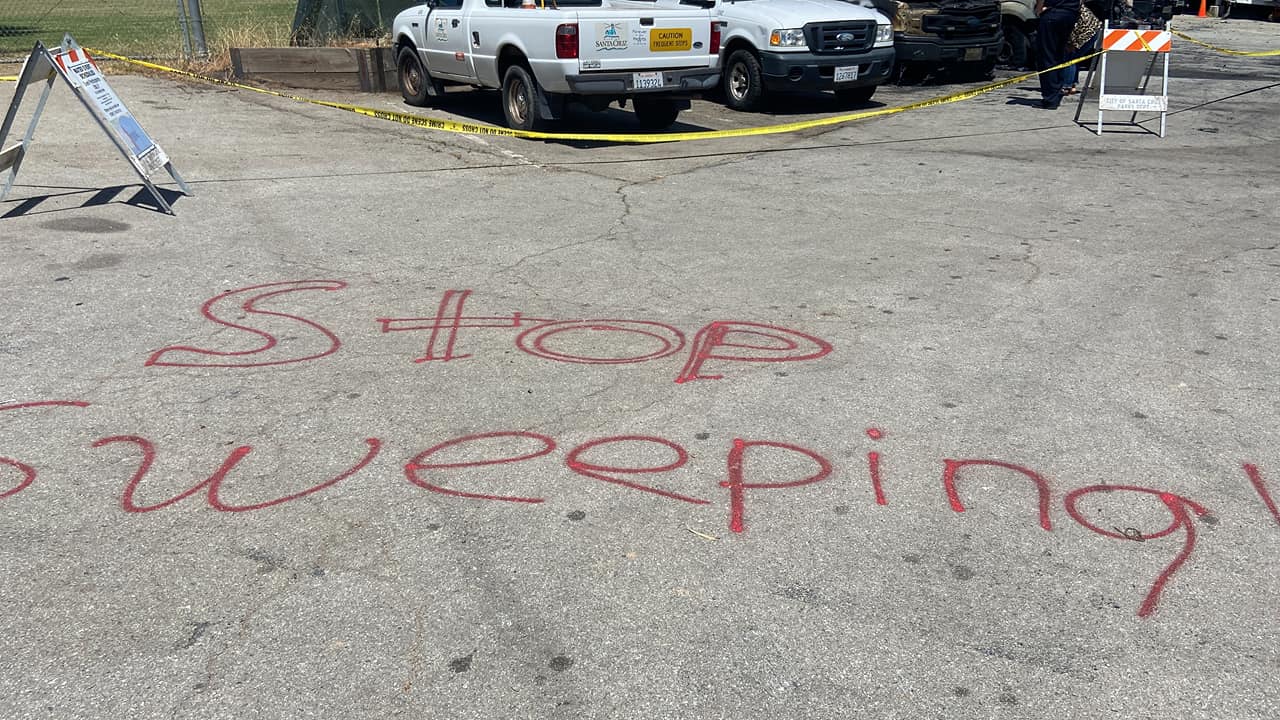 More of the graffiti found at Harvey West Park in Santa Cruz today. Source: Santa Cruz Fire Department
Santa Cruz-based surf and snowboard personality Ken Collins wrote on his Instagram about this morning's fire: "My homie works hard to clean Westcliff drive. Takes away the trash before it blows into the ocean. Sweeps the streets. Trims the ice plant and cuts the weeds. They work hard to make our community a better place. Apparently the homeless do not want that. They attacked and burned all the city worker's vehicles. I am blown away how these tweakers have turned into full blown terrorist. This is why we can't have nice things."