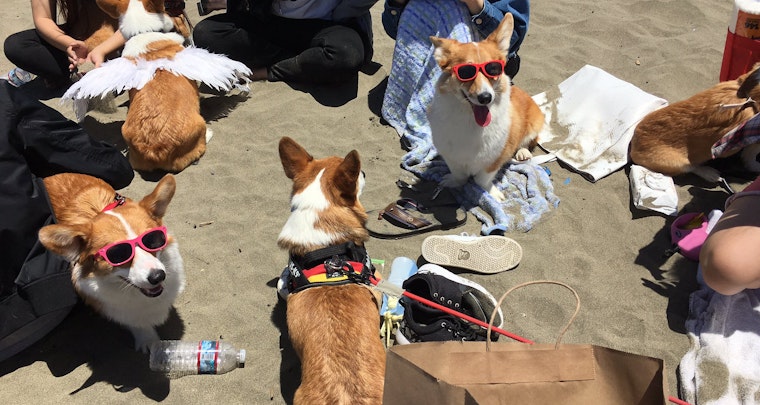 Published on June 14, 2022
The last Corgi Con held in San Francisco was in 2019, bringing with it hundreds of small, stubby dogs and thousands of bipeds eager to see corgis race one another, don cute costumes, and grab a picture with one (or several) of them. Now, after a pandemic-spurred hiatus, Ocean Beach will again have an uncountable amount of short tails wagging in the wind this Saturday, June 18.
Corgi Con has grown into a real-life and social-media fixture since it hosted its inaugural event in 2014. Organizers of the event, which will again be hosted at Ocean Beach between stairwells two through five, have noted it'll be a true return to form for Corgi Con.
"It's been three years, " reads an Instagram caption from Corgi Con, making mention of the pandemic-spurred delay in hosting the annual canine event. "I know we have been talking about other vendors you can see at the event, but now it's our turn to strut our fluffs!"
View this post on Instagram
Historically, the biannual event brings hundreds of the short-legged, GIF-able canines, as well as their doting owners, to the San Francisco beachfront every July and October. However, COVID-19 effectively put the beloved San Francisco event on an indefinite pause until conditions improved around the public health crisis.
Though COVID-19 cases remain fairly high, over 84% of the city is now fully vaccinated against the disease; and COVID-19 hospitalizations remain fairly stable, and nowhere near the highs of January.
Because the event is also an entirely outdoor affair, it's naturally safer than virtually anything indoors. However, SF is experiencing a surge at the moment — so mask-wearing is recommended for such an event, per the San Francisco Department of Public Health.
Those who are fans of Corgi Con can look forward to familiar events like corgi races, corgi costume contests, and "an attempt" at a group photo.
And yes: There will be a plethora of themed merchandise for sale (including masks), but they'll be available at the event for purchase before inventory moves online.
"Corgi Con official merchandise is back," continues the Instagram post. "Unlike the last events, these items will be available ONLY at the event. Any additional merchandise will then be put up online for fur purchase."
"Thank you all for your support and we look forward to seeing you next week," concludes the announcement post on Instagram.
Corgi Con 2022 will begin at 10 a.m. and end at 2 p.m. on Saturday, June 18; the day's events will all occur between the second and fifth Stairwell at Ocean Beach; attendance is free for all, though making an RSVP here is encouraged to gauge attendance; for more information on this year's Corgi Con, including the opportunity to see the happening's "Execucorg Team," visit corgicon.com.