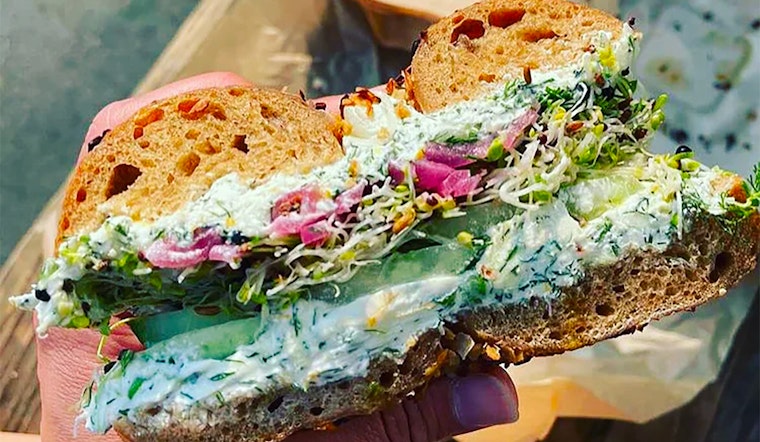 Published on June 06, 2022
Former Tartine head baker Nick Beitcher finally realized his goal of opening a brick-and-mortar bagel shop last week with the debut of Midnite Bagel (646 Irving Street). The Inner Sunset store opened just after the Memorial Day weekend, and SFist reported, by Saturday word had gotten around the 'hood and the line for bagels was considerable, though fairly swift.
On offer five days a week (Wed-Sun) are six bagel flavors as well as onion bialys, house-made breads, and several sweet items including passionfruit macaroons and a decidedly breakfasty Everything Cookie, chockful of raisins, cornflakes, chocolate chips, seeds, and nuts. In contrast to some other upstart bagel operations in SF (Wise Sons, Schlok's), these are sourdough bagels that are naturally leavened with starter, as opposed to conventional yeast, and that yields a breadier and more flavorful bagel overall.
The bagel varieties at Midnite Bagel are sesame, everything, cinnamon-raisin, pumpernickel, plain, and — perhaps in place of the traditional poppyseed — buckwheat-black sesame. The latter has a rich, extra-umami flavor from the black sesame and the inside bread part is decidedly dark gray — and Beitcher also makes a bread version of this, with buckwheat-black sesame loaves available too.
"We're making bagels that feel right for San Francisco," Beitcher says. "We're using really great ingredients from the Pacific Northwest, fermenting them really slowly with sourdough starter, and putting really great veggies, fish, and meat on them from the Bay Area."
There's also Linea coffee and Rare Tea Co. tea available, and topping options include scallion or jalapeno cream cheese, as well as almond butter and Humboldt Fog cheese. Bagel sandwiches — either topped with smoked salmon or veggies, plus cream cheese — can be ordered closed or open-faced.
And while Beitcher has had some success, clearly, with the Midnite Bagel wholesale business and farmers' market operation, opening a full-time shop with employees and much added volume comes with its own fresh challenges.
"Bakeries are low-margin, high-risk businesses, especially in San Francisco, and especially in 2022," Beitcher says. "There's just no way around this hard truth. Baking for people is a true labor of love, but it's going to take much more than our passion for great bagels to get this bagel shop up and running."
With that in mind, he launched a Kickstarter campaign to get Midnite Bagel over the hump of opening, seeking a modest $25K — and to date, with less than two days to go, the campaign has raised almost $22K, one small donation at a time.
"For the past year, Midnite has been selling only at farmer's markets and wholesale to local cafes and markets — not quite enough sales to keep our business going long-term, and frustrating for new customers trying to track down our bagels," Beitcher writes. "We're so incredibly grateful for whatever you're able to contribute towards making this bagel dream a reality!"
Midnite Bagel is open 8 a.m. to 3 p.m. Wednesday to Sunday. 646 Irving Street near 8th Avenue