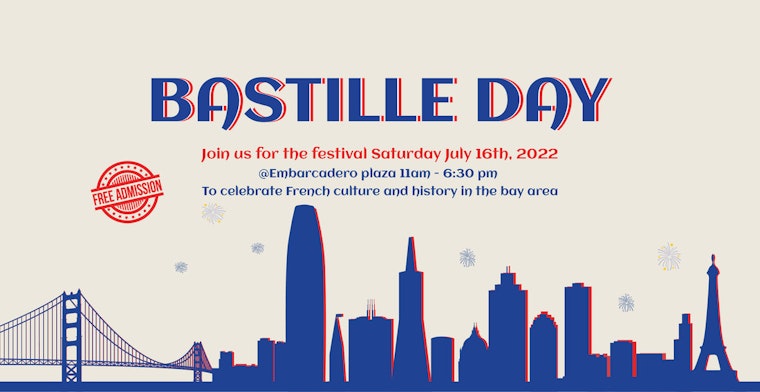 Published on July 14, 2022
Bastille Day, images of deep space from the James Webb telescope, Shakespearean spinoffs and so much more... There's lots of fun to be had in the San Francisco Bay Area this weekend, and Hoodline's Bay Area Summertime Happenings series has rounded up some of the best. Whether you're in the mood to celebrate liberté, egalité and fraternité or looking to watch a great show, we've got some fabulous weekend fun lined up for you.
As always, check on safety regulations and double-check event details — some events are being canceled in light of new COVID concerns.
Got a tip of an upcoming event or recurring summer happening? Let us know!
San Francisco Bastille Day Festival
San Francisco's Bastille Day Festival was an exciting new development in the Bay Area before the pandemic put a halt to the festivities. Now, after a two-year pause, the event is back for its 4th annual celebration of Bay Area French culture, food, wine, beer, music, artists and more. Expect French musicians and artists, Tahitian dance performances, a pétanque tournament (similar to bocce ball), a Citroen vintage car show and much revelry.
When: Saturday, July 16, 11 a.m.-6:30 p.m.
Where: Embarcadero Plaza, San Francisco
Information: www.bastilledaysf.org
James Webb Space Telescope Image Release Event
Chabot College is an official site selected by NASA for sharing information about the Webb Space Telescope, and as such it's hosting free planetarium shows to share the images of deep space taken by the cutting-edge telescope and to discuss the science around them. The informational site says the college may add additional days and times as well. Event is free and open to the public.
When: Saturday, July 16, 12 p.m.
Where: Planetarium (Room 1902), Chabot College, 25555 Hesperian Blvd., Hayward
Information: www.chabotcollege.edu/faculty/shildreth/jwst/
The Midsummer Mozart Festival
This music festival exclusively dedicated to performances of the music of Mozart has been going strong in the Bay Area since 1974. The festival features a variety of solo, chamber, orchestral, and operatic performances. There are performances this weekend in Berkeley, Sonoma and Saratoga.
When/Where:
Friday, July 15, 7:30 p.m. at St. John's Presbyterian Church, 2727 College Ave, Berkeley
Saturday, July 16, 7 p.m. at Buena Vista Winery, 18000 Old Winery Rd, Sonoma
Sunday, July 17, 6:30 p.m. at Mountain Winery, 14831 Pierce Road Saratoga
Information: www.midsummermozart.org
San Jose Giants Fireworks Games & Giveaways
Watch the Minor League Giants team in their well-equipped stadium and then enjoy a fireworks show after the Friday and Saturday games. There are also free giveaways both nights; on Saturday, the giveaway is a Championship Trading Card Set.
When: Friday, July 15, 6:30 p.m.; Saturday, July 16, 6 p.m.
Where: Excite Ballpark, 588 E. Alma Ave., San Jose
Information: www.milb.com/san-jose/tickets/promotions
Fortinbras by Actors Ensemble of Berkeley
The Actors Ensemble of Berkeley presents Fortinbras, envisioned as a (humorous) sequel to Hamlet. The performance is approximately 1 1/2 hours long, plus a short intermission. They won't be selling food at the performance, but you are welcome to bring your own. Free or $20 for advance reservations; donations encouraged. There is parking onsite.
Note that proof of vaccination is required, as well as masks when not eating/drinking.
When: Saturday & Sunday, July 16 & 17, at 3 p.m.
Where: Kensington Amphitheater, 59 Arlington Ave., Kensington
Information: www.aeofberkeley.org