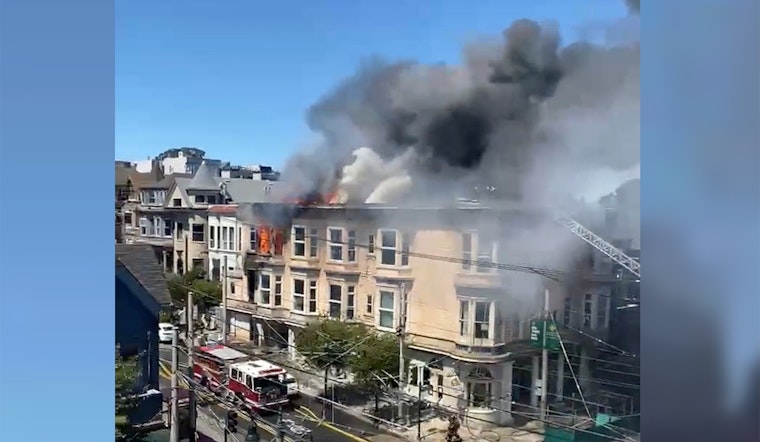 Published on August 23, 2022
A three-alarm fire on Tuesday afternoon did significant damage to a three-story apartment building at 901 Divisadero/1640 McAllister.
The cause of the fire remains under investigation, but the San Francisco Fire Department reported that 100 firefighters were battling the blaze at one point, and one rescue had to take place. One person in the building and two firefighters reportedly suffered minor injuries.
The fire impacted traffic in the NoPa area and Divisadero corridor for hours, with the SFPD blocking traffic in both directions at one point on Divisadero. By 2 p.m. Tuesday, the fire appeared contained, though it had spread to the roof and through multiple dwelling units.
13 residents in the building have reportedly been displaced, and two businesses have been impacted: Kava Lounge and Ethiopian/Eritrean restaurant Oasis Cafe, both of which use the address 901 Divisadero.
The extent of the damage is unclear, but the fire appeared to start in the rear of the building and spread through a significant portion of the structure.
UPDATE: Thie fire is contained with 1 rescue, 1 injury (will be okay) 2- firefighters injured (will be okay both stayed on scene and went back to help mitigate the fire) 13 displaced - 2 businesses affected and no exposure buildings - Fire is under investigation https://t.co/LSz3vfVMXi

— SAN FRANCISCO FIRE DEPARTMENT MEDIA (@SFFDPIO) August 23, 2022