Good news for fans of the shuttered Rudy's Can't Fail Café in Emeryville. The beloved restaurant at the corner of Hollis Street and Park Avenue abruptly closed last month after a 20-year run, as reported by SFist. Now, the E'ville Eye has gotten confirmation that Rudy's will be reopening sometime next month, thanks to a couple of the restaurant's longtime employees. A sign has been posted on the door of the cafe stating, "We are working hard to reopen Rudy's Can't Fail Café. Reopening date will be sometime in October. Our menu will feature many of our longtime customer favorites. We look forward to serving you again."
The E'ville Eye reports that "property-owner Ben Yee confirmed the news through text message and that he was working with them on a new lease that they hoped to finalize this week." Once the doors finally reopen, expect to see upgrades on the menu and to the exterior. There's word that the new ownership group is working on an expansion of the patio that will include extra picnic benches and some new landscaping. The new ownership group that is taking over cosists of a trio of former employees: Sous Chef Nelson Ortiz, Head Chef Lupe Rivera, and General Manager Doug Smith.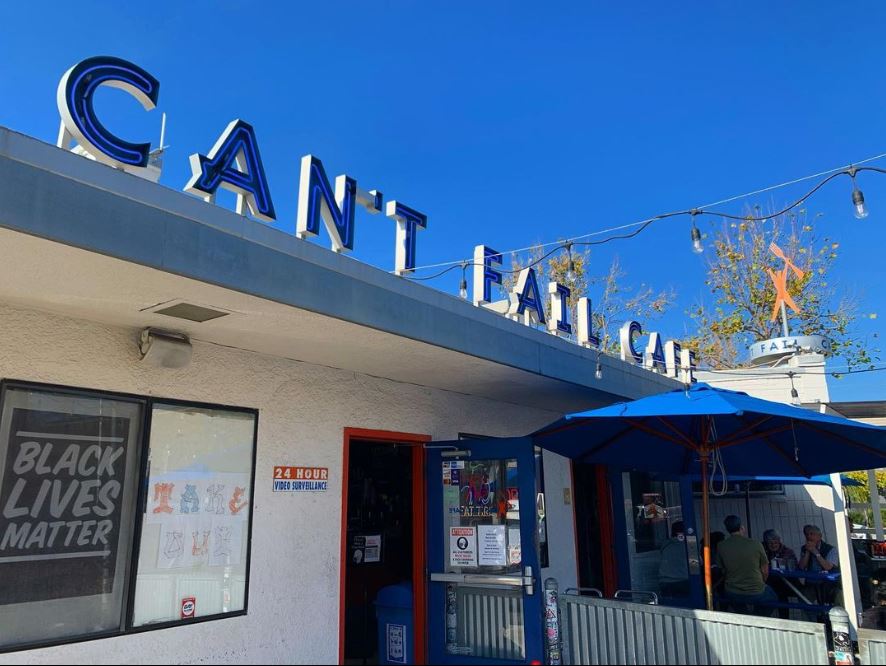 Photo Credit: @rudyscantfail/Instagram
The failure last month of Rudy's Can't Fail Café led to countless laments from the public and the media pointing out the obvious irony, but there were hundreds of customers who were truly heartbroken by the closure. The restaurant opened in 2002 and had some serious star power. Green Day bassist Mike Dirnt was once a co-owner, and the cafe was featured on Guy Fieri's hit show Diners, Drive-Ins, and Dives. After the final day of service, Rudy's posted a heartwrenching montage video on Instagram using the Green Day song "Good Riddance (Time of Your Life)."
One thing that we could see under the new Rudy's ownership team is a rise in prices. The restaurant never gave an exact reason for last month's closure, but given the dramatic rise in food and labor costs, it's hard to imagine that those factors didn't play some sort of role.
We do know, thanks to the E'ville Eye, that the 20-year lease at Rudy's ended last year and that it was given a one-year extension to help figure out what its long-term plans were. For updates on the new opening date and other new developments, make sure to follow Rudy's Instagram account for their latest announcements.