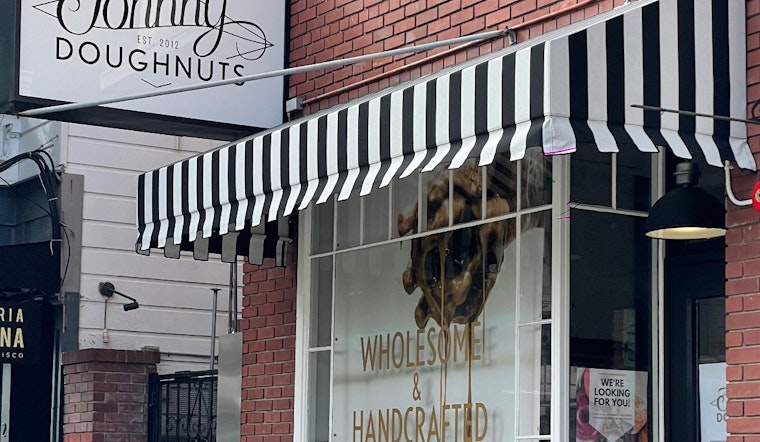 Published on October 27, 2022
Johnny Doughnuts, the San Rafael-born doughnut business that made a splash in SF's Hayes Valley when it opened a shop at Fulton and Gough in 2017, is coming back to life again in the city about a mile away at California and Fillmore streets. The doughnuts will start coming out of the fryer on Saturday, October 29, with the public grand opening starting at 7 a.m.
Fans of Johnny Doughnuts can enter to win a $75 gift card in a drawing that's happening tomorrow. The way to enter is to follow both @johnnydoughnuts & @equatorcoffees on Instagram and comment on this post with your favorite doughnut and coffee combo.
"Doughnuts themselves are a force for all that's good in life — a symbol. Our doughnuts have personality; they're inspired by the seasons, local ingredients, and are steeped in doughnut history," says founder Craig Blum. "It's not overly complicated but we take it seriously — but not so serious that we don't have fun."
The Gough Street location closed in June with the vague promise that a new location would follow, but without a firm address yet. Within weeks, Hoodline reported on the new Pac Heights location, which is next door to Pizzeria Delfina's California Street location (the former Smitten Ice Cream shop).
"We're so excited to bring our Johnny Doughnuts family to Pacific Heights," said Blum in a statement at the time. "This vibrant neighborhood is such a wonderful representation of the diverse San Francisco food culture and its rich history. We look forward to meeting our new neighbors while continuing to serve San Francisco for many years to come."
Founded in 2012 as a doughnut truck that appeared in downtown SF and elsewhere, Johnny Doughnuts grew into a brick-and-mortar business in San Rafael in 2013. Other locations have followed in Larkspur and Santa Rosa, with SF being the fourth location to date.
The shops make classic raised, old-fashioned, and Bismarck (filled) doughnuts, as well as fritters and cronuts — which they called "crodough" because "cronut" is trademarked — and Johnny Doughnuts touts that they use "the finest organic cool milled wheat flour and ingredients from locally sourced vendors." There are also gluten-free and vegan options as well.