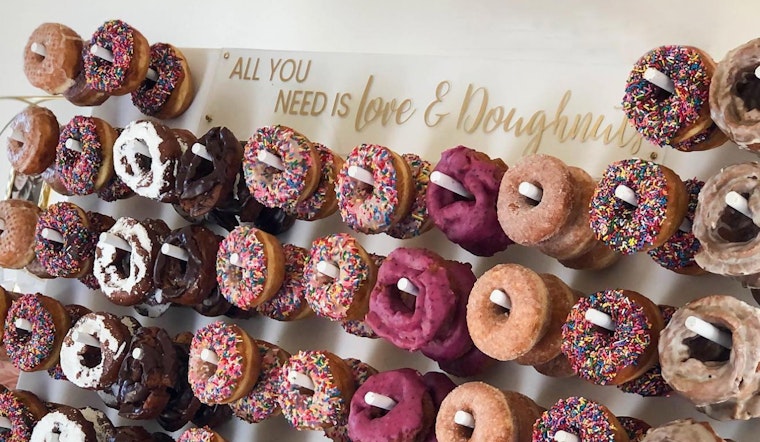 Published on June 03, 2022
After five years in Hayes Valley, Johnny Doughnuts has closed at 392 Fulton Street. Given the proximity to the five-year mark, it seems like a lease was probably due for renewal, and the San Rafael-based doughnut operation from founder Craig Blum appears to be seeking space elsewhere.
According to the shop's website, the team says "We will be announcing a new San Francisco location very soon." And a note on the store's door thanks customers in the neighborhood for their support. In the meantime, San Franciscans can score some doughnuts in evening hours at Off the Grid: Fort Mason Center every Friday.
Founded in 2012 as a doughnut truck that made appearances in downtown SF and elsewhere, Johnny Doughnuts opened its first brick-and-mortar location on 4th Street in San Rafael in the summer of 2013. Other locations have followed at Marin County Mart in Larkspur and in Santa Rosa, as well as the Hayes Valley location at Fulton and Gough in the spring of 2017.
The shops make classic raised, old-fashioned, and Bismarck (filled) doughnuts, as well as fritters and cronuts — which they called "crodough" because "cronut" is trademarked — and they tout that they use "the finest organic cool milled wheat flour and ingredients from locally sourced vendors." There are also gluten-free and vegan options as well.
"We take doughnuts seriously, but also believe they're all about fun, and you should feel that when you walk into one of our shops," they say on the website.
Stay tuned for an update when we learn where in SF Johnny Doughnut may be headed. Closer to downtown perhaps?
Update: The new location has been announced, and it's California and Fillmore, in Pacific Heights.