It's not permanent, but it's better than nothing when it comes to all the vacant storefronts in downtown San Francisco. Another pop-up is moving into Union Square: Smartphone maker Samsung is about to open up a temporary shopping experience inside the former Uniqlo store at 111 Powell Street. Like dozens of other retailers in the area, Uniqlo closed its nearly 30,000-square-foot store in February of 2021 after occupying the space since 2012.
"Permits indicate the store will require close to $200,000 worth of prep work, which includes new temporary flooring and wall panels," reports the San Francisco Business Journal. The pop-up is called The Galaxy Experience and will give shoppers an exclusive look at a wide range of new products from the electronics giant — with an emphasis on their new flip-phone models. According to a Samsung news release, the pop-up will let "attendees get hands-on with new devices including Galaxy Z Fold4, Galaxy Z Flip4, the Galaxy Watch5 series and Galaxy Buds2 Pro, and exciting features and experiences. The Galaxy Experience will also feature fun programs such as a pin collection and photo challenges. Participants will be able to receive special gifts, including a Galaxy x BTS giveaway."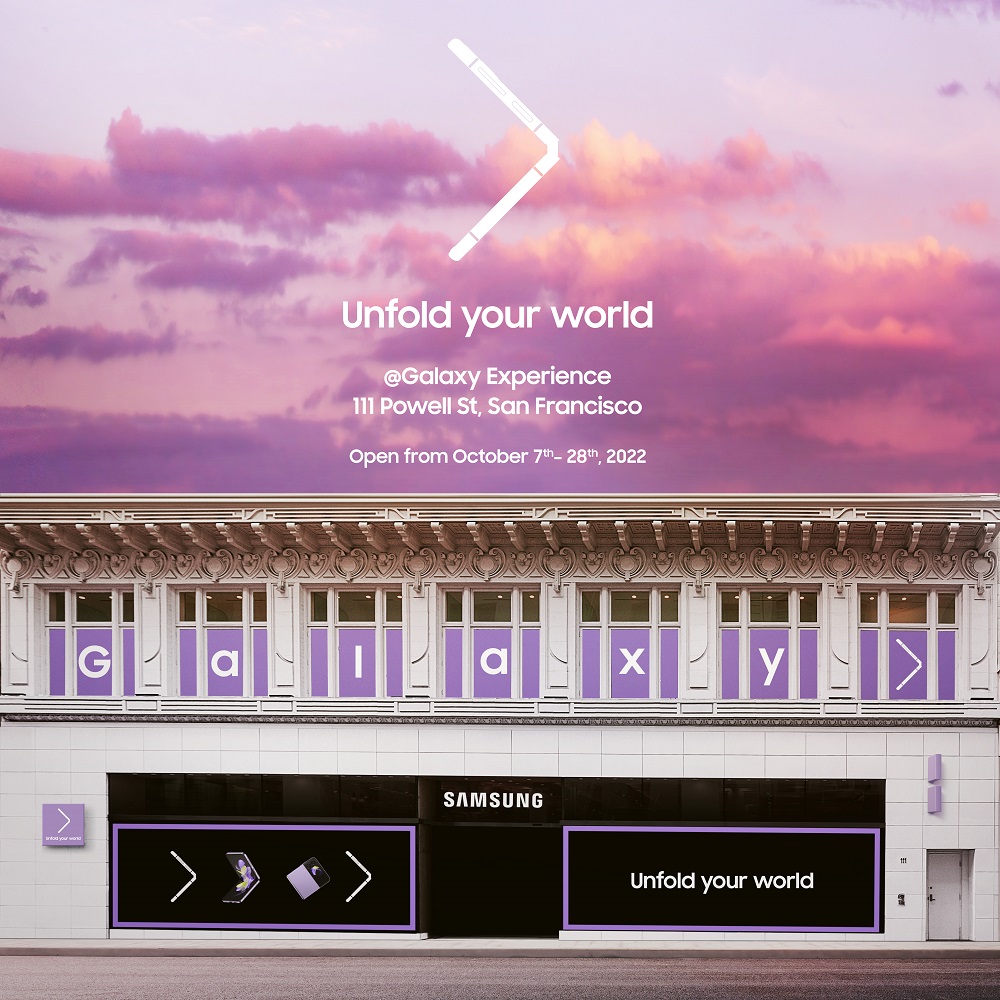 Photo Credit: Samsung

The union square pop-up will run for exactly three weeks, starting October 7th, and it could be a big draw in terms of traffic. A similar three-week event in August called Galaxy Unpacked was held in London, and New York and apparently drew over 106,000 visitors. The Galaxy Experience coming to San Francisco should help get more people into the stores that withstood the pandemic and are still in operation. Many of the spaces that lost their tenants are still suffering as they try to attract new long-term lease agreements.
Other pop-ups and short-term leases are helping to fill the void in the neighborhood. A pop-up experience dedicated to the hit 90's TV show Friends has opened in the 44,000 former H&M store at 150 Powell Street, as reported by the San Francisco Business Journal. Also, the specialty candy retailer It'Sugar has opened as a temporary tenant in the 20,00-square-foot former Forever 21 store at 2 Stockton Street. According to the SF Biz Journal, The short-term lease will run until the owners of the building begin construction to add 50,000 square feet of office space across three newly constructed floors.