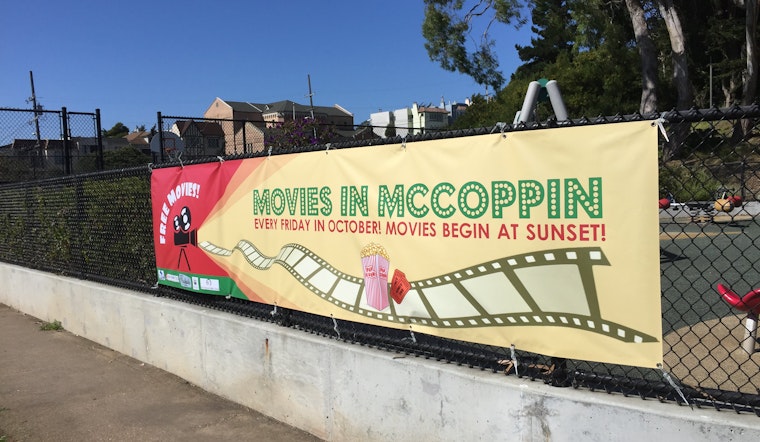 Published on October 04, 2022
A free outdoor movie series called Movies in McCoppin was established in 2012 at McCoppin Square, a park which straddles the Sunset and Parkside Districts. But that free outdoor movie series went dark during the pandemic, and the free movies have not played since October 2019.
Now, the neighborhood group People of Parkside Sunset (POPS) is bringing it back, and the show will go on again Friday. POPS announced that Movies at McCoppin returns Friday, October 7, and continues every Friday night in October.
Image: People of Parkside Sunset
"After going on hiatus for two years due to the pandemic, Movies in McCoppin is back this fall," POPS said in an email announcement. "In addition to FREE movies, we will also provide complementary light refreshments and activities for kids, so you can bring the whole family! Activities will begin at 6:00 pm, and the film will start at or around 6:30 pm."
The 2022 Movies in McCoppin schedule, which is all family-friendly Disney, Pixar, or Marvel Studios films, is as follows:

October 7 : Shang-Chi: Legend of the Ten Rings
October 14: Encanto
October 21: Spider-Man: No Way Home
October 28: Soul
Yes, a couple of these films have already had outdoor screenings previously this summer at other San Francisco parks. But it's great to see a neighborhood tradition return for its 10th anniversary, even if they haven't been able to hold the event for all ten of those years.