Published on November 18, 2022
The Stonestown Galleria shopping mall is already undergoing a pretty impressive transformation, as the once-slumping shopping center is finding new life with a Whole Foods, and recent cult-hit foodie additions like Ike's Sandwiches and Gram Cafe & Pancakes, plus a Shake Shack and a Blondie's Pizza slated to open soon. But Stonestown's biggest transformation would be the proposed 2,900-unit residential village, with exciting plans to turn Stonetown's 41 acres into a mixed-use housing, parks, and plazas area with all new streetscaping.
But this plan does not actually have any approvals at City Hall yet. Nonetheless, the developer Brookfield Properties unveiled their latest version of the plans at a Wednesday night community meeting, and shared them with the public at large at Thursday afternoon's SF Planning Commission meeting.
"We're proud to report on the progress we've made to shape a vision to transform Stonestown from a retail center to a town center," Brookfield Properties senior development director Courtney Pash told the Planning Commission Thursday.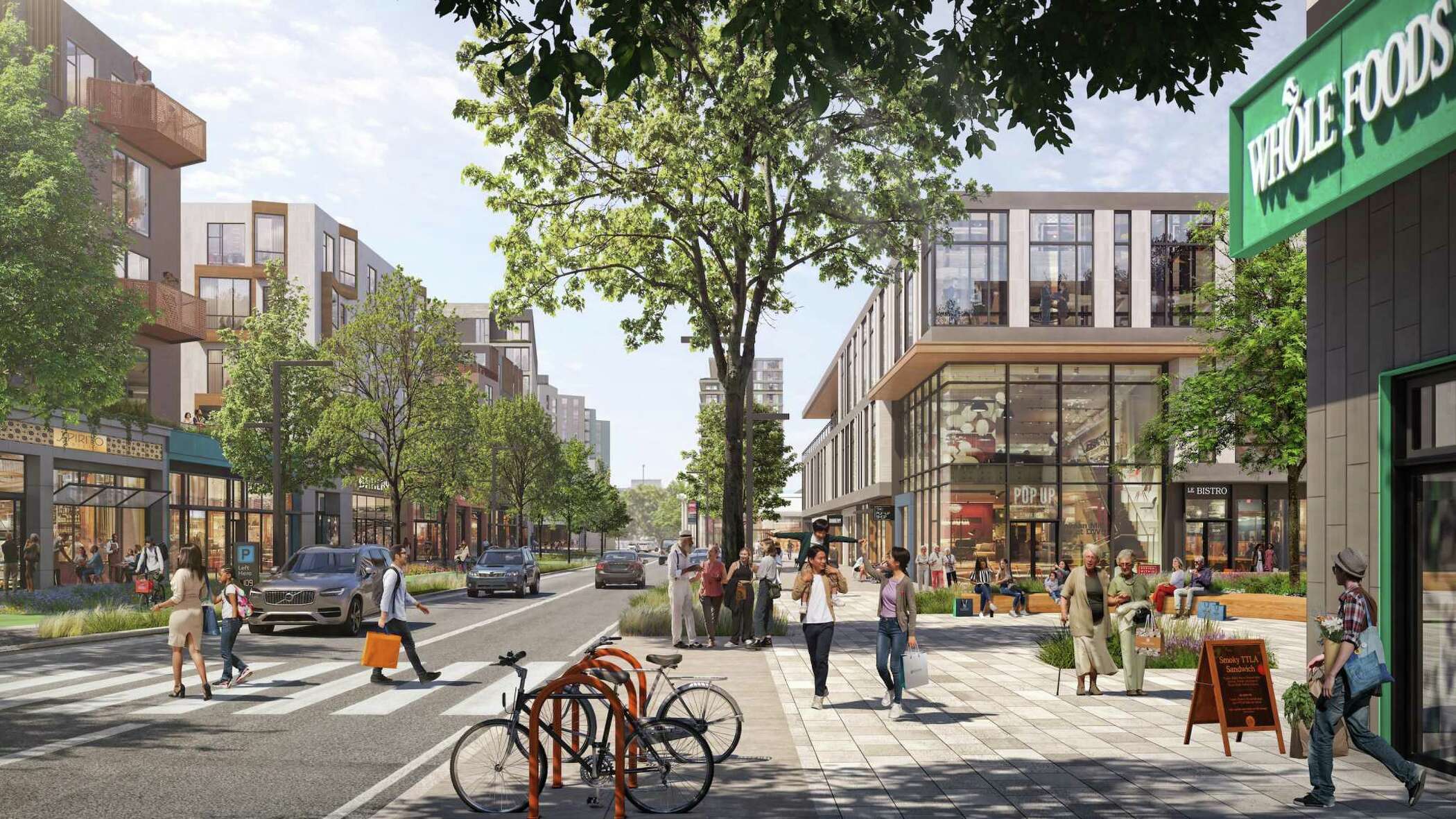 Image: Brookfield Properties
These new, just-released renderings will give you a sense of how sweeping and transformative this plan really is. There is currently no cute street or tree-lined sidewalks outside that Whole Foods, it's all just acres of parking lot. But this plan would turn 20th Avenue into a major retail, dining, and entertainment corridor, with nearly 3,000 new housing units featuring a combination of rental and for-sale, and market-rate and affordable units that Pash said would create "a residential base that patronizes the businesses on-site."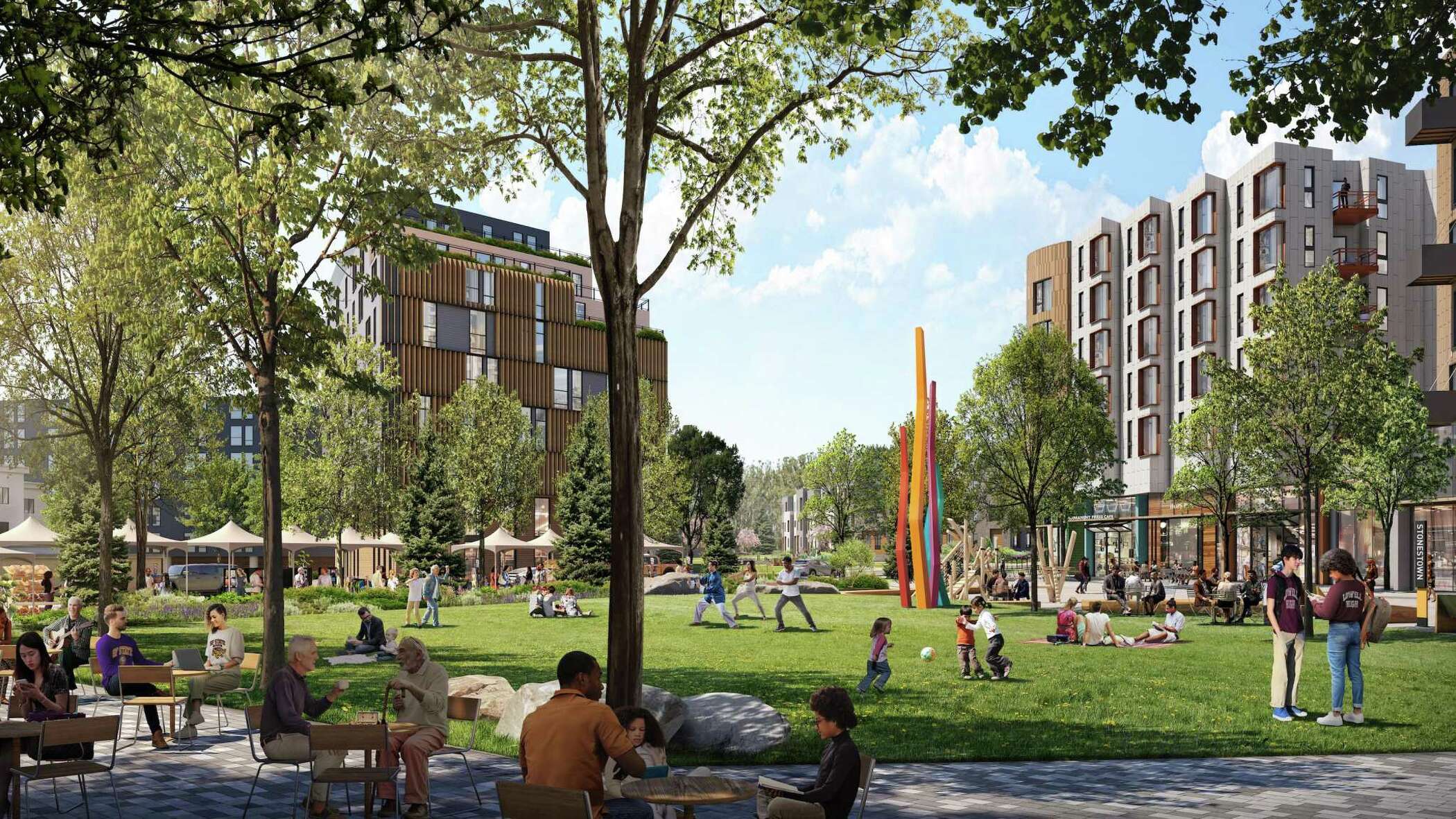 Image: Brookfield Properties
And check out all this new park space in what is currently parking lot space. This plan creates six acres of parks and outdoor open spaces, with a "town square" that would host the recurring Stonestown Farmers Market. "From any spot, you're really only walking a block to an open space," Laura Crescimono, principal at the designer Sitelab Urban Studio told the commission.
You don't see much visible parking in this plan, and that's on purpose. "First move is how to rethink parking so it is not the dominant experience," Crescimono added. "It's distributed. It's underground, or embedded within buildings."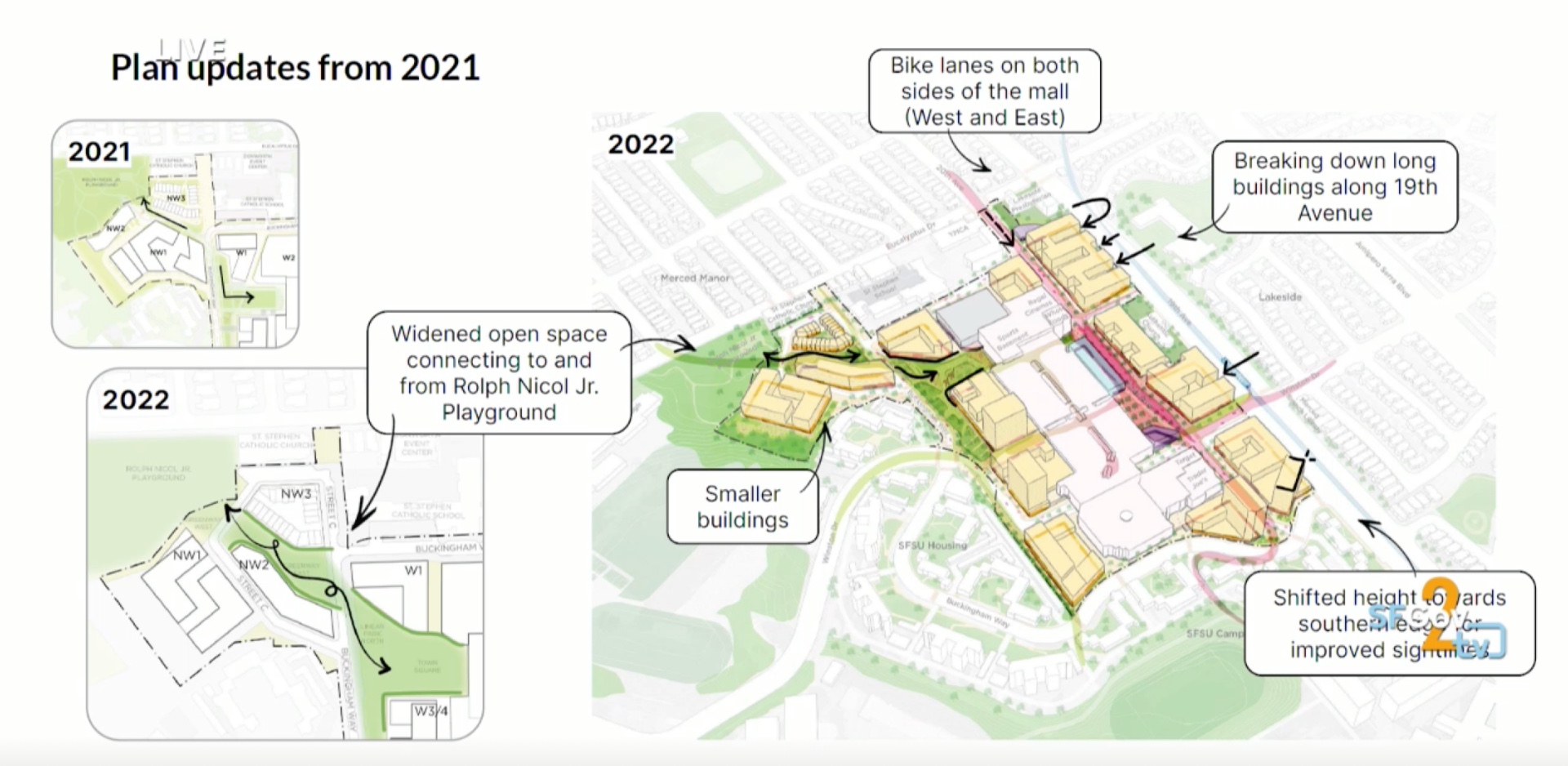 Image: SFGov.tv
There are some new, recent updates to the latest version of the plan, as seen above. A widened open space would connect the parks with the existing Rolph Nicol Jr. Playground. There are also more bike lanes in the new plan, with many of the proposed new buildings now smaller in scope.
This project may hit a snag over a possible historic designation claim for the old, unused Regal UA Stonestown Twin movie theater (which is not to be confused with the new, state-of-the-art Regal Stonestown Galleria ScreenX). Pash was artfully vague about that potential conflict, merely saying "We're continuing to look at options for that."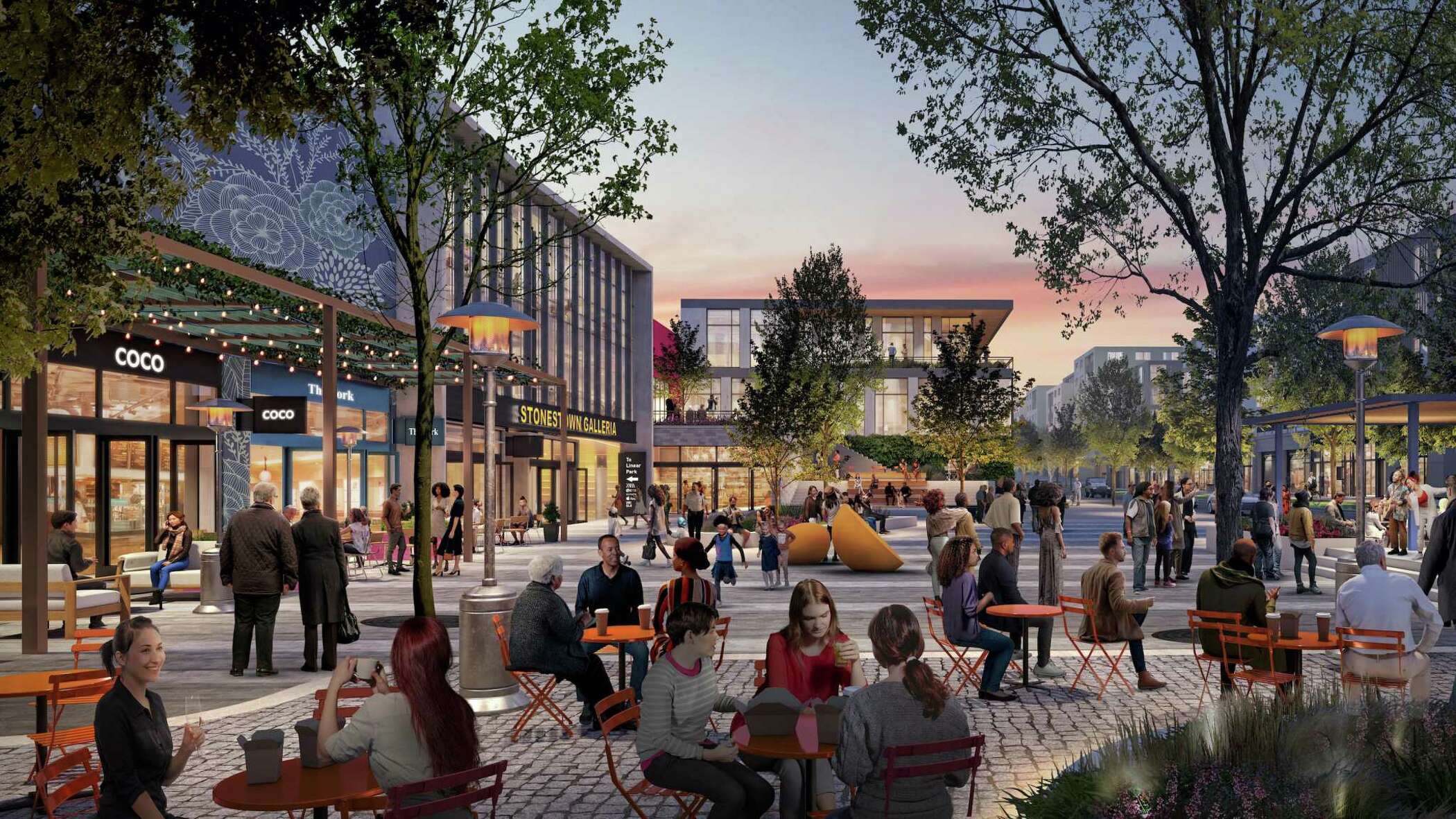 Image: Brookfield Properties
There was no vote on these plans Thursday, just an informational session for the Planning Commission. But commissioners seemed enthusiastic. "My Planning brain has been waiting to see two things: this plan, and the ridding of all Safeway parking lots," commissioner Jel Koppel said. "So this is a good step in the right direction."
Some public commenters didn't like the sound of adding an 18-story building to the neighborhood, as one of the proposed housing towers would be the area's new tallest building. And one commenter noted, "The proposed office space is questionable in light of the glut of empty office space in the Financial District and SoMa since the pandemic
But that said, the Planning Commission commented they'd like to see some buildings even taller, with more apartments added. "I'm excited, and a little disappointed that there's not more housing units on a parcel of this size," commissioner Theresa Imperial said.
Brookfield Properties will be submitting permit requests for this massive project, with their next hearing schedule before the Planning Commission in February 2023. And remember, even if the sprawling plan gets all of its approvals, we're looking at years of construction along 19th Avenue.
How many years? Pash said that Brookfield Properties estimated a "10- to 15-year phased buildout of the project.