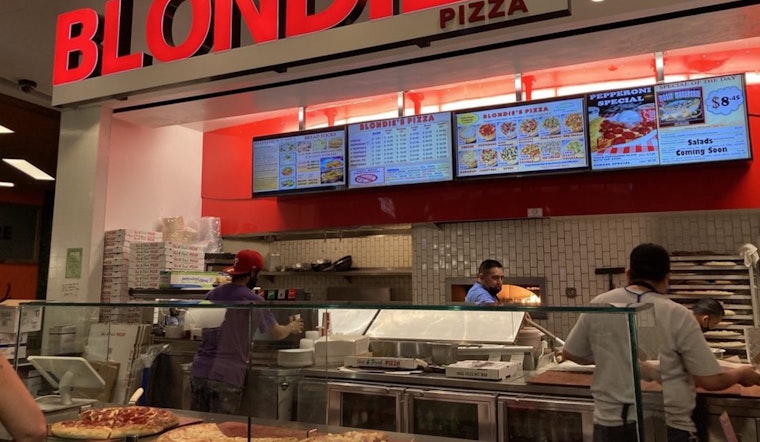 Published on September 19, 2022
San Francisco's unlikeliest food destination has pulled another coup. Many of us had left the Stonestown Galleria shopping mall for dead after Macy's pulled out in 2018. But since then, the place has lost an Olive Garden, but also added an Ike's Sandwiches, become an Instagram-worthy food destination overall, and has a Shake Shack forthcoming. Now add pizza slices bigger than the paper plate they're served on to the menu, as the San Francisco Business Times reports that a Blondie's Pizza is coming to the Stonestown Galleria.
Per the Business Times, the new Blondie's Pizza location will open in Suite 250D at Stonestown. So it's going into the old Villa Italian Kitchen location that closed a couple years back — and the space had previously been a Sbarro's.
"We look forward to welcoming Blondie's as a new dining option for our guests," Josh Deckelbaum, a representative of Stonestown Galleria owner-operator Brookfield Properties, told the Business Times. "This new offering, in addition to others that will be announced soon, further display our shopping center as a place where communities can thrive."
Pizza pontiffs will surely point out that the Union Square Blondie's Pizza on Powell Street was closed for health violations in 2016. But that was a different owner; the original Blondie's Pizza opened in Berkeley in 1980, and was purchased by longtime employee Abdul Zaloukh who bought the chain shortly after the Powell Street closure and renamed it Abe's Pizza. He's since expanded into a Market and Mason Street location downtown, and opened a Blondie's Pizza in the Westfield Centre food court.
There is no opening date yet associated with the Stonestown Galleria Blondie's Pizza. But it's yet another feather in the cap of the Stonestown Galleria, which has a giant residential village development in the works too.