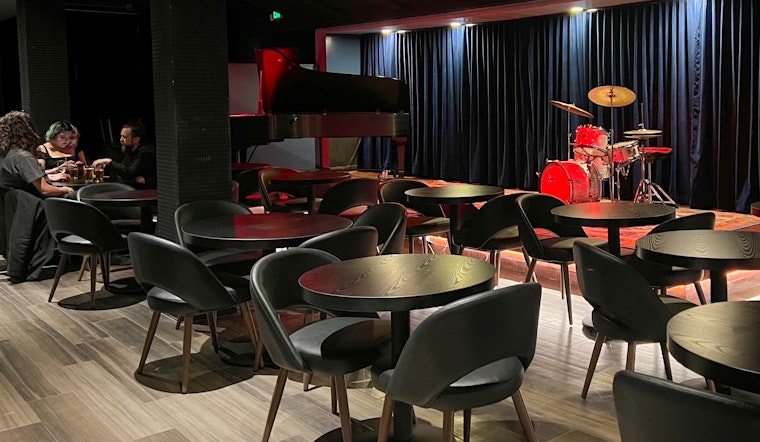 Published on November 15, 2022
Long before the stretch of Broadway between Columbus and Montgomery was peppered with strip joints, it was home to some of the city's most popular jazz clubs. With the opening of Keys Jazz Bistro last week, North Beach is once again poised to become a prime destination for jazz aficionados.
The new venue is located in the same building that housed famed 1950s nightclub El Matador and, most recently, Horizon Restaurant and Lounge. In its heyday, El Matador presented jazz royalty like Charlie Byrd, Erroll Garner and the Modern Jazz Quartet. Other clubs that kept Broadway swinging back then included the Jazz Workshop where legends such as Miles Davis and John Coltrane dazzled audiences. Across the street, legendary artists like Carmen McRae were regulars at Sugar Hill.
Keys is co-owned by Simon Rowe, a professional pianist and organist. He's also the former head of the Brubeck Institute and ran the Jazz and American Music program at the San Francisco Conservatory of Music. His business partner, Matt Mullenweg, is co-founder of website design company WordPress.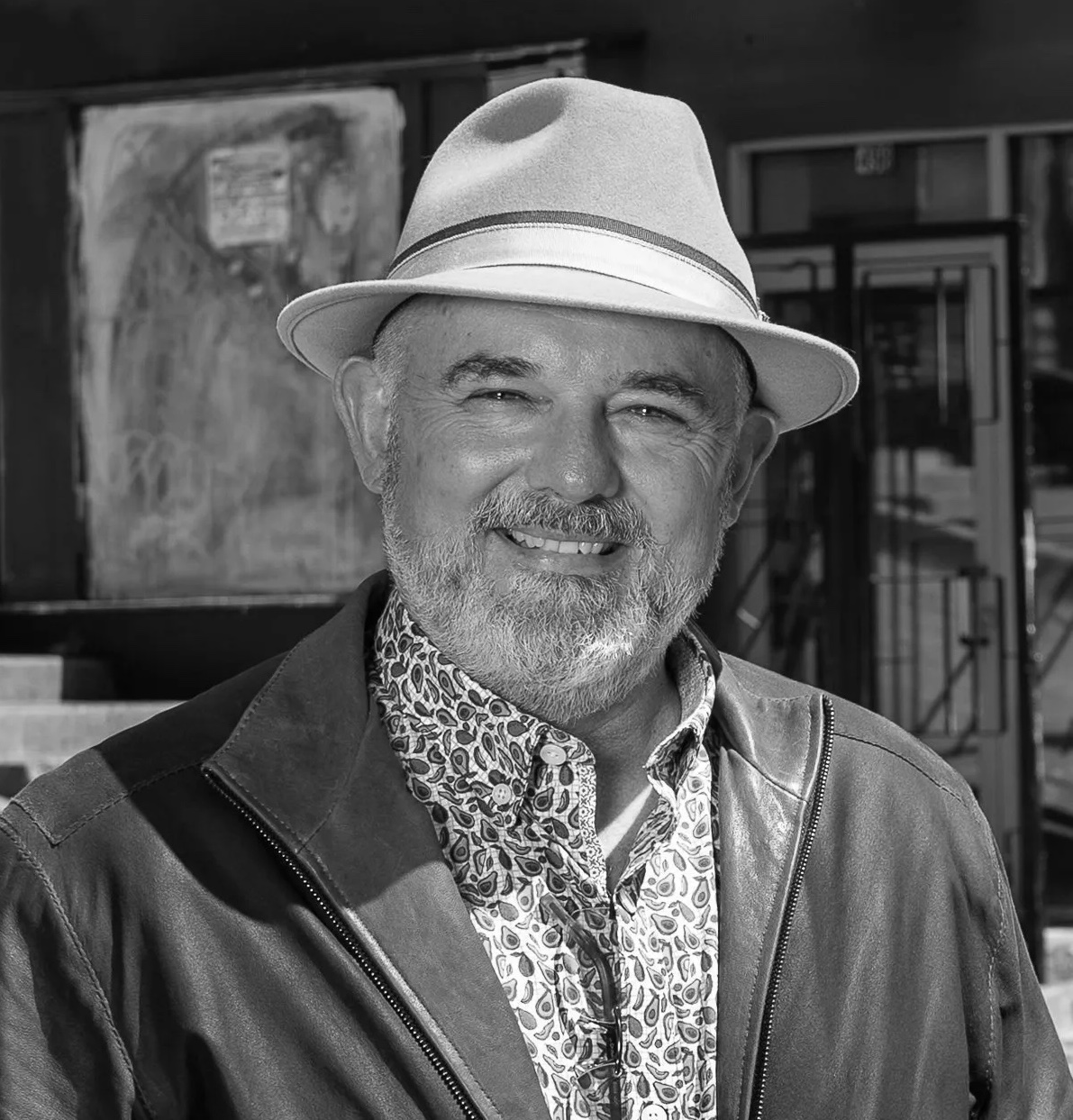 Keys owner Simon Rowe. | Photo credit: Keys Jazz Bistro
"It's been a life-long dream of mine to create a refuge and a sacred space for music and musicians," Rowe told Hoodline during a preview gathering for people in the neighborhood the night before Keys' official opening on November 10. "I'd been looking since the beginning of the pandemic for an appropriate space. It took me about 18 months, but the moment I walked in here, I knew I'd found it."
Besides its rich jazz legacy, North Beach appealed to Rowe because of the way the neighborhood rallied during the pandemic. Community members refused to let restrictions on indoor gatherings put the kibosh on live music. When lockdown stopped musicians from playing inside, they took to the sidewalks in front of places like The Saloon and Caffe Trieste. Or headed to Washington Square to fill the air with joyful sounds. On Green Street, nightly music in Belle Cora's popular parklet helped locals and others shake off the isolation blues.
"It was a beautiful thing to see, and I was impressed," said Rowe. "I knew that this was where the club had to be."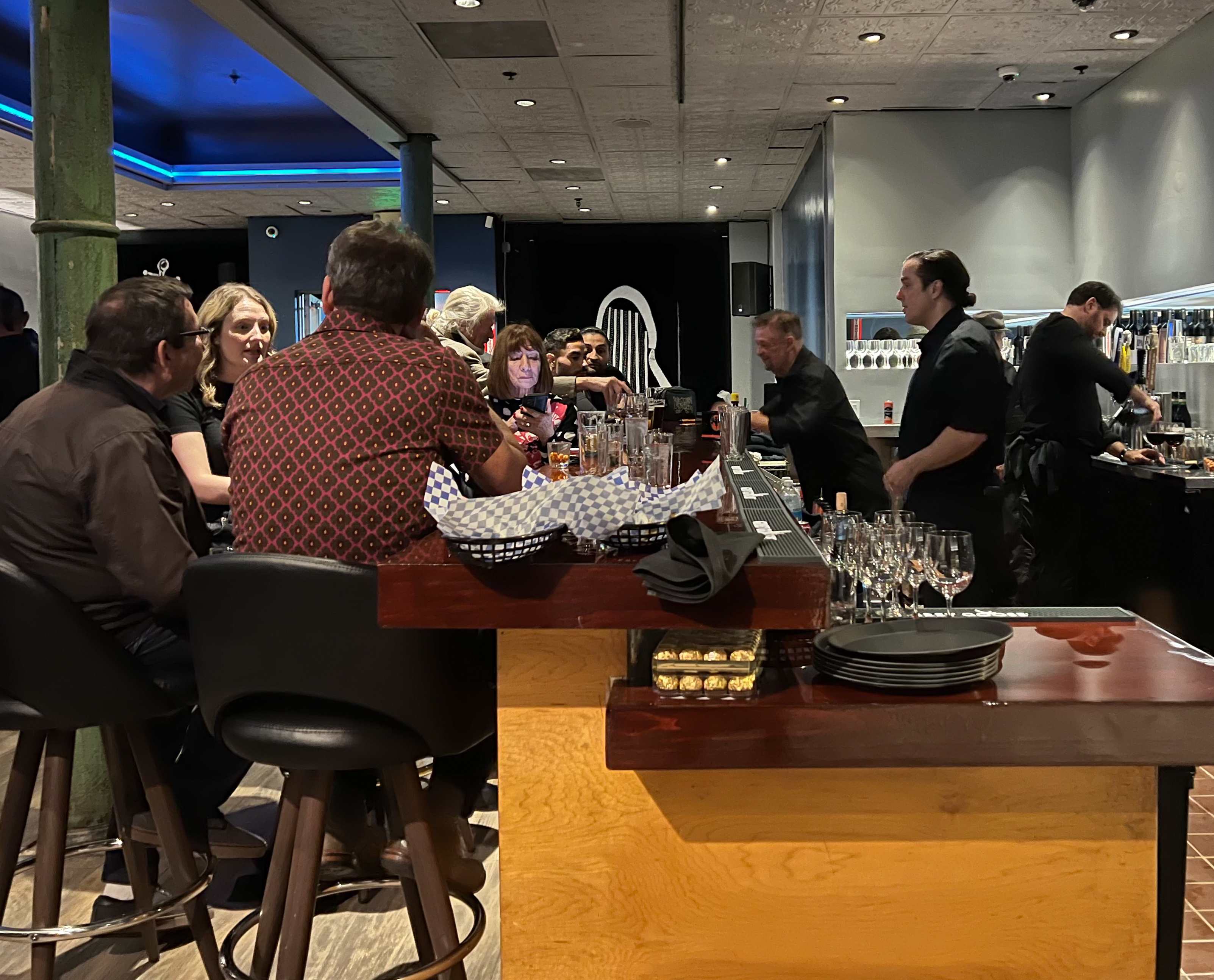 Guests sample drinks and appetizers at the Keys bar during a special preview party. | Photo credit: Dorothy O'Donnell
Upon entering Keys, you can order drinks and appetizers at the sleek bar before moving on to the intimate performance space. Here, understated contemporary décor in gray, black, and midnight-blue creates a fittingly cool and moody atmosphere. A gleaming grand piano graces a corner of the stage. And yes, from time to time, you'll be able to catch Rowe working his magic on its keys.
"When you hear that piano off the stage, it fills this room," he said. "It's splendid and amazing—the acoustics are really nice."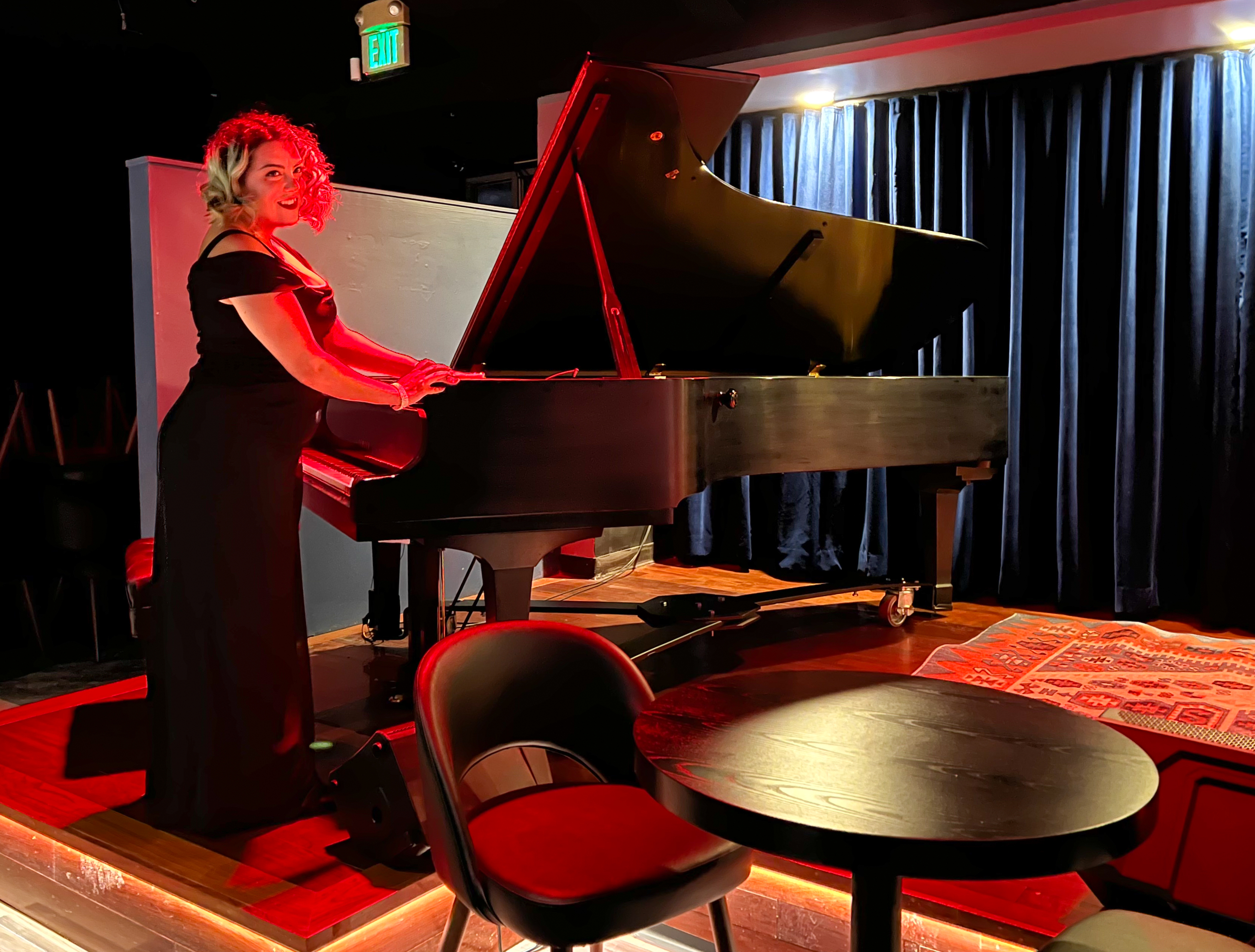 Paje Brackin strikes a pose in front of Keys' house piano. | Photo credit: Dorothy O'Donnell
Backed by the David Udolf Trio, soulful vocalist Clairdee played to a sold-out house for the club's first show. (Singer Mary Stallings was also supposed to perform but had to cancel at the last minute.) Rowe is excited about upcoming events at Keys, including a series of shows featuring Kenny Washington, whom he considers one of the best jazz singers on the planet. Washington and his band will be at the club from November 16-19.
"Kenny was such a sweetheart," Rowe noted. "He plays all over the world and didn't know me from Adam, but when I called him up and told him that I'm seriously committed to making this a sacred space for musicians, he loved the notion and jumped right in."
Keys is open Wednesday through Saturday evenings. Come hungry — dinner service starts at 6 p.m. so you can feast while savoring great music. Artists typically perform two shows on Wednesday and Thursday, and three on Friday and Saturday.
Keys Jazz Bistro is located at 498 Broadway. For tickets and more information, visit the club's website.