Richmond's burgeoning craft (read: hipster) food and drink scene has gotten some press lately, but its off-the-beaten-track eateries and breweries still feel a bit like lost treasures and hidden enclaves in otherwise low-trafficked or industrial stretches of the Bay's often-overlooked northeast-bank town. And, of course, that's a significant part of their appeal: the marriage of lovingly crafted fare with gritty surroundings (some Richmondites would say their town is what Oakland thinks it is, but we're not going there).
The latest addition to that scene is The Backyard, a laid-back new burgers-and-breakfast joint tucked up behind Whale Point Marine & Hardware near the Richmond marina, between Ritco Forklift Repair and Tulip Hardwood Floors. Advertising "good eats, good vibes, coffee and games," the restaurant is indeed like a very souped-up backyard. The outdoor space has wood chips on the ground and palm trees dotted around, set against a wall painted with a bright mural.
Patio tables with umbrellas are arranged neatly alongside covered seating and heat lamps. Lawn games, from bocce ball and ping pong to jumbo Connect Four complete the fun setting. In fact, the spot looks like a daytime edition of its beloved neighbor, East Brother Beer Co., which draws evening crowds for local beer and games in a casual indoor-outdoor setting just three minutes away from The Backyard.
The eatery joins a growing set of other hip locales scattered around town, from East Brother to Armisitice Brewing and The Factory Bar, which braved a Covid opening to become a new hotspot known for its craft cocktails with a local twist. But where many in the Richmond scene are drinks-focused, The Backyard is all about the food, complemented by a selection of non-alcoholic drinks, including our bougie favorites at not-so-bougie prices (kombucha goes for a supermarket-level $3, prebiotic soda $2 and Peet's coffee $2.85 for a regular).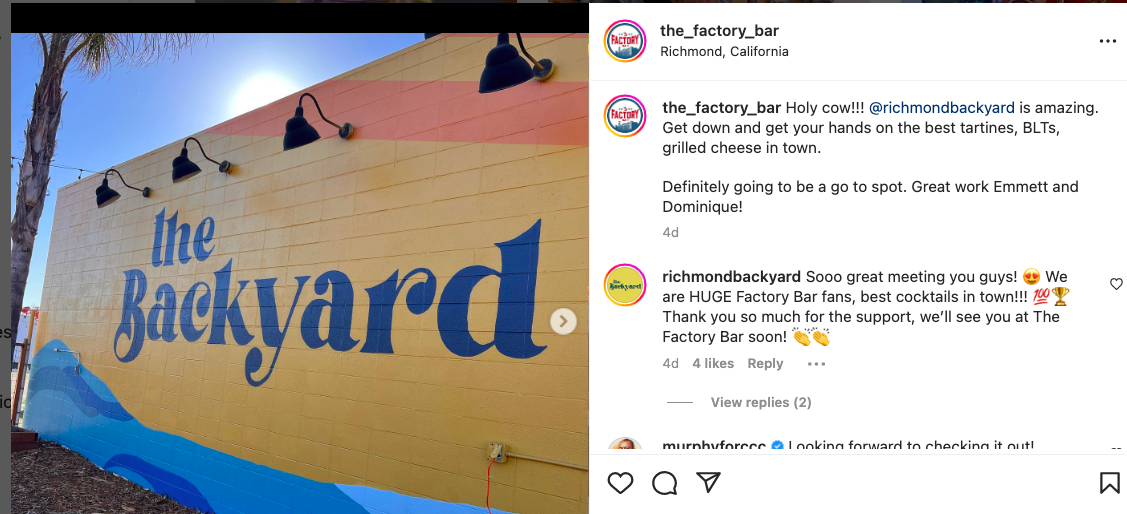 "Holy cow!!! @richmondbackyard is amazing," The Factory Bar posted on Instagram. "Get down and get your hands on the best tartines, BLTs, grilled cheese in town."
In addition to burgers, hot sandwiches, and tartines, The Backyard's menu holds that holy grail of weekend spots – breakfast served all day, complete with eggs, bacon, sausages, hash browns, avocado toast ($6), etc. (sorry, no pancakes!) plus vegan and gluten-free alternatives.
The signature Backyard Burger has cheese, pickled onions, special sauce and pickles on an Acme bun, and will set diners back $12 for a single burger or $14 for a double. Vegetarians may appreciate the margherita tartine, featuring goat cheese and cherry tomatoes with balsamic dressing on Acme bread ($8.50).
The Backyard is located at 205 Cutting Blvd., Richmond. Hours: Mondays-Thursdays, 8 a.m.-4 p.m., Fridays-Sundays, 8 a.m.-6 p.m. More information: www.richmondbackyard.com