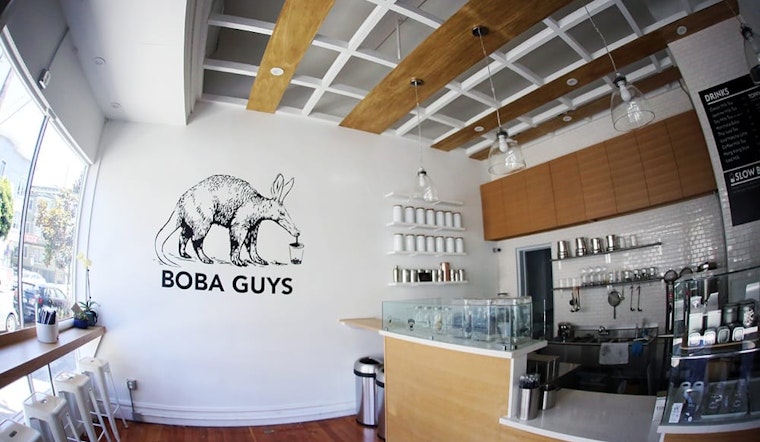 Published on December 15, 2022
Before the tapioca, tea, and milk beverage purveyor Boba Guys became a national cult-hit with 20 locations the Bay Area, Los Angeles, and New York City, the first Boba Guys was a pop-up on 19th Street near Valencia that eventually bubbled into a permanent brick-and-mortar store. But the bubble has burst, at that location at least, as after a couple months of terrible publicity, the Chronicle reports that the original Boba Guys location at 19th and Valencia Streets has closed permanently.
Most other Boba Guys locations do remain open, though the Chronicle adds that the Newport Beach, California Boba Guys shop is also shuttering.
"Know that neither of these decisions was made without many hours of deliberation and review of the impact this has on our team and community," co-founders Andrew Chau and Bin Chen said in a statement to the Chronicle. They did not give a reason for the closure.
But there are certainly dots to connect here. Mission Local reported that this Boba Guys location closed temporarily in October, amidst a mass-firing that just so happened to coincide with a unionization effort among staff. Per the Chronicle's report, embittered workers posted signs on the store at that time saying "union busters," "upper management retaliates against boba employees" and "Boba Guys employees can't make rent."
Just days later, SFGate published a piece wherein those employees alleged they were being surreptitiously recorded on the job via audio surveillance, and those workers wondered whether they were fired for making critical comments about ownership while in the workplace.
Still, some employees did remain after that October housecleaning of supposedly disloyal staff. Chau and Chen told the Chronicle that workers at the 19th and Valencia Streets shop would be offered positions at the remaining Boba Guys locations.