A Portland-based brewery called Great Notion Brewing has re-envigorated the former Torpedo Room space on Fourth Street in Berkeley, previously occupied by Sierra Nevada Brewing Co.
Great Notion opened the taproom with limited hours during the month of December, and has now ramped up to operate most days of the week in the 2,000-foot interior and patio space (2031 4th Street, Berkeley). So far, they've been closed on Mondays, but the company says they'll soon be open seven days a week.
The taproom offers brews on 16 taps, plus beer for sale to take home. Patrons are welcome to bring in outside food, and the company says the spot is family-friendly, with kids and leashed dogs welcome.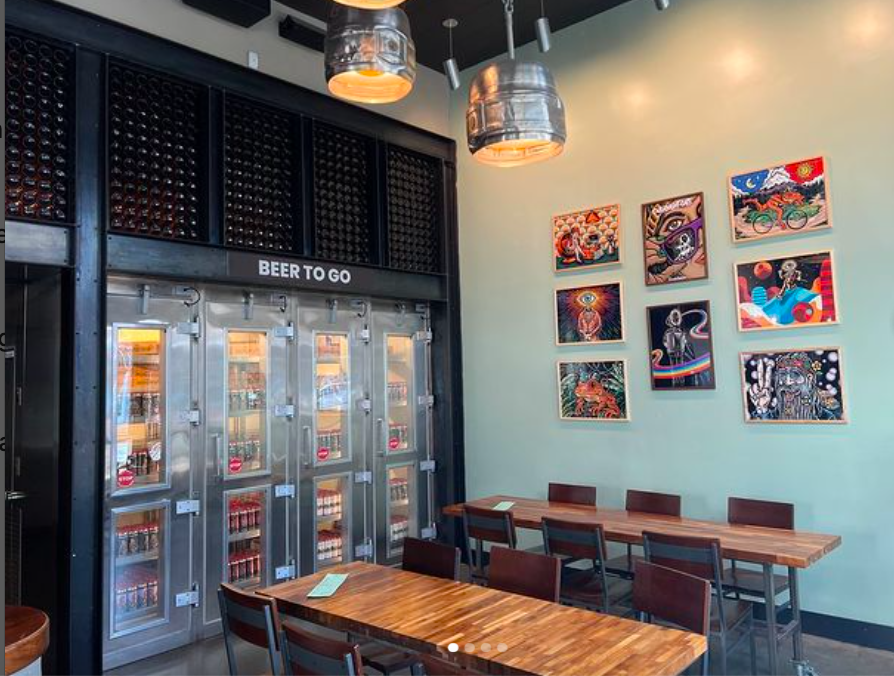 Photo: Great Notion/Instagram
With a mission — or at least tagline — of "keeping beer fun," the brewery says it focuses on "hazy, fruit-forward IPAs and culinary-inspired sours and stouts." These include sour ales blended with Oregon fruit like pinot noir grapes, blueberries, strawberries, and cherries, as well as imperial stouts aged in bourbon barrels on ingredients like coffee, vanilla beans, chocolate, and maple syrup.
Great Notion is still working on getting a menu of current pours up online, but in the past week, Great Notion's Berkeley feed on Instagram has highlighted some current favorites like the brewery's first West Coast IPA, Afterglow, and Juice Invader IPA of Southern Hemisphere hops with pineapple and passion fruit aromas.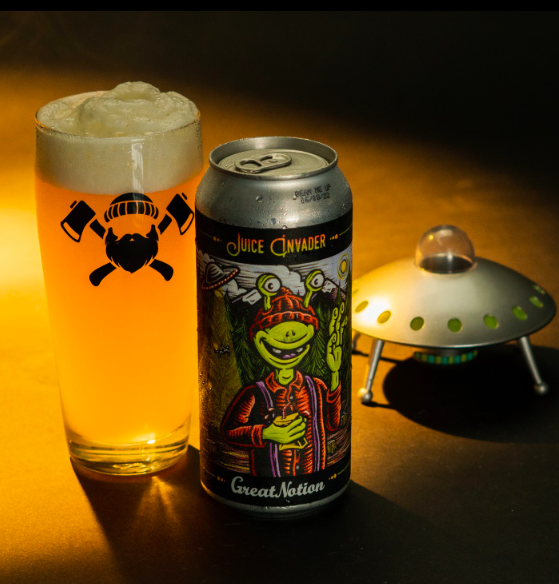 Juice Invader IPA. | Photo: Great Notion/Instagram
Oaklandside reported on the taproom during its limited opening at the end of December, when it served such "non-traditional brews" as a thick, "smoothie-inspired" beer, quoting one of the brewery's co-founders, and CEO, as saying they "want to keep things light, keep it playful."
Great Notion says its beer has won recognition at the World Beer Cup, Best of Craft Beer Awards, and Oregon Beer Awards, among other honors. The brewery has six locations in the Pacific Northwest, but the Fourth Street spot is its first foray into the California scene, apart from selling and shipping its beers in the Golden State.
The space previously housed Sierra Nevada, which operated the Torpedo Room for nearly a decade before shutting down in July of last year, blaming COVID-related challenges. "[T]he effects of the pandemic, from staffing shortages to wayward foot traffic, ultimately made the Torpedo Room unsustainable," according to the Sierra Nevada website.
Great Notion Berkeley is located at 2031 4th St., Berkeley. January hours are Sun.-Thurs., 12-9 p.m. and Fri.-Sat., 12-10 p.m. Visit greatnotion.com or check out Great Notion on Instagram to see the latest hours and updates.