As noon mass attendees trickled out of Old Saint Mary's Cathedral on a recent Tuesday, folks seeking a different sort of spiritual experience — the soul-soothing powers of classical music—made their way inside the church. Filling the pews closest to the altar, the audience of about 80 people was dominated by seniors. But younger fans were also on hand for the free weekly concert in the oldest Roman Catholic cathedral in California.
Classical music devotees of all ages and backgrounds have been enjoying this sweet respite from the hectic pace of everyday life since 1989. Presented by the nonprofit Noontime Concerts — a separate entity from the church — the hour-long performances happen every Tuesday at 12:30 p.m.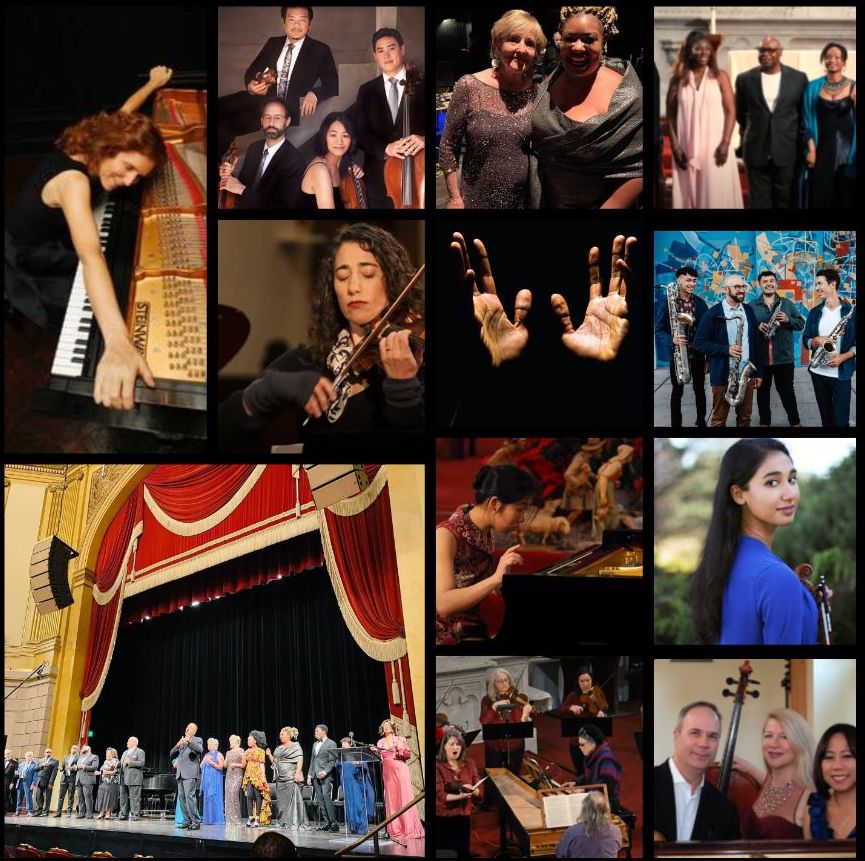 A montage of Noontime Concerts' performers and special events. | Photo courtesy of Robin Wirthlin
"We truly do have world-class music every week," said Robin Wirthlin, executive director of Noontime Concerts. "We bring in professional musicians from the Bay Area and around the world."
This particular concert featured local violinist Patrick Galvin and pianist Connor Buckley. The duo mesmerized the audience with a mix of solemn and lighter pieces from several different composers, including Sergei Prokofiev and Grazyna Bacewicz. Old Sant Mary's impeccable acoustics enhanced the concert experience. As music swelled through the cathedral, heads bobbed appreciatively and joyful smiles spread across the faces of rapt listeners.
"I'm rejuvenated by their performance," said Carla Kraus, a semi-regular at the concerts after the performance. "I always come in thinking 'I can't be impressed, I'm too busy in the world,' and then I just start getting into it and I'm totally thrilled."
Old Saint Mary's classical music concerts continue a tradition that began in London during World War II. To avoid mass casualties during air raids, cultural venues like theaters and museums, including the National Gallery, were shuttered. But well-known British pianist Dame Myra Hess came up with the idea of holding free concerts in the Gallery. The popular series offered people from all walks of a life a chance to bond over their shared passion for music and a much-needed break from the stress of war.
Along with Old Saint Mary's, today churches in England, Chicago and New York keep Hess's legacy alive by offering their own versions of the concerts. According to Wirthlin, only the San Francisco events are free. (Donations, however, are always appreciated.)
"We want to make the concerts affordable and accessible for all," explained Wirthlin. "Accessible to me means they're not only easy to get to and experience, it also means you don't have to feel intimated because it's classical music. You can drop in for however long you want, even if it's only 10 minutes."
Though post-pandemic concert attendance is steadily climbing, the numbers aren't yet back to their former averages. Before COVID, it wasn't unusual for as many as 150 classical music lovers to show up for a performance. On a positive note, as soon as lockdown put in-person concerts on pause, Wirthlin and her team seized the opportunity to raise the bar on their audio-visual capabilities.
"We invested quite a bit in our equipment," she told Hoodline. "We brought in an Emmy-award winning sound engineer and started developing our audio-visual [capabilities]. We were recording concerts before, but the quality wasn't that great. Now we have superior quality, we livestream, and post-produce a fine video of each concert."
Several times a year, Noontime Concerts gives young up and coming musicians a chance to shine at Old Saint Mary's through its Emerging Artists program. The nonprofit also puts on occasional special events, such as last year's Majesty of the Spiritual concert at Herbst Theater. The intimate performance featured 12 opera singers performing works from three Black composers: Roland Carter, Jacqueline B. Hairston and Lena McLin.
Wirthlin also hopes to resurrect another Noontime Concerts' pre-pandemic event—monthly Sunday concerts at the San Francisco Mint. But first, she's committed to getting attendance at the Tuesday series back to where it was before COVID.
"It's very important to me now that the pandemic is over to focus on our core programming and getting our audiences back," she said. "I want to be sure we have a grip on what we're meant to be doing before we branch out."
Noontime Concerts at Old Saint Mary's Cathedral (660 California Street) take place every Tuesday from 12:30 – 1 p.m. Check out the concert schedule and learn more about the program here.