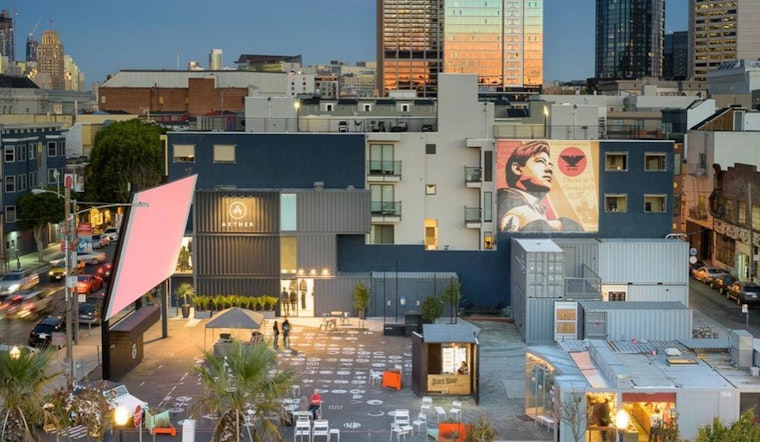 Published on March 09, 2023
It may be hard to look ahead to outdoor movies right now, but SF remains a town that loves an outdoor film screening, and the season for those is around the corner.
The first to announce its spring series of screenings is PROXY, the Hayes Valley gathering spot where Biergarten is, which has its own big-ish screen permanently installed at the PROXY Walk-In Theater. The free screenings start March 24th — and maybe the rain will have mostly tapered off by then?
"Starting March 24th, the PROXY Spring Series will be returning to the heart of Hayes Valley for its seventh year," the organizers write in a release. "This season's films examine different and diverse topics and are sure to make you laugh, cry and ponder some of today's most challenging issues. Each film speak[s] to audiences as they share a mix of individual struggles, moving through difficulty with grace, dignity, and an inner light."
The films for this PROXY Spring Series are Jordan Peele's brilliant Nope (which got robbed at the Oscars nominations if you ask me), which will screen on March 24; Laura Poitras's documentary about photographer and activist Nan Goldin All the Beauty and the Bloodshed, which screens on March 31; Till, the true story of Mamie Till Mobley's relentless pursuit of justice for her 14-year-old son, Emmett Till, directed by Chinonye Chukwu, which screens on April 7; Malni - Toward the Ocean and the Shore, a documentary on the origin of the death myth from the Chinookan people in the Pacific Northwest, which screens on April 14; and the adorable Marcel, the Shell With Shoes On, which screens on April 21.
Find Eventbrite and Facebook links to RSVP for these screenings here.
Local food trucks expected to be on hand at the screenings are Mozzeria, Bobcha, Momolicious, and The Waffle Roost.
Also, Fort Point Beer and Fig & Thistle wine selections will be available for purchase at each event, with all proceeds going to back to support outdoor movies at PROXY.
If, somehow, you haven't watched the trailer for Marcel the Shell, it's below.