Last weekend, specialty grocery store Luke's Local celebrated the opening of its newest market in North Beach. Situated in a building on the corner of Green and Stockton that formerly housed a bank, it joins two other locations in Cole Valley and Cow Hollow.
"The grand opening was amazing," says Luke's Local COO Kayleigh Kahn. "Everyone was so excited we're here. We're continuing to get everything up to our standards and prepare for the neighborhood. We're very excited to be in North Beach and to have our doors open finally — it's been a long time coming."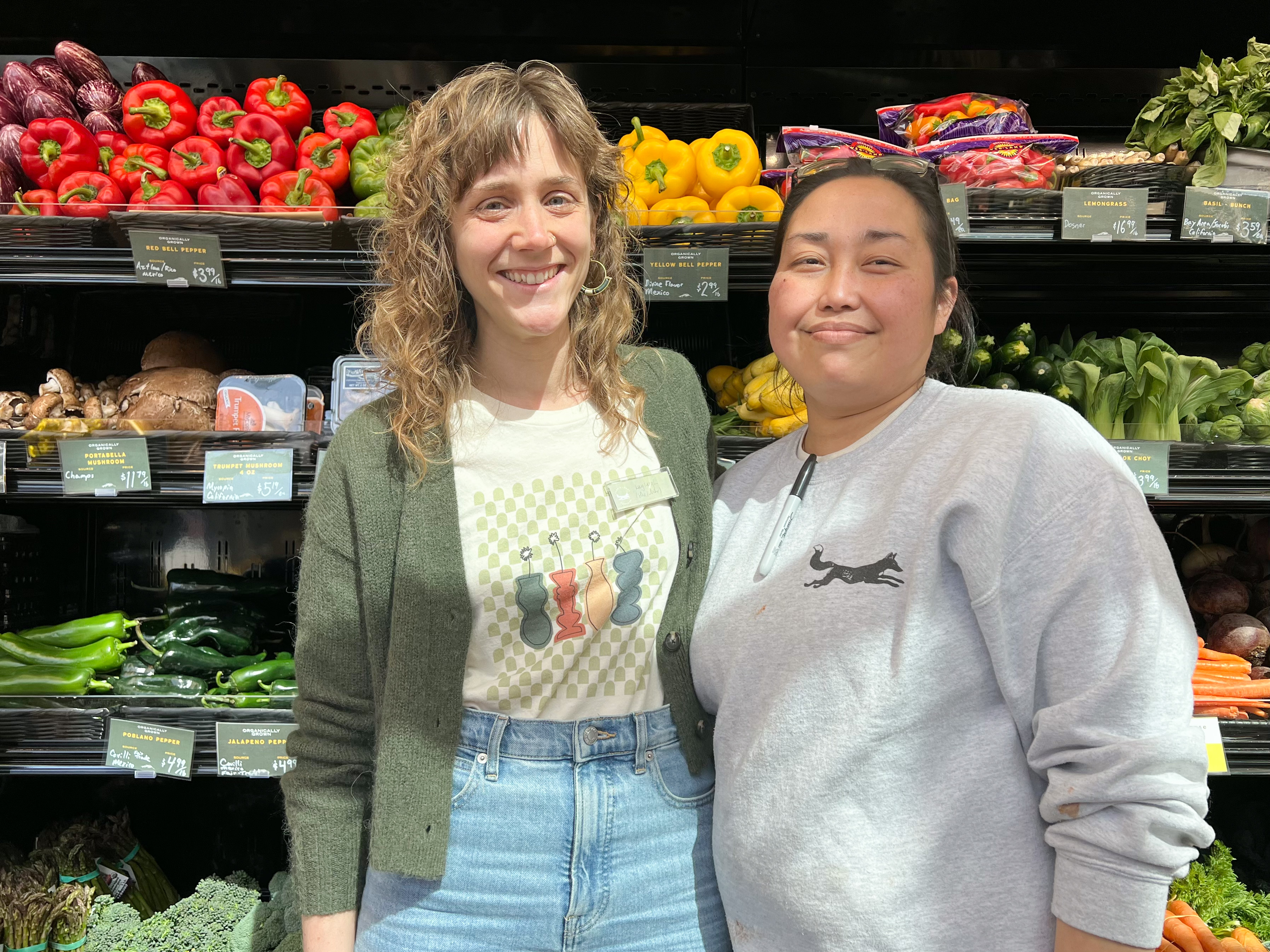 Luke's Local COO Kayleigh Kahn and store manager Shay Perez. | Photo credit: Dorothy O'Donnell
According to Kahn, it's challenging to find neighborhoods in the city that are densely packed enough for Luke's Local's business model. When the empty bank building popped up in North Beach, Luke Oppenheim, the company's founder and CEO, wanted to make it work even though it was an unconventional space for a grocery store.
"He thought North Beach would be perfect for us because it's similar to Cole Valley in that it's a neighborhood with a lot of people who have been here a long time," explains Kahn. "And it's very community-oriented. Plus, this building is gorgeous with all the big windows."
As the company's name suggests, Luke's Local focuses on providing products that come from sources close to home. It partners with more than 100 local food-makers, farmers, ranchers, and fishmongers to supply its markets with a rotating selection of meat, seafood, produce, dairy, and artisan goods.
"We work with a number of area bakeries for our fresh bread," says Kahn. "Rize Up is a Black-owned bakery that started during the pandemic. Their bread is incredible. And Butter and Crumble bakes out of a location that's next door to our Union Street store — their cookies are amazing."
A customer peruses to-go options in Luke's Local's well-stocked deli case. | Photo credit: Dorothy O'Donnell
Along with baked goods, organic produce, and grocery staples, the bright and airy North Beach store features a butcher counter and a grab-and-go deli case stocked with ready-to-eat meals, sandwiches, sushi, salads, desserts, and other items made in Luke's Local kitchen. Homemade soups and pasta dishes like mac and cheese are also available. In a back corner of the market, there's a specialty wine and cheese section. Here, you can choose from a variety of local beers and wines. And fresh cheeses curated by Luke's in-house cheesemonger. You'll also find a colorful assortment of fresh flowers.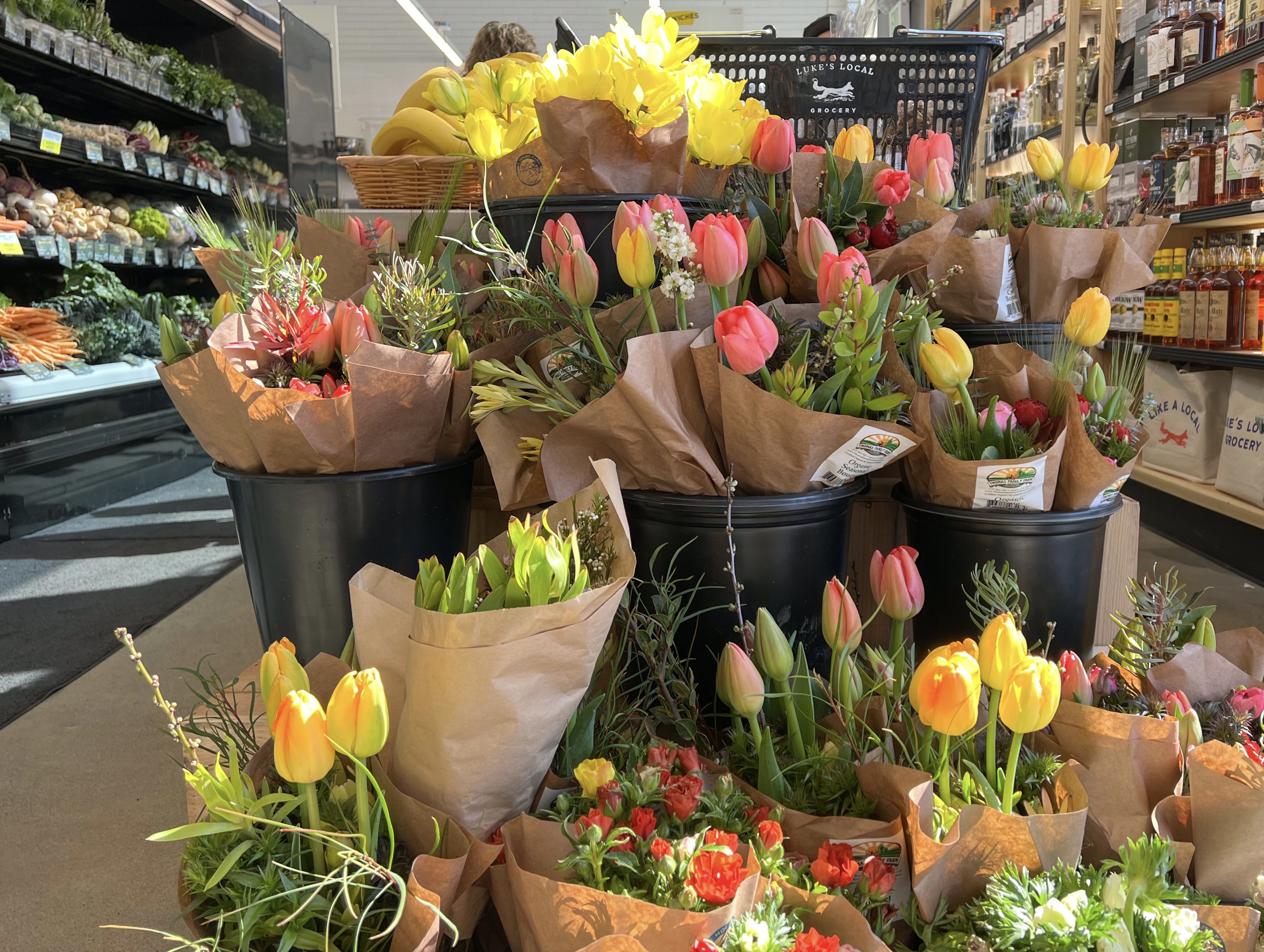 The store offers a variety of fresh flowers. Photo credit: Dorothy O'Donnell
Before or after your grocery run, stop by the outside window to order espresso drinks, breakfast items or sandwiches. Luke's Local also offers same-day grocery delivery.

Luke's Local in North Beach is located at 580 Green Street. The store is open daily from 8 a.m. to 9 p.m.