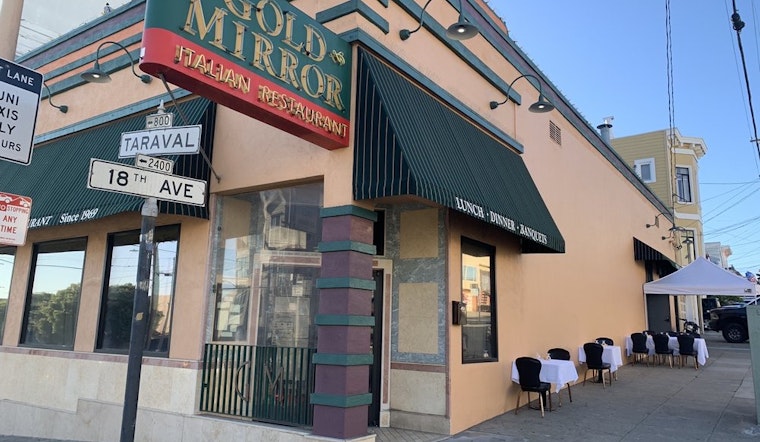 Published on April 19, 2023
San Francisco has not had a cannabis dispensary upstairs from a restaurant during the legal recreational marijuana era. Nor have we had a dispensary upstairs from an establishment that serves alcohol. And we have not had an "edibles only" consumption lounge approved, despite many dispensaries that have full-on smoking lounges.
Add to that how one proposed new dispensary is between the Parkside and Sunset neighborhoods, a part of town whose Chinese-American community has been notoriously hostile to cannabis dispensaries. That community has been crusading against this proposed dispensary for nearly a year.
So when the proposed Green Mirror dispensary, upstairs from the existing Gold Mirror Italian restaurant (800 Taraval Street), had its approval appealed to the SF Board of Supervisors Tuesday, you'd better believe there were dozens of angry public commenters extremely opposed to the dispensary getting City Hall approval.
Yet despite all those opposed community members, the board voted 9-2 to deny the opponents' appeal and approve the dispensary. (The SF Planning Commission had already approved the dispensary February 2.) But the upstairs Green Mirror dispensary was not granted approval for its edibles consumption lounge.
The district's supervisor Myrna Melgar, clearly mindful that a ton of her constituents were vehemently opposed to the dispensary, personally scuttled the consumption lounge with an amendment. "Consumption of pre-packaged materials on-site was never discussed in any outreach material or any subsequent application for the site," Supervisor Melgar said Tuesday. "It really should not have been included in the final motion."
Melgar also introduced amendments to the dispensary's approval forcing it to close at 9 p.m. rather than 10 p.m., and stating that deliveries could only happen between 9 a.m. and 4:30 p.m., and can only come through the 18th Avenue entrance.
While Gold Mirror Italian restaurant and Green Mirror dispensary will be in the same building, they are separate businesses that do not share any owners. The dispensary will be co-owned by Hayes Valley's Fig & Thistle dispensary owner Angel Davis, along with equity co-owner Michael Hall. Davis told the board that the restaurant and the dispensary will be "completely separate," and that customers will "come in on 18th [Avenue] for the dispensary and they go through on the Taraval entrance for the restaurant."
Dispensary opponents also complained that the shop would be within 600 feet of a preschool, which they say is a violation of the law saying pot shops can't be within 600 feet of a school. But the city's cannabis laws do not count preschools and daycare centers as schools, and they never have since recreational cannabis laws kicked in back in 2018. Supervisor Joel Engardio sounded like he wants to take aim at that law.
"We have a buffer law that says cannabis dispensaries must be located at least 600 feet away from a school," Engardio said Tuesday. "This proposed cannabis location is across the street from a pre-school, and a few doors down from two martial arts academies that serve kids. I'm aware the law defines 'school' as kindergarten through 12th grade. But why do we have a school law that does not include pre-schools? And it doesn't include other types of schools like test prep, dance studios and martial arts schools."
There is also the unique circumstance that the dispensary would be upstairs from a restaurant that serves alcohol, and California law is extremely clear that alcohol and cannabis can never be served in the same location. A representative from the SF Office of Cannabis insisted that would be strictly enforced.
"There will be an onsite inspection before permit issuance," that representative told the board Tuesday. "Inspectors from our office will get to the site to make sure the premises is properly separated from the existing restaurant space before they can be permitted."
Which is to say that the SF Office of Cannabis has not yet issued a permit for the Green Mirror dispensary to sell cannabis, nor has the California Department of Cannabis Control. The dispensary simply was granted the required Planning Commission approval, and survived an appeal of that approval at the board of supervisors level.
But given the unique circumstance that it's upstairs from a restaurant that serves alcohol, the state and local cannabis authorities will certainly spend some time reflecting on the Green Mirror's request to begin retail marijuana sales.