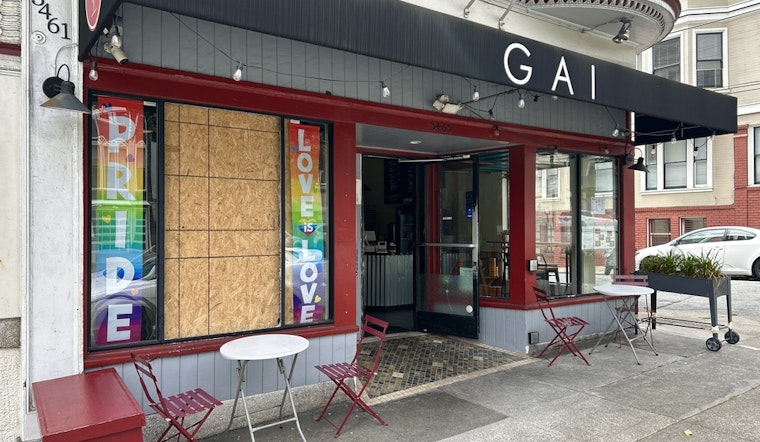 Published on May 31, 2023
Over the Memorial Day Weekend, Castro's fast-casual Gai Chicken & Rice (3463 16th St.) had its storefront window smashed in an all-too-common incident for small business owners in the neighborhood and elsewhere in the city.
Owner Kevin Lieu shared the news with Hoodline and called on city leaders for a response.
"Unfortunately, our team at Gai Chicken & Rice had a not-so-pleasant weekend," said Lieu. "We got hit again with another vandalism and broken windows just as we were setting up for Pride Month."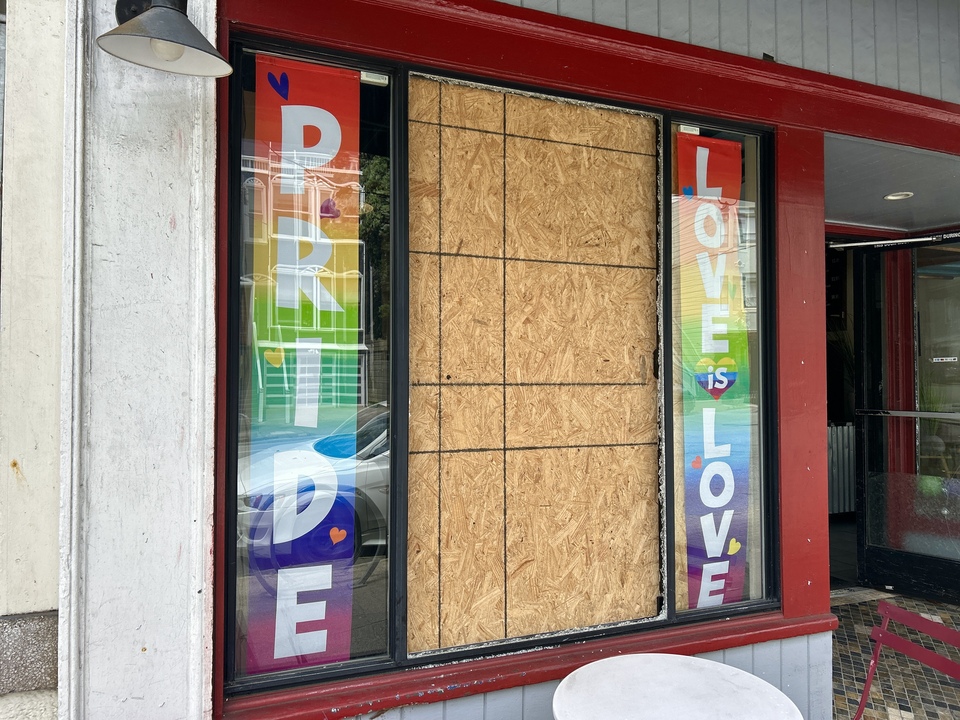 Gai's storefront window was smashed early Saturday morning. | Photo: Steven Bracco/Hoodline
SFPD spokesperson Officer Eve Laokwansathitaya confirmed that San Francisco Police officers responded early Saturday morning to Gai at approximately 2:13 a.m. on a report of vandalism.
"Officers arrived on scene and observed a glass window shattered," said Officer Laokwansathitaya. "The operator of the business was not on scene during the officers' response."
"This incident is being investigated as a vandalism at this time," added Laokwansathitaya.
Since opening in 2018, Lieu says this is the fifth time the restaurant has had its window smashed. Lieu estimates the window replacement at about $1,000 and he says they've spent approximately $15,000 on the five replacements. Lieu said no items were taken from the store during the incident.
Video shared with Hoodline shows the incident happened on Friday, May 26 at approximately 11:13 p.m. In the video, the suspect can be seen throwing a brick through the storefront window.
"I opened the shop to find that a vandal had broken through our dual pane window," explained Lieu.
"What was most disturbing is the window that was broken right between our two pride banners," added Lieu. "It almost seems like a personal attack against a queer-owned business."
Lieu said this incident comes just a month and a half after the last one in April. "It appears someone is targeting our restaurant," said Lieu.
Lieu says he's not familiar with the city's Storefront Vandalism Relief Grant which provides up to $2,000 for vandalism-related costs. After learning about the program, Lieu says he plans to apply.
Lieu tells Hoodline that he has reached out to District 8 Supervisor Rafael Mandelman and other officials for support. "Unfortunately, we have not been able to get the right support from our city and those who have sworn to protect San Francisco," added Lieu.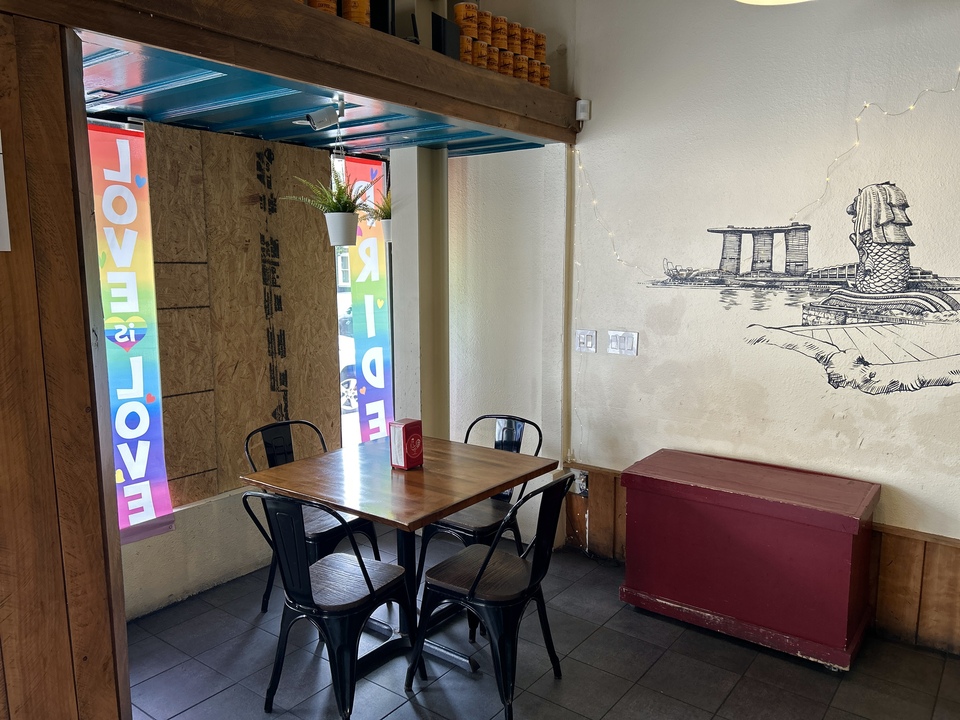 Inside Gai Chicken & Rice. | Photo: Steven Bracco/Hoodline
"My office has been in touch with Kevin to connect him with the City's storefront vandalism relief grant program and SFPD to express my concern about yet another break-in at a Castro small business, with at least six other businesses in the area broken into over the past couple weeks, said Mandelman.
"I hope the individuals responsible are quickly arrested and held accountable; our small businesses can't endure these conditions indefinitely," added Mandelman.
Lieu is hopeful that by bringing attention to this incident that city officials will react. "We hope that with public support we can help get some answers to help secure and protect SF small businesses," said Lieu. "We cannot afford a broken window every couple of months, it's not okay and the stress of operating is becoming unbearable."
Lieu is not alone in experiencing repeated vandalized windows in the Castro. In December, the Parisian-themed bakery and cafe Le Marais Bakery (298 Sanchez) had its storefronts windows smashed and the business burglarized.
Arcade bar and restaurant The Detour, indoor beer garden Willkommen, neighborhood bar The Pilsner Inn, and Super Duper have also been vandalized recently.
Earlier this month, French-born café owner Patrick Ascaso told SFGate that he would not be replacing the broken door after the December break-in.
Ascaso cited issues with the city's Storefront Vandalism Relief Grant program. "Our elected officials promote this grant as a solution for local small businesses," said Ascaso. "We deserve some response and assistance from them. Until then, this door will remain broken, and I am sincerely sorry for this."