Many visitors to Chinatown just focus on the pretty lanterns, restaurants, souvenir shops, and quaint buildings with colorful laundry fluttering from their windows. Edge on the Square, a contemporary gallery and cultural hub located in the heart of Chinatown on the corner of Grant and Clay, wants to change that. Since opening earlier this year, Edge, as it's also known, has been using the power of art to help folks gain a deeper understanding of the people and narratives that shaped the community.
"People walk down Grant Avenue and have this really narrow view of what it means to be Chinese and Asian American," says Candace Huey, Edge on the Square's head curator. "They see the tchotchkes, the firecrackers, the buddhas. We're here to expand and widen perspectives by sharing diverse stories that are authentic and autobiographical."
Edge also aims to be an engine that will help fuel the neighborhood's economy and foster social change. The venue is a project of Chinatown Media & Arts Collaborative (CMAC), a platform founded by six San Francisco-based AAPI nonprofits. Edge resides in a building that was once a general store owned by the prominent Wee Lee Louie family and backs onto Portsmouth Square. It's fitting that the space is connected to this vibrant community gathering spot, San Francisco's oldest public square.
"We look to Portsmouth Square to honor the history of Chinatown as an open gateway," notes Huey. "Not just for Chinese, but for many diverse cultures. In particular, it is the beginning of Asian America."
Learning to Land: A Story of Crossing Paths and Intergenerational Histories, Edge's debut exhibit, explores the relationships, networks, and narratives that unfold for those who settle in Chinatown. Do they get tangled? Unraveled? What stays with them? On display until May 31, the exhibit ponders these questions and more through the works of artists Benjamen Chinn, Lenore Chinn, Gao Ling, Sasinun Kladpetch, and Sherwin Rio.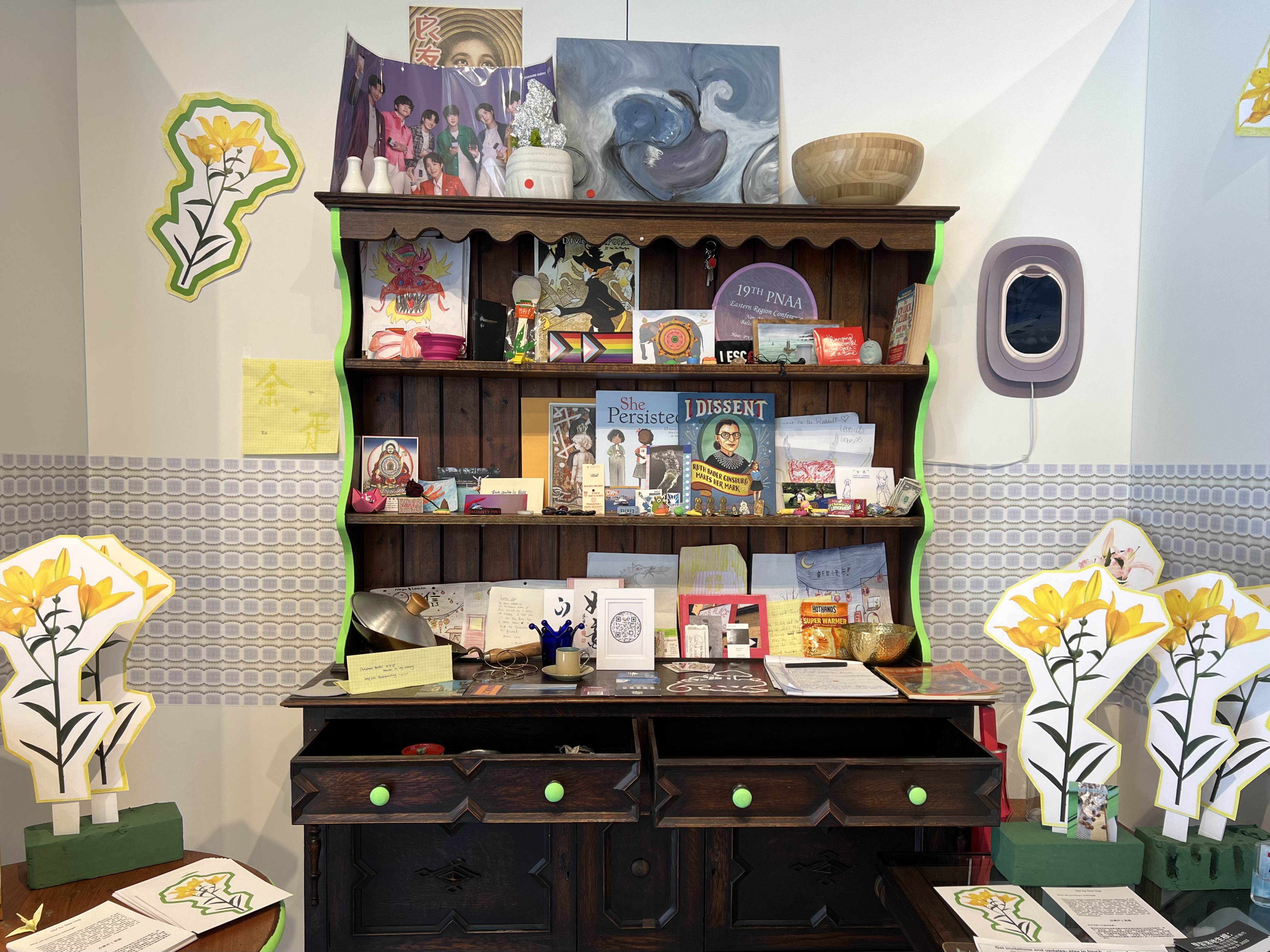 In Gao Ling's conceptual shop, visitors can trade physical and non-physical items like a dance or fragment of a song, for something in the store.
Ling created Lily!, a conceptual shop where visitors can trade something of theirs for an object in the store. The ever-evolving shop pays tribute to the Wee Lee Louie family. (Its name refers to the fragrant lilies they kept outside their shop.) In addition to providing Chinatown residents with food and other goods, the family helped male immigrant workers get documentation identifying them as business partners when the Chinese Exclusion Act was passed in 1882. This enabled the men to safely re-enter the U.S. upon returning from visits to China to see their families.
Another piece in the exhibit, Rio's giant replica of an upside-down milk crate, transforms the everyday item into a monument worthy of its role in the community. Walk through Portsmouth Square on most days, and you'll see Chinatown elders sitting on the portable makeshift seats while they play cards and socialize.
"By taking something so humble and reconfiguring it, seniors can claim their own space and take sovereignty in that space," Huey explains.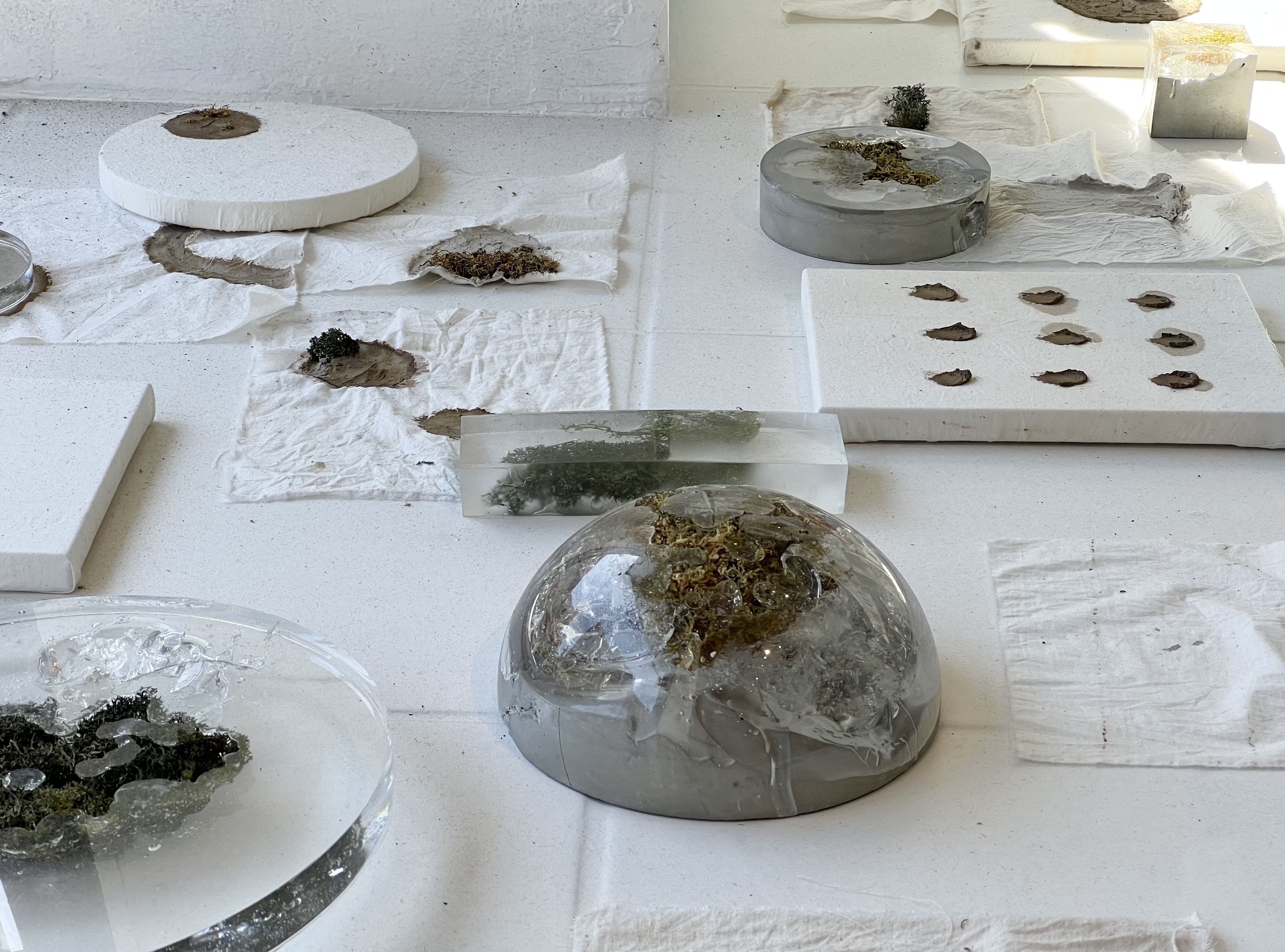 Dirt and weeds collected in Chinatown become art that represents the immigrant experience in the hands of artist Sasinun Kladpetch.
In a corner near the entrance to the gallery, Kladpetch's installation combines dirt, pebbles and weeds gathered from Portsmouth Square and the streets of Chinatown with other materials to create pieces that reflect the immigrant experience. Like little blades of grass that insist on poking through cracks in the concrete, her work illustrates the strength and resilience immigrants draw on to survive and even flourish.
Edge's next exhibit opens in mid-July and will examine the pull and force of collective healing. "We're interested in the mechanisms and movements within a community that drives this urge to heal," says Huey.
This summer, Edge will also begin offering art programs for local youth. And the staff is busy preparing for their second arts festival, which will take place in the fall.
Edge on the Square is located at 800 Grant Avenue. Current hours are 10 a.m. to 4 p.m., Wednesday through Friday. The venue will start opening on Saturdays later this month.