In one of the most surprising developments in San Francisco's post-pandemic retail apocalypse, Nordstrom now says it will close its giant, 312,000-square-foot department store at the Westfield San Francisco Centre, open since 1988. The company also says it will close its 45,000-square-foot outlet store, Nordstrom Rack, which is less than a block away on Market Street. The Seattle-based company says Nordstrom Rack will close on July 1st, and the Westfield Mall store will shutter about a month later.
The leases at both locations are about to end. Options to renew the leases were available, but Nordstrom apparently turned them down because there just aren't enough shoppers, thanks to a shift in shopping patterns since the pandemic and petty crime concerns. "Decisions like this are never easy, and this one has been especially difficult, but as many of you know, the dynamics of the downtown San Francisco market have changed dramatically over the past several years, impacting customer foot traffic to our stores and our ability to operate successfully," the company's chief stores officer, Jamie Nordstrom, said in a statement to impacted workers which was obtained by SF Business Times.
A spokesperson for Westfield says the closure highlights the city of San Francisco's lack of action when it comes to the rising rates of shoplifting and other brazen crimes along Market Street. "We have urged the city to find solutions to the key issues and lack of enforcement against rampant criminal activity. The current environment is not sustainable for the community or businesses, and we are hopeful the city will implement the changes that are so urgently needed." the Westfield spokesperson told the SF Business Times.
The future of the Westfield San Francisco Centre is also uncertain. Its owner, which is also Europe's largest mall operator, says it wants out of the U.S. and will be selling most of the American malls it operates by the end of the year, as reported by the Wall Street Journal in April.
As for Nordstrom, it will be shifting its focus to its other 16 stores in the Bay Area. News of the closure comes just days after news that Sak's Off Fifth, which is next door to the Nordstrom Rack on Market Street, will also be closing. SFist reported Monday that Ross Dress For Less will be taking over the Sak's space. Ross already has a huge location a block away at Market and 4th, and it's unclear whether it will be moving its current store or adding a whole other location.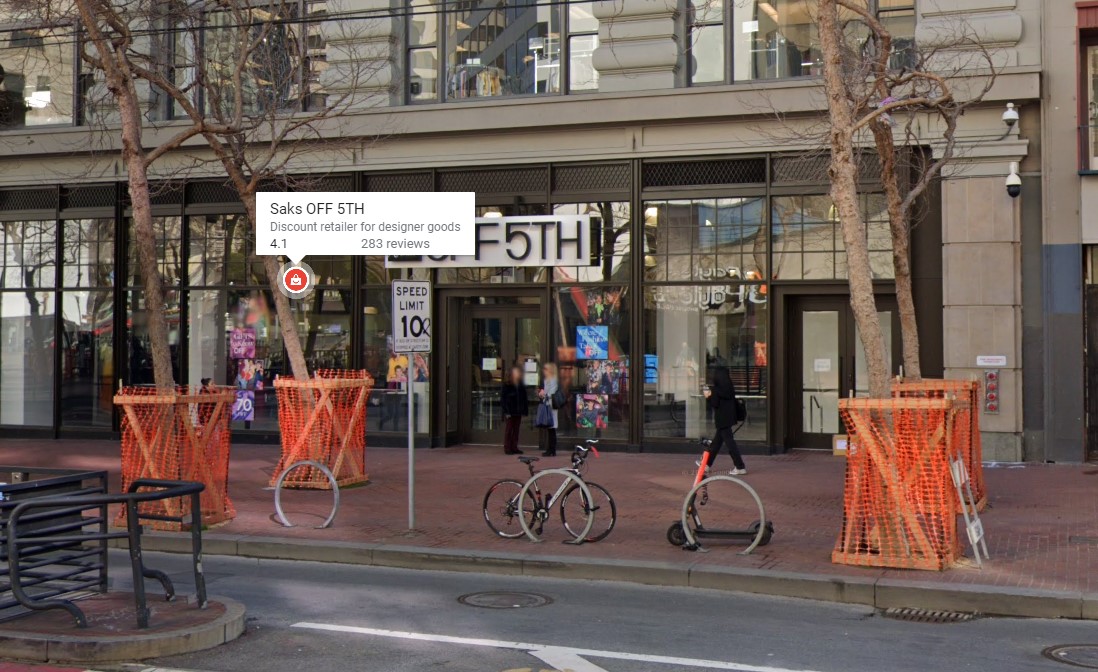 Sak's Off 5th on Market Street. | Photo Credit: Google Maps