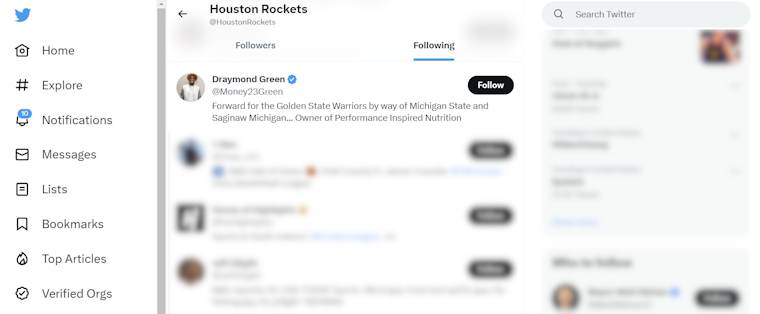 Published on June 02, 2023
In a seemingly innocent move that has the basketball world speculating, the Houston Rockets' official Twitter account started following Warriors player Draymond Green (@theNBAalert). While this may seem like a minor social media event, fans can't help but ponder the implications behind this action, especially with ongoing talks surrounding potential roster changes for the Rockets.
According to a Chron article published two days before, ex-Rockets player Robert Horry recently suggested that the franchise should aim for Draymond Green as a target to improve their lineup. Horry, who spent four seasons with the Rockets and played a key role in their back-to-back championships in 1994 and 1995, believes Green's experience and leadership could greatly benefit the young roster. The Rockets were the second-youngest team in the NBA with an average age of 23.58 years old entering the 2022-23 season. So, the team is clearly on the lookout for veterans to strengthen and guide them.
Horry's mention of Green during a SportsRadio 610 interview was not without his acknowledgment of Green's controversial reputation. Green is known for his fiery, hot-tempered nature and has been considered a polarizing figure among fans. Despite this, Horry insisted that Green's ability to hold teammates accountable and push everyone to step up is precisely what Houston needs for their team to succeed.
In addition to his strong leadership skills, Green boasts an impressive on-court track record. Since entering the NBA in 2012, he has made the All-Defensive team eight times in his first 11 seasons. Green's defensive prowess and unmatched versatility make him an essential addition to any team looking to improve their game, and the Rockets are no exception. Their 118.6 defensive rating this season was the second-worst in the league, and they ranked last in the same category the previous year.
Furthermore, with the Rockets considered among the favorites in the race for James Harden, their focus on bolstering their roster with talented veterans is hard to ignore. They have also been linked to Brook Lopez, Cam Johnson, Dillon Brooks, and Patrick Beverley in their pursuit of seasoned players to enhance their lineup.
While the Rockets following Draymond Green on Twitter is by no means an official confirmation or indication of a potential roster move, it does add to the growing speculation during this offseason. Fans and analysts alike are eager to see how the Rockets organization decides to restructure their lineup and whether Green's name will emerge in more substantial discussions.