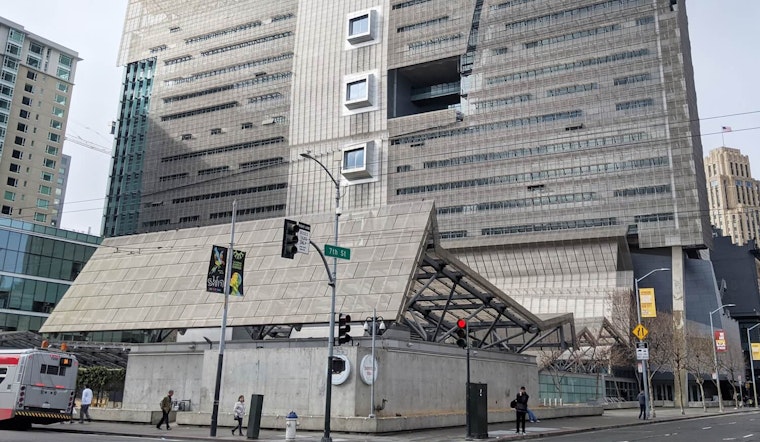 Published on June 08, 2023
The bold acts of two audacious alleged criminals were captured in full view by surveillance cameras at none other than San Francisco's Federal Building. Rodolfo Sagastume-Pineda and Natalin Mauricio Martinez-Hernandez, both San Francisco residents, were charged with felonies related to crimes committed near the federal building located on Seventh and Mission streets in San Francisco's Tenderloin neighborhood according to the Department of Justice.
Even though the federal building was undergoing a remodel that included a perimeter fence as mentioned by SFist, the two alleged criminals were spotted by security cameras committing nefarious acts. Sagastume-Pineda, for example, was observed on April 24, 2023, engaging in a series of hand-to-hand drug transactions right on the sidewalk outside the federal building, as per the complaint filed on May 25, 2023 according to the Department of Justice. At the time of his arrest, Sagastume-Pineda was allegedly carrying a backpack containing substantial amounts of various drugs, including fentanyl, methamphetamine, heroin, and cocaine, as well as a digital scale.
Unlike Sagastume-Pineda, Hernandez's case involved firearm-related offenses. On August 14, 2022, the first occasion he was observed by the surveillance cameras, an unidentified man brandished a machete during an argument with Hernandez near the federal building reported by KRON4. As the video footage shows, Hernandez allegedly retaliated by pulling a gun out of his backpack and firing at the man, who was fortunate enough not to be struck or injured. Hernandez fled the scene on a scooter.
On the second occasion, October 24, 2022, a security guard recognized Hernandez as the shooter from the previous incident when he parked his vehicle near the federal building according to KRON4. However, Hernandez managed to evade law enforcement officers by leaving the scene before their arrival. Eventually, he was arrested on October 25, 2022, after being sighted near the federal building for the third time, with the officers seizing not only a loaded, black, 9mm Ruger Security 9 semi-automatic pistol but also silver brass knuckles, three .38 caliber bullets, and multiple baggies containing 104.5 grams of fentanyl from his possession.
While Sagastume-Pineda and Hernandez are both presumed innocent until proven to be guilty beyond a reasonable doubt, these charges showcase how brazen criminal behavior can persist right in front of the federal building's security cameras. Interestingly, the presence of security cameras did not deter individuals from engaging in a shooting outside San Francisco's Phillip Burton Federal Building, wounding two people, as reported by the San Francisco Chronicle earlier in May 2023.