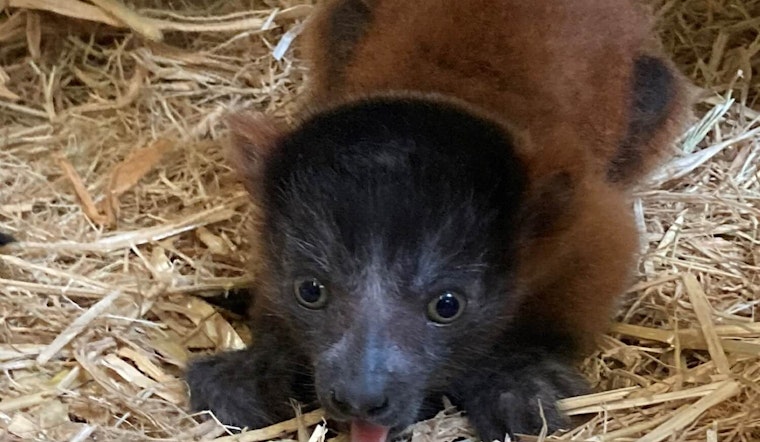 Published on June 07, 2023
San Jose's Happy Hollow Zoo recently celebrated the birth of two red-ruffed lemurs, an incredible event that highlights these critically endangered creatures' plight due to habitat loss, according to a news release by the City of San Jose. Born on Mother's Day weekend, these adorable new residents have been spending quality time with their first-time mom, Ally, in a quiet and secluded off-view den, as Mercury News reports.
Inspiring awe among the zoo's visitors, these lemurs have re-emerged into their natural habitat and can now be observed by the public. This heartwarming occasion serves as an opportunity to shed a light on the danger that faces these animals in the wild. Found exclusively in the northeastern region of Madagascar, red-ruffed lemurs are listed as critically endangered by the International Union for Conservation of Nature (IUCN).
This offspring marks an exciting moment for the lemurs' caretakers, as Ally's male pups are the first babies born at Happy Hollow since 2009, via Mercury News. Ally, a 6-year-old red-ruffed lemur, was transferred from the Nashville Zoo back in November 2020 through the Association of Zoos and Aquarium's Species Survival Plan in order to be paired with the 14-year-old male, Zarosky, as a mating companion. This successful partnership is now bearing fruit and causing excitement among the zoo's staff and visitors alike.
While the birth of these two pups has certainly brightened the mood at Happy Hollow, it is essential to recognize the gravity of their situation. As naturally curious creatures, these animals depend entirely on the rapidly shrinking forests of their native land, which have been severely impacted by human activities and climate change, according to IUCN. Ally and her babies serve as a sobering reminder of the urgent need to protect their environment and species from further harm.
Noticing this pressing concern, zoos like Happy Hollow Park & Zoo are doing their part in playing an instrumental role in the conservation of these majestic animals. By participating in programs such as the Species Survival Plan and providing a safe environment for Ally and her offspring, they are actively participating in preserving the genetic diversity and health of this endangered species. Currently, Happy Hollow Park & Zoo is participating in 18 Species Survival Plans for more than 50 species of animals in their care, as per the same San José News Release.
Not only are these happy births a cause for celebration and an adorable addition to the zoo's community, but they also serve an educational purpose. Happy Hollow Park & Zoo aims to raise awareness about this species and their vital role in the ecosystem. Visitors can take a glimpse at their fascinating lives and, hopefully, become more knowledgeable and committed to the conservation of their natural habitats. Based on the enthusiasm and delight these youngsters have sparked, it is clear that this awareness-raising endeavor has proved to be inspiring.
In fact, Hoodline reported on the birth of different endangered lemurs at the same zoo in 2021.
In the coming months, the public will also have the exciting opportunity to name the baby lemurs through a contest, allowing visitors to form a personal connection with these beautiful creatures. Such initiatives draw attention to the plight of endangered animals and inspire visitors to take action towards wildlife conservation. Those who wish to visit these lemurs can drop by Happy Hollow's three species of lemurs within its Zoo on the Hill and Zoo in the Hollow areas. The zoo is open seven days a week from 10 a.m. to 5 p.m., and reservations are not required, as per San José City News Release.