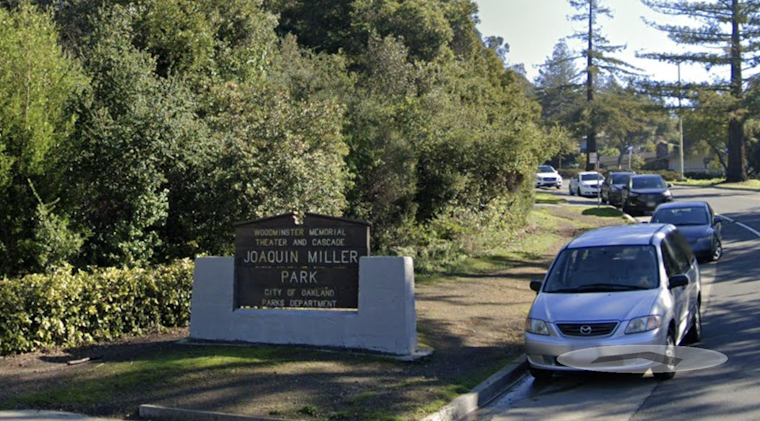 Published on July 20, 2023
A stripped car was discovered abandoned right on a playground at Oakland's Joaquin Miller Park, raising concerns over the ever-growing crime rates in the area, according to KTVU. The vehicle, a white Nissan, had its front and back bumpers, trunk lid, and tires stripped off. The sight of the car resting on wood branches on the playground stunned neighbors who have become accustomed to abandoned cars and stolen catalytic converters in the region.
UPDATE: Parents, caretakers & kids are trying to enjoy Oakland's Joaquin Miller Park - with a stolen, stripped Infiniti Q50 left abandoned on the playground. 4,5,6,7 p.m. @KTVU pic.twitter.com/KrAOppzfgR

— Henry K. Lee (@henrykleeKTVU) July 20, 2023
A local, who requested anonymity, told Henry K. Lee from KTVU, that many hills residents have given up reporting property crimes to Oakland police, since there's no way to quantify just how bad the crime has become. Meanwhile, another pressing concern that casts a shadow on the community is the potentially hazardous tree situation at the park, posing a severe wildfire risk, as mentioned in an Oaklandside article published on July 12, 2023.
Joaquin Miller Park, spreading across 500 acres, is a mix of meadows, creeks, and dense woods that have caught the attention of the Friends of Joaquin Miller Park, a nonprofit group primarily focused on addressing the mass of overgrown, dead, or dying trees in the park. The group warns that these hazardous trees could fall and injure visitors, or incite a devastating wildfire – a grave concern for locals. The park is plagued with various tree species ranging from native redwoods and oaks to highly flammable eucalyptus trees, which pose a severe fire hazard that hadn't been dealt with for decades.
The city of Oakland is currently working on developing two plans—an urban forestry master plan and a vegetation management plan—that might better guide its approach to these pressing concerns. Ramachandran, however, is unsure about when these plans will be completed. As crime continues to rise and hazardous trees remain unattended, the residents of Oakland's hills must grapple with the situation while anticipating a positive resolution.