Published on August 01, 2023
Castro's newest Italian restaurant Pasta Panino (4150 18th St.) is now open — serving up fresh pasta and sandwiches at affordable prices.
Hoodline broke the news of Pasta Panino taking over the former Taqueria El Capitan and Zapata space earlier this year.
Opened July 6, Pasta Panino is owned and operated by chef Jeremias Guerra. Guerra will be familiar to many Castro residents having been the executive chef at seafood restaurant Catch for nearly 20 years.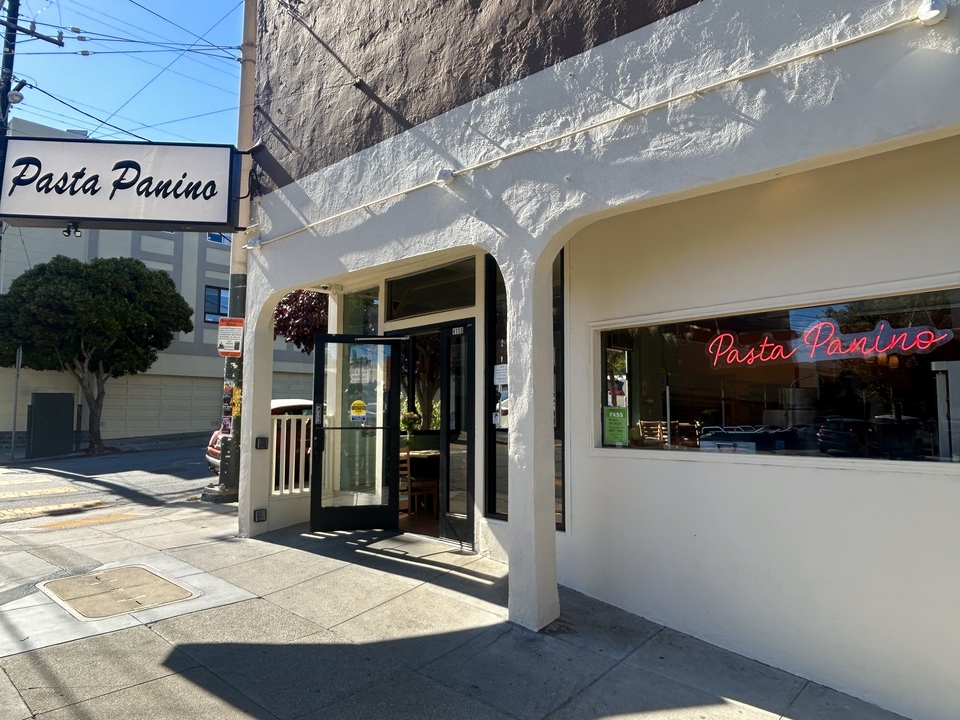 Pasta Panino is now open at 4150 18th St. | Photo: Steven Bracco/Hoodline
Originally from El Salvador, Guerra moved to San Francisco in 1999. Guerra's career began at the Fillmore-Japantown restaurant Cafe Kati where he worked alongside chef Kirk Weber.
From there Guerra moved on to American restaurant Boulevard where he worked with Top Chef's Jen Carroll and veteran SF chef Nancy Oakes, who won a 2001 James Beard Award.
In 2004, Guerra became the executive chef at Catch and worked there for 19 years.
Guerra has partnered with Catch founder David Weiss to open Pasta Panino. Weiss opened Catch in 2002 and sold his stake in the restaurant in 2009.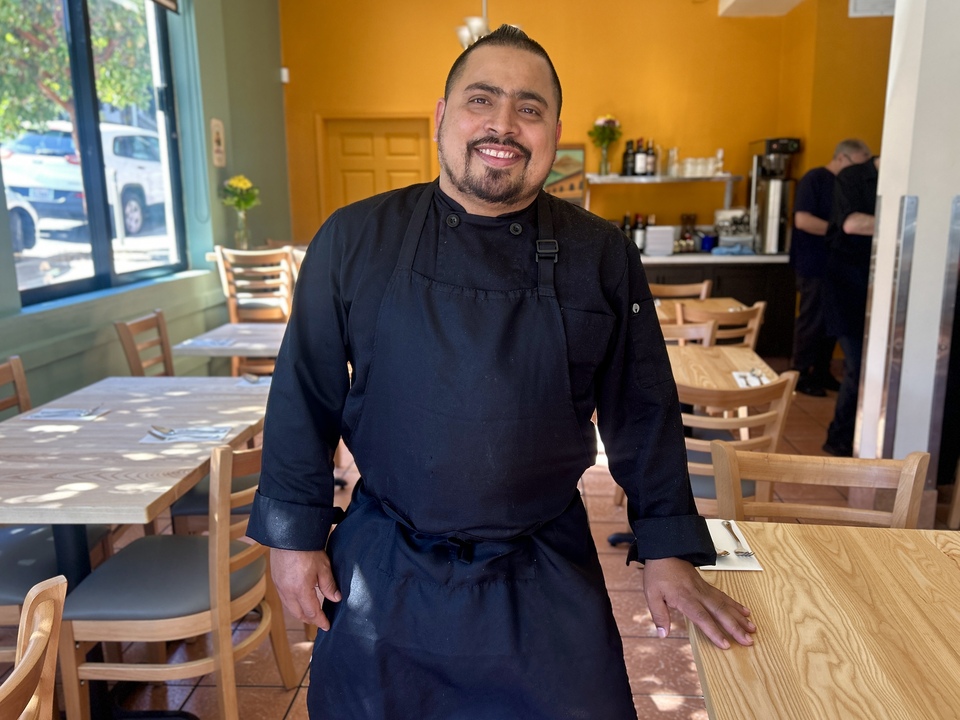 Pasta Panino owner and chef Jeremias Guerra. | Photo: Steven Bracco/Hoodline
Since opening Pasta Panino earlier this month, Guerra and Weiss said customer feedback and reviews have been great.
"They're embracing this joint," said Weiss. "They say that the prices are really reasonable for the quality of the food."
"So far it's been good," added Guerra. "I love this neighborhood because I've been right here for over 20 years already."
Pasta Panino's menu consists of fresh pasta, risotto, soup, salad, appetizers, and desserts. Prices have been kept low and range between $10-20.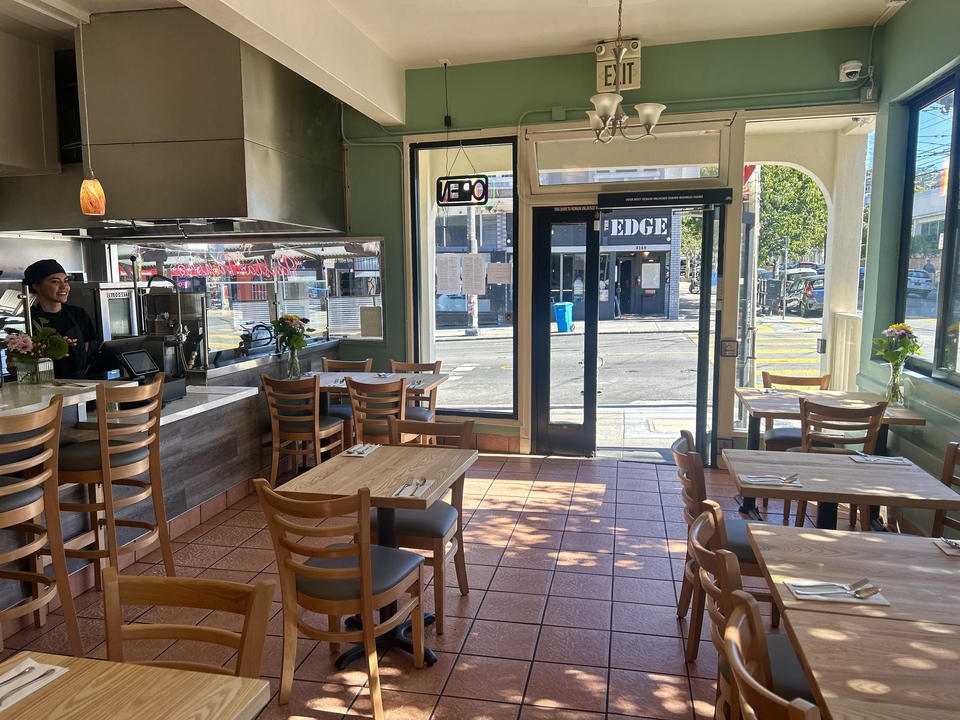 Inside Pasta Panino's dining room. | Photo: Steven Bracco/Hoodline
With a capacity for 37 people inside, Pasta Panino offers full-service table and bar seating. Weiss tells Hoodline they are considering adding some sidewalk tables, but will not be building a Shared Spaces parklet. Customers can also order food for takeout and delivery online.
Keeping the price point low and approachable was an important factor for both Guerra and Weiss who would like to see customers dine at the restaurant multiple times a week.
To achieve that Weiss said, "This menu is designed to have a crossover of the use of ingredients between the panini sandwiches and the pasta." He added, "You can only have so many ingredients in a small space and you have to utilize them in different ways for different types of items."
While many other restaurants charge significantly more for pasta dishes, Weiss explained that Pasta Panino can keep prices low because it doesn't need to offset the cost of meat and seafood dishes.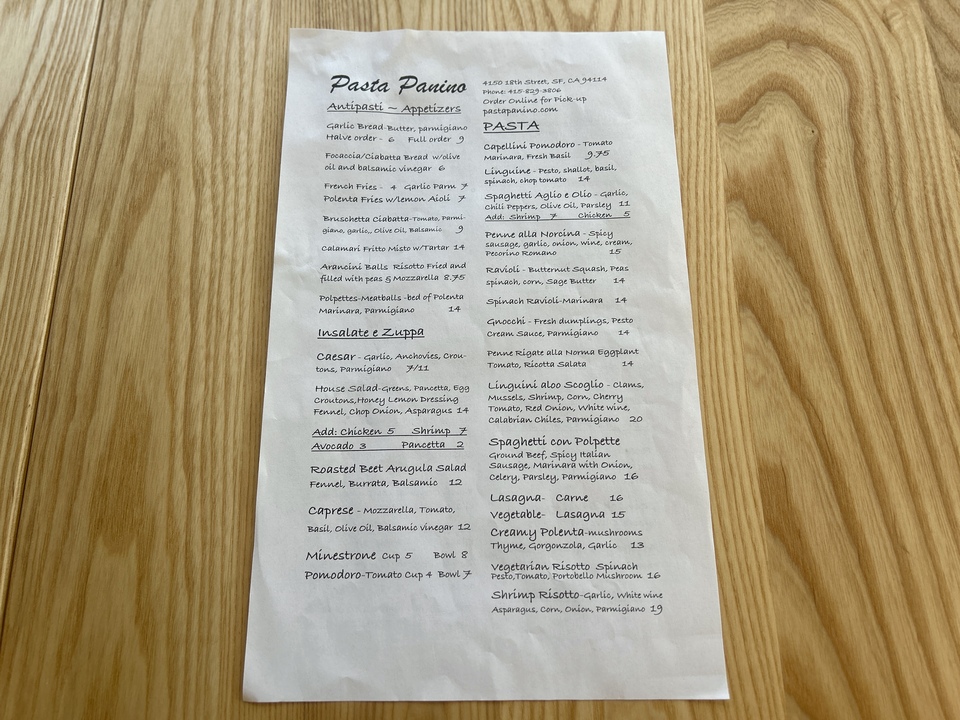 Pasta Panino's menu. | Photo: Steven Bracco/Hoodline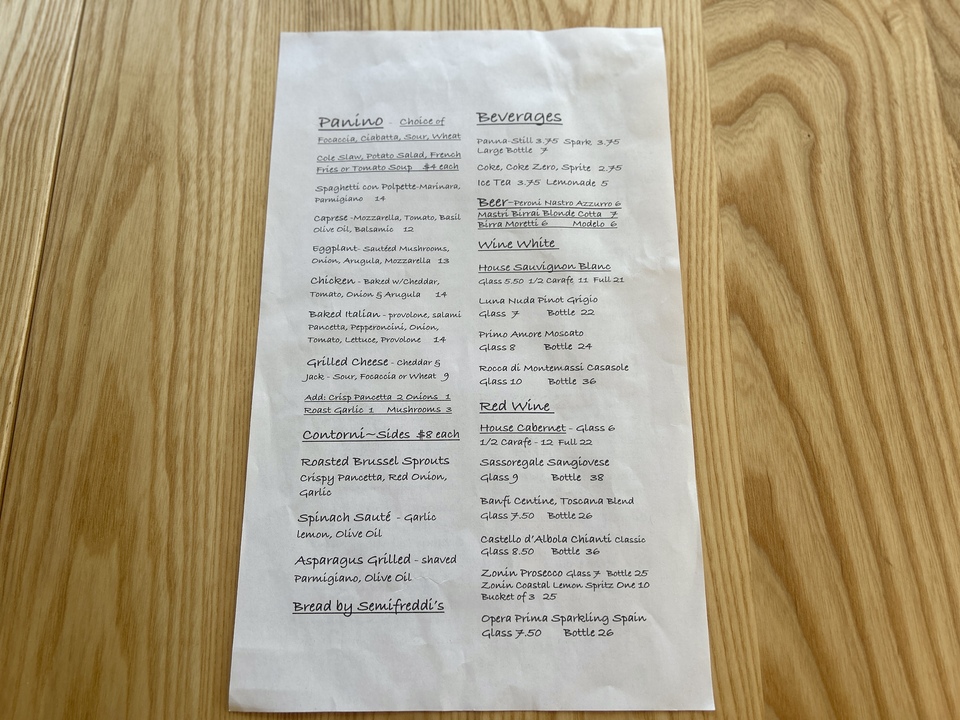 Photo: Steven Bracco/Hoodline
An original partner at the now defunct Pasta Pomodoro, Weiss said it's a menu's simplicity that makes it successful. "Part of the success we had at Pasta Pomodoro was because of its simplicity and price point," said Weiss.
Pasta Panino joins a handful of Italian restaurants in the area including Vico Cavone (4248 18th), Poesia (4072 18th), Poesia Cafe (4076 18th), and Sausage Factory (517 Castro).
While Pasta Panino's price point is lower, Weiss said the restaurant didn't have to cut back on quality. "I think our quality stands up to the finest restaurants," he said.

Pasta Panino's linguini aloo scoglio. | Photo: Shannon P./Yelp
Prior to opening Pasta Panino, Guerra and Weiss remodeled the interior including a full kitchen upgrade, new fixtures, and fresh paint.
Guerra tells Hoodline that he's wanted to open a restaurant in the Castro for years, but now was the right time. "It's the right time because prices are way up," said Guerra, in regard to how unaffordable many restaurants have become.
"I know the Castro really well," added Guerra. "We cook with passion, that's why we're here in the Castro."
---
Pasta Panino is open Monday to Thursday from 2 p.m. to 9 p.m. and Friday to Sunday from 11:30 a.m. to 10 p.m.