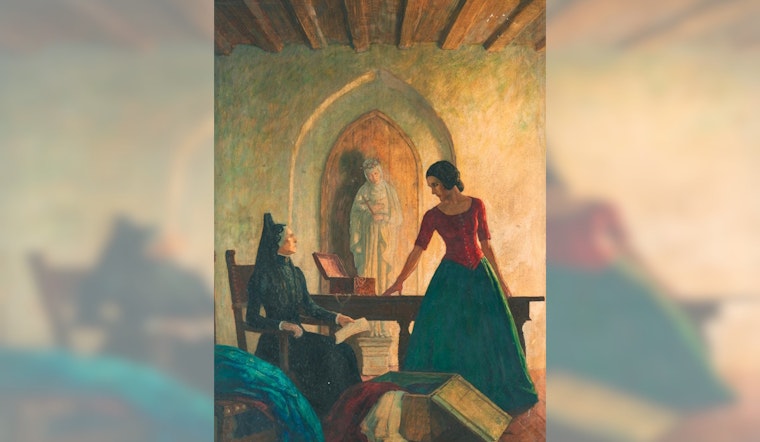 Published on September 08, 2023
In a story that could come straight from a Hollywood movie script, a woman in New Hampshire unknowingly struck gold when she purchased a $4 painting at a local Savers thrift store. Initially drawn to the frame, the buyer had no idea it contained a treasure by N.C. Wyeth, a famous American illustrator from the early 1900s. According to Boston.com, the artwork is now expected to fetch between $150,000 and $250,000 at auction.
The painting, titled "Ramona," is a captivating piece by Wyeth, depicting a tense moment between a young woman and her foster mother, based on a 1939 edition of Helen Hunt Jackson's novel of the same name. Having purchased the painting intending to forever store in a closet, the woman chanced upon it years later and finally decided to investigate its origins. A Facebook post shared the story of its discovery. The post caught the eye of Lauren Lewis, an art conservator who once worked for the Wyeth Study Center, according to Artnet News.
Lewis knew that the painting's red artist board was a Weber "Renaissance" panel—favored by N.C. Wyeth, which piqued her interest. She assisted the woman in having the painting appraised at the Brandywine Museum, home to the Wyeth Study Center. With its authentication confirmed, the piece is slated to go under the hammer at Bonhams Skinner in Marlborough, Massachusetts this month.
So, how did a work by the esteemed N.C. Wyeth end up at a New Hampshire Savers store? The journey of this specific painting is shrouded in mystery. Wyeth, who was born in Needham and died in 1945, was known for creating illustrations for novelists and periodicals, including The Saturday Evening Post. Artnet News mentions that the painting in question was one of four possible cover designs Wyeth produced for the 1939 edition of "Ramona."
Only one of the series had resurfaced so far. According to Kathleen Leland, an American and European art specialist at Bonhams Skinner, it was not uncommon for N.C. Wyeth's illustrations to be sent to publishers by train or retained by the authors' estates. Yet, the route this painting took to end up at a thrift store, wedged between old posters and sitting in the dust, remains a subject of intrigue.
While the anonymous buyer of the painting-from-the-thrift-store prepares to reap the rewards of her unexpected windfall, the question remains as to how such a valuable artwork ended up in this thrift store. As Boston.com reports, art conservator Lauren Lewis revealed that the painting remains in "beautiful condition," with only a few scratches, despite its unknown history. The story is brimming with the sort of mystery that collectors and art enthusiasts covet.
With all eyes on the upcoming auction, where proceeds will largely benefit the anonymous Savers shopper, the unique story behind this rediscovered N.C. Wyeth painting is sure to add to its allure.