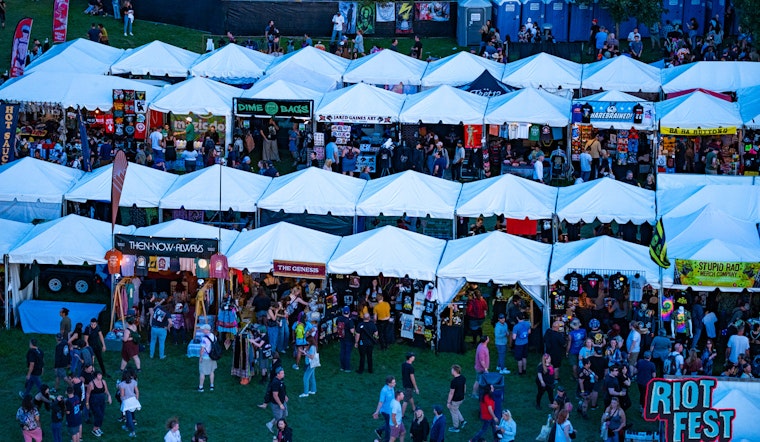 Published on September 18, 2023
A deluge of rain resulting in over 5 inches of rainfall on Sunday blitzed Chicago, prompting the National Weather Service to issue a flash flood warning in parts of the city till 9 a.m. the next day. This downpour ultimately led to a rain delay at Douglass Park-based Riot Fest on the festival's third and final day, according to Chicago Sun-Time. However, despite the dampened timetable, the gates opened at 2 p.m., with organizers presenting a slightly revised schedule.
Alongside the far South Side of Chicago, areas like Blue Island, Calumet City, Indiana were also exposed to threats of flash flooding. The weather bureau cautioned drivers against driving through flood waters and highlighted the riskiest areas for floods, with a focus on drainage ditches, creeks, streams, and low-lying areas. Furthermore, they warned of potential flood damage to highways, streets, and underpasses.
Flash Flood Warning continues for Hammond IN, Tinley Park IL and Calumet City IL until 5:00 PM CDT pic.twitter.com/THUIOpvGzw

— NWS Chicago (@NWSChicago) September 17, 2023
Despite the severity of the weather, the Chicago Office of Emergency Management and Communications experienced no street closures on Sunday morning. Water inundated the lower level of the Van Buren Street Metra station, but the station remained operative as crews labored to remove the water. A Metra spokesperson confirmed this to the Chicago Sun-Times.
Adding to Chicago's weather woes, Sunday saw a beach hazard statement kick into effect. With waves expected to reach heights of 3-to-6 feet, Lake Michigan's shores were battered through Monday morning. According to an NBC Chicago report, this saturated start to the day dwindled by the afternoon, followed by the possibility of sunshine making an appearance in the late afternoon and early evening hours.
The previous months of June and July experienced record-breaking rainfall in the region, leading President Joe Biden to declare Cook County a disaster area and release federal funds to cover losses caused by the ensuing floods. As a result, there were over 12,000 flooded basement reports called into 311 following the extraordinary rainfall in early July alone.
As the city grappled with tumultuous weather conditions, a recent WBEZ report shed light on flaws in the Federal Emergency Management Agency's (FEMA) mapping of "high-risk" flood areas. A staggering 172,000 Cook County properties face a high likelihood of flooding, with 79,000 of those located in Chicago itself.
Confronted with extreme weather and the challenge of ensuring public safety, Chicago residents and festival-goers alike had to adjust their plans. However, the forecast for the week following the floods held a silver lining: a gradual increase in temperatures, potentially reaching 80-degree highs by Thursday and Friday.