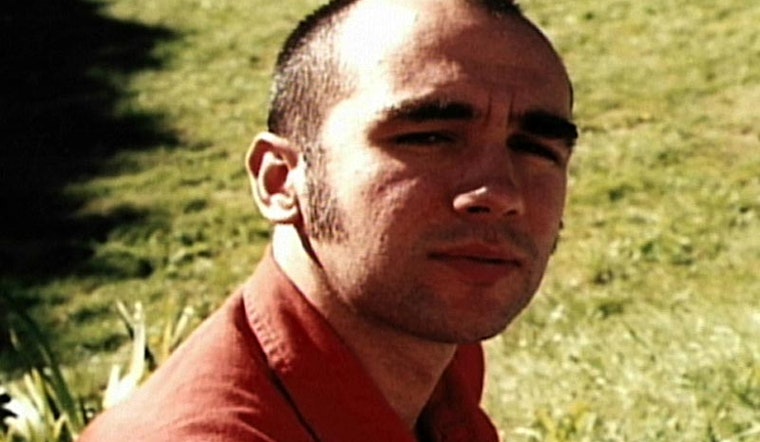 Published on June 03, 2013
Residents of Hayes Valley have often regarded Linden alley as one of the most charming thoroughfares in the neighborhood. It meets with Octavia at Patricia's Green, offering a small haven for the kids, couples, dog lovers, and tourists enamored with our unique atmosphere. For Hugues de la Plaza, that atmosphere turned into a grim nightmare in the early hours of Saturday, June 2nd, 2007. After celebrating a promotion at Underground SF with friends, Hugues took the usual walk home from the Lower Haight to his apartment at 462 Linden. He made dinner, surfed the Internet, and rose to open the door, sparking a mystery that remains unsolved an unfathomable six years later.
Hugues in Hayes Valley
The Hayes Valley of 2007 was not that different from the neighborhood we call home today. The Octavia offramp had been completed, and a tremendous amount of growth had transformed the area from its once-sketchy past. The flourishing community attracted a new world of working artists and budding families. While crime is no stranger to many of our residents, the violent assault on Hugues sent shockwaves through the neighborhood, and across the ocean. Born in France on June 11th, 1971, only child Hugues de la Plaza spent his short life traveling the world. He was a sound engineer by trade and a philosopher by heart. Hugues became an American citizen, and spent his last few years living in his Linden Street apartment. Friend and former paramour Melissa Nix remembers him affectionately. "I've never met anyone like him," Melissa told us. "He was a unique person with a good heart – I miss him every day." It was Melissa's concern for Hugues, and her background in journalism, that spurred her to fight the SFPD's assertion from the very beginning -- that Hugues de la Plaza committed suicide that night in June. Hugues's friends and neighbors reinforced Melissa's standpoint wholeheartedly, and refused to let the authorities write off the atrocity. For years they fought the status of Hugues's case as a "suspicious death," and the listed cause of death as "undetermined." Their efforts to find true justice for Hugues, along with the efforts of Hugues's parents, authorities in France, and countless friends and concerned San Franciscans, have revealed alarming cracks in our system.
June 2, 2007
When Hugues opened the door of his apartment that night -- perhaps lured out with a phone call, or by a knock -- he was caught off-guard by his assailant. The attack was swift and sudden, right there on his silent stoop in the middle of the night. The police use the lack of noise as an indicator of suicide. This theory implies that Hugues ate a small amount of the dinner he had just prepared, and then decided, after a night spent with friends in good spirits, to step outside briefly to stab himself. The SFPD also pointed out that the deadbolt of the front door was set when the body was found. Logic implies that a man attempting to protect himself from an attacker outside would return to the safety of his home and lock the door as quickly as possible. No murder weapon was recovered from the scene. An outside
medical examination by Dr. Michael Ferenc
noted that the most serious of the three blows Hugues received, severing an artery and puncturing his lung, would have caused his death in a minute or two. The SFPD's theory would require Hugues in this time to either wash the knife completely clean, and/or stash it in a hiding place so good that it remains unrecovered six years later. Ryan Beckwith, a nurse and close friend of Hugues, viewed Hugues's body and wounds, and also spent time at the scene of the crime in the following days. "I spoke with the biohazard guys as they were cleaning the apartment," Ryan told us. "One of the two men's comments to me was, 'Your friend put up a hell of a fight.' When I told him the cops were trying to say this was a suicide, he just shook his head."
A Troubling Trend
We contacted current San Francisco Sheriff -- and former District 5 Supervisor -- Ross Mirkarimi about Hugues. Though he declined to comment on specifics of the case, he noted, "The larger concern is the rate of unsolved murders in San Francisco." 2007 had the unfortunate distinction of seeing
100 murders
in San Francisco, the highest number of any year in the new millennium. Only 25 of those 100 were moved to prosecution, and this number does not include Hugues, due to his status as a suspicious death. This fact has lead many to believe the investigators in Hugues's death were more concerned with keeping the murder rate down than they were with bringing him justice. These numbers also reflect the inundation the SFPD was experiencing at the time of Hugues's attack. An earlier
SF Weekly article
from shortly after the murder offers a bleak window into the attitude of the SFPD, an attitude that has tragically remained unchanged. Joe Eskenazi of
SF Weekly
has also written extensively about the case. "As far as I'm concerned, if you're going to theorize that someone stabbed himself multiple times, then cleaned up the knife and threw it away – this is something that needs to be proved beyond the shadow of a doubt," Joe told us. "That just hasn't happened. You can read all the reporting done at the time -- in
SF Weekly
and elsewhere, there were lots of reasons that it was beneficial this not be seen as a homicide."
Doubts About the Medical Examiner
The medical examiner at the time, Dr. Venus Azar, has come under fire on several occasions stemming from her lack of decision in the death of Hugues de la Plaza, and for her conduct during the timeframe of his murder and in other cases in the city. Azar currently retains the position of medical examiner, and she alone can formally change her "undetermined" finding, but has held her ground despite investigations both inside and outside San Francisco which deemed the crime a homicide. Interestingly, it was later discovered that Azar and the lead investigator in Hugues's case, Antonio Casillas, were engaged in a romantic affair. Prosecutors in a separate case on which Azar and Casillas had both worked, regarding the death of police officer Nick-Tomasito Birco,
reportedly suggested
that the romance influenced Azar's decision on the cause of death in the Birco case. Azar confidently told a grand jury she knew his cause of death was not due to his heart condition – and when asked how she knew this, she responded, "It's my job." However, when testifying later, her level of certainty dropped – to a mere 51%. Friends of Hugues find these facts troublesome, especially after watching Azar and Casillas speak about Hugues's case in a 2010 episode of CBS's
48 Hours
. "You know, it's just an opinion," Azar states in the episode. "The cause of death and the manner of death are opinions. They're my opinion – you can have a different one." This assertion is a far cry from Azar's justification of her "opinion" in Officer Birco's cause of death – that she knew for sure because it was her job. Very unfortunately for Hugues, she and Casillas's opinion stymied an extremely sensitive window of time during which important evidence could have been collected for a homicide investigation, and was instead washed away forever.
A Personal Mission
Along with Melissa Nix, Hugues's close friend, coworker, and neighbor Christophe Schuhmann took incredible offense to the SFPD's handling of the case from the very beginning. "It was a mess, with the police not doing anything," Christophe said. "When you look at the evidence and the facts - there was probably a political reason why the police would theorize suicide... It's very, very sad. Not only to lose a friend so young, but also to have the officials in the city not take it seriously. And probably because [to them] he was a nobody. They were probably thinking they could put this one under the carpet, and just say they were doing their best. Unfortunately they didn't know he had so many strong friends to work for him." Melissa and Christophe assisted Hugues's parents in their effort to find answers in a foreign country. "That was one of the most difficult days of my life, when Hugues's parents, François and Mireille arrived in San Francisco, and I took care of them," Christophe shared. "They didn't speak a word of English. The first meeting with the SFPD it was Melissa, me, the parents, an officer of the French Consulate, and Casillas. That was a week after his death. We could not believe what we were hearing - that guy in the suit in front of us, trying to tell us it was suicide. We knew after that first meeting that something was wrong. It was really, really painful. That's why we decided to fight it." For a long time, Melissa and Christophe's crusading kept Hugues's name in the forefront of a grassroots movement both online and on the streets. Getting information out through
Facebook
and a
blog
dedicated to the cause, they created a non-profit called "Justice For Hugues, Justice For All." They've provided updates regarding medical reports, news coverage, and the truly staggering number of mistakes by officials who turned a blind eye. Melissa received a
James Madison Freedom of Information Citizen Award
from the Northern California chapter of the Society of Professional Journalists for her tireless efforts in Hugues's case.
Recent Developments
In 2009, French authorities won the favor of a federal judge, who ordered the remaining evidence in Hugues's death be sent overseas for a full investigation. The French produced a 2,000 page report resulting in what they deemed with 100% certainty to be a homicide. Also in 2009, the SFPD requested a medical examiner in Marin County, Dr. Michael Ferenc, review the case. Ferenc also called the death an unambiguous homicide. Despite these findings, Hugues's death remains listed as "suspicious," and "undetermined," as it has been since the weeks immediately following the crime. François and Mireille come to San Francisco every year regarding their son. Melissa told us, "They always meet with the police, and the police basically feed them a line: 'We're working on it, we're working on it.' But there's never any news." We experienced a similar rebuff from Lieutenant Timothy Plyer of SFPD's Homicide Division: "It is still an open case. We will not be releasing any information at this time." This would be less disturbing had it not been a full 3 years and 8 months since the police last publicly addressed the death of Hugues de la Plaza. Now we find ourselves here, in 2013 -- six long, frustrating, fruitless years after Hugues's death. Melissa Nix now lives on the East Coast, and carries guilt for not being able to continue this battle with the same vigor. "Does it take the public to investigate a case?" she wonders. "Clearly [the SFPD] have failed in this instance." Christophe found himself at a similar impasse: "After three years, it was a conscious decision - I personally decided to move on. It became too difficult - we were carrying a burden with us, and it was affecting our life. And we couldn't do anything because we were not related to him, our actions were limited after three years of fighting." Time has truly taken a toll on those close to Hugues, with every passing anniversary another disappointment. Joe Eskenazi echoes these shattered sentiments. "This is an astounding series of events. Speaking as a San Franciscan, and as someone who covers San Francisco news, it's deeply embarrassing for the city of San Francisco. It's deeply embarrassing and angering. It's just mindblowing. The San Francisco Police Department was made to look like a guns and no shoes security force in a third-world dictatorship -- it's really unfortunately so."
Remembering Hugues
Melissa shared with us that Hugues enjoyed the time he spent in Hayes Valley. He liked his neighbors, was saving money for a house in Buenos Aires, and loved living a bachelor's life. "I think about the person who did it, and what kind of pain and suffering he must be carrying around with him for having murdered somebody - and that's not about Hayes Valley. That's about an individual who's really struggling," Melissa said. "Hugues had a joy for life and learning - he was a huge flirt. He was studying Japanese, new philosophies, music. He was also really sensitive. He had a hard time watching the news, and suffering was really hard for him to handle." While it's easy to resign to the idea of Hugues never receiving his due justice, Melissa believes there is more than enough we can do in his memory. "If people want to do something, the best way to remember Hugues is to work toward social justice in your city. In whatever fashion you can. Grassroots movements can really change things - work for social justice in small and large ways. I think that would have meant a lot to Hugues." We contacted London Breed, our current District Supervisor, and her office put us in touch with the current chain of police command in charge of his case. We hope that a new interest will rise in our community to keep Hugues relevant. Hugues is not simply a statistic – he was a part of this neighborhood, and a man attracted to the beauty of Hayes Valley like so many of our readers. "He liked the edginess of the neighborhood - the people who bring creativity and life," Melissa said. "Hayes Valley was a special place for him."